For many years, watch companies throughout the industry have been talking about the burgeoning market for ladies' mechanical watches as if it were a reality. Brands from Hamilton to Audemars Piguet created and included in their offerings ladies' mechanical watches and everyone told everyone else how hot this segment was. Except, it wasn't exactly true.
Sure, some companies are doing well with ladies' mechanicals, but for the most part, re-tailers remain unconvinced that ladies' mechanicals are more than a niche market, at best.
"There are pockets of interest for women's mechanicals," says Robin Levinson, co-owner, Levinson Jewellers (Florida, USA)."I don't think ladies' mechanicals will succeed everywhere. For the industry, it's slow moving. Women need to be informed and then sold. We have been concentrating on mechanical watches for women, our best brands being Franck Muller and Zenith. I stock them, so I have them and our women customers buy them - I don't remember the last quartz watch we sold to a woman. I just think mechanicals are interesting and I try to present it to the customers. We are doing really well with women's mechanicals."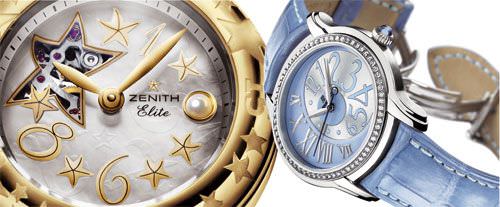 BABY STAR SEA OPEN by Zenith
18 carat yellow gold case (32 mm) equipped with a New Elite 68 automatic movement with a power reserve of 50 hours. White dial with powdered dancing numerals and starfishes as indices, white pearl at 3 o'clock, open dial at 10 o'clock, white galuchat strap, water-resistant to 100 metres.

LE TEMPS OVALE by Audemars Piguet
Stainless steel watch equipped with a self-winding movement. Bezel set with 66 diamonds (0.62 carats), stamped caseback, blue leather strap with folding clasp, water-resist-ant to 20 metres.


The growing collection
Across the industry, as mechanical watches increase in popularity, most brands have included at least some ladies' mechanicals in the hope that women will become as interested in mechanical movements and complications as their male counterparts are.
Women, however, are not feminine versions of men, something many watch brands have failed to realize, or at least translate into their watch offerings and their marketing. For many brands, making a lady's mechanical has meant reducing the size of their best selling men's mechanicals, colouring them a different colour and putting diamonds on the dial and case.
That, however, has resulted in an underwhelming response to these watches.
"We were one of the first companies to tackle women's mechanical watches, but done in the right way, with glamour and fashion and fun," explains Thierry Nataf, President and CEO, Zenith. "There is a double reality - there are lots of offerings in women's mechanical watches, but only a few of us are doing well. It's a problem of design. It can't just be a small man's watch with diamonds. Men come from Mars, women come from Venus. You can't just translate a man's watch into a woman's watch; it has to have a different spirit."
The bottom line is that the most successful watches with the most volume for women are still quartz watches. For most women, watches are a fashion accessory, like a handbag, shoes or a purse. As such, women are buying more watches to suit their moods and their outfits, so quartz fits that lifestyle better because the watches don't have to be wound and reset every time they are pulled out of the drawer.
"Sometimes the companies in the watch industry try to convince themselves and this is the case with mechanical watches," says Thomas Morf, President and CEO, Carl F. Bucherer. "80% of the women want quartz watches. The ladies' mechanical market is a niche market and will stay a niche market. Niche means that there is a bit more interest, but we are talking three to five percent more, that's all. The majority of women look for design and brand and they couldn't care less about mechanical watches. It's a fashion accessory for them.
"This will not change," he continues. "Women have a different software. They are not motorheads and a mechanical watch is an engine. Ladies like their cars, but they don't care about the engine, the horsepower and the technical aspects. It's a myth."
Some retailers have been successful selling mechanical watches and even complications to women, but they are the exception rather than the rule. They have been successful because they don't try to sell women like they sell to men. Instead of the technical aspects and the complications, retailers focus on the link to the history, the craftsmanship, the attention to detail and the spirit. In other words, they sell the aura of the product, not the engine.
"To be successful with women's mechanical watches, you need to combine the quality with spirit and design," Zenith's Nataf says. "It has to have the right combination of mechanics and glamour. Women are very hard to catch and I'm always very anxious when introducing a new women's watch because either she loves it or she hates it, there is no middle ground."





KALPA COLLECTION by Parmigiani
18 carat white gold watch equipped with a mechanical self-winding Parmigiani Fleurier Calibre 331 movement with a 55-hour power reserve. Bezel, lugs and bracelet set with diamonds (17.11 carats), white mother-of-pearl dial with diamond-set numerals.

PRINCE DATE by Tudor
Stainless steel ladies' watch (39mm) equipped with a self-winding mechanical movement. Sky blue dial set with 5 diamonds, steel star bezel set with 62 diamonds (0.95 carats), Arabic nu-merals, sapphire crystal, sky blue leather strap with folding clasp.

LIMELIGHT by Piaget
Oval-shaped 18 carat white gold watch equipped with a manu-al-winding Manufacture Piaget 430P movement. Bezel set with 102 brilliant-cut diamonds (approx. 4.6 carats), circular Côtes de Genève decoration, 40-hour power reserve, white gold ardillon buckle set with 18 brilliant-cut diamonds (0.2 carats), white satin strap.


The need for ladies' mechanical watches
Just because there isn't a market now doesn't mean that watch brands should ignore the potential for ladies' mechanicals. They just have to do it in the right way - including marketing the watches with women in mind.
Even Carl F. Bucherer's Morf is bringing out a ladies' mechanical piece next year. "We are going to introduce a ladies' mechanical, because we see it as a fusion of watchmaking and jewel-lery together," he says. "I do not expect it to be a huge seller, but I need it in my portfolio. Some ladies want it, so I want to have it."
There are brands who specialize in mechanical watches for women, like Delaneau, who has a spectacular collection, and there are women who are aware of and appreciate mechanical watches. They are just in the minority for the time being.
Parmigiani Fleurier introduced a complete women's collection earlier this year. "The reason we launched a women's collection was to become better known and to offer Parmigiani as a complete global brand, knowing that the women's watch market represents 50% of the global watch market," explains Jean-Marc Jacot, administrator, Parmigiani Fleurier. "Our collection is all mechanical, because the mechanical watch is the tradition and history of the Parmigiani brand as we never will produce quartz movement. The women's mechanical watch, however, is still a small market and needs to be developed in the coming years. It has not yet reached its maturity.
"The best way to sell mechanicals to women is to focus on the product quality, the aesthetic beauty (shape, colour, etc.) and the ergonomic features. With women, we recommend avoiding too many explanations about technical details as generally speaking this approach does not really seduce."
Stephane Linder, TAG Heuer's Director of Product, acknowledges that the market for women's mechanical watches isn't that strong yet, worldwide, but there are markets where ladies' mechanicals do very well.





5 CONTINENTS TV SCREEN MILADY by JeanRichard
Asia, Africa, America, Oceania, Europe depicted on dials with bezels and lugs of the watches decorated with rubies, diamonds and sapphires. JR 26 automatic mechanical movement with 38-hour power reserve, domed sapphire crystal, stainless steel case, mother-of-pearl base for dial, water-resistant to 30 metres.


"It is the trend and this business is growing fast, but it starts from a very small business base, so even if we record very big increases in percentage growth, it is still very small compared to quartz watches," Linder says. "The main part of the business is still quartz watches even if some countries such as Italy/Germany seem to be more and more mechanical driven. In the US, most women do not pay attention to mechanical watches. This was confirmed by four focus consumer groups we conducted in New York three weeks ago and we noticed that most of the women didn't even know the difference between quartz and automatic. In Italy, most women knew the difference and they were more interested in mechanical watches. We know for instance that the Monaco mechanical chronograph sells very well to women in Italy and almost none in the US."
Watch brands need to re-examine their product offerings for women and be honest and realistic about the size of the mechanical watch market for women. For sure, it's not a huge market, yet, but it's growing and it needs to be nurtured with education, awareness, advertising directly specifically for women and the right mix of product.


Source: Europa Star August-September 2006 Magazine Issue