An entry-level sports watch used to be the most basic of the basic – black or plastic with a rubber or plastic strap, a few rudimentary features (time, electronic chronograph, date) and priced to throw away if something bad happened to it.
Now, those watches are, thankfully, confined to promotions in cereal boxes for the most part. Today's entry-level sports watch, priced from 100 Euro to 300 Euro, is a full featured watch that is designed to suit the active lifestyle, whether it's swimming, surfing, mountain biking, running or other active sports, yet will also fit today's casual lifestyle. Certainly, you might not wear these watches to the office, there are pricier sports watches that fit that bill, but these watches are priced to be part of a bigger 'watch wardrobe'.
That's not to say that the people who buy these sports watches are only elite athletes - far from it. Just like with every other category of watch in the industry, there are people who buy these good looking, rugged, heavy duty sports watches just for the style.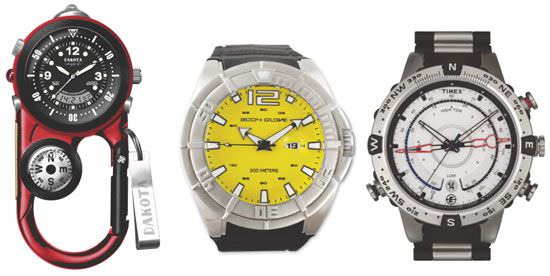 DAKOTA, BODY GLOVE, TIMEX


Style
At this level, the buyer wants style, but also wants the function that goes with a sports watch.
"Style is number one, and function is number two," says Martin Cooper, President, Dakota Watches. "Our Dakota Spider series combines great features (solid stainless steel case and band construction, 10 metres water-resistance) and fashion-forward styling. The Dakota Spider series has been one of our best selling sport watches for the past 5 years. Dial colours - bright orange, red, and green - are gaining ground on the standard black and blue."
The look is the most important thing. "The entry-level sports watch buyer wants and needs style over function," confirms Barry S. Cohen, President, Time Concepts (Body Glove watches). "People either like the look and want to purchase it or they don't. After that, you get into functions. The minimum water-resistance we have is 50 metres, but the majority of the line is at least 100 metres, in fact most of it is 200 metres."
Tom Schwendimann, Brand Manager, Camel Active Watches, makes a distinction between 'real' sports watches and look alikes, and thinks the market does too. "The real sports watches are for the people performing sports almost on a professional level," he says. "Camel Active Timewear has a tradition of 21 years of watches, which is, compared to the other brands, a long time. The collection has a history and a face, and also all new ranges are developed in a way that the main values are there, hence interpreted newly: toughness, sturdiness, allowing its wearer to show that he's a real guy, who is up to date but not a fashion victim.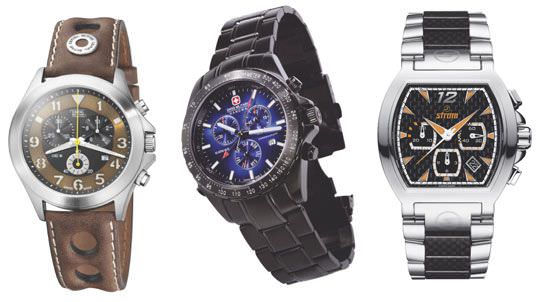 CAMEL ACTIVE, HANOWA, STROM


Trends
The trends in entry-level sports watches are increased functionality (good water-resistance, at least 50 metres, sometimes up to 300 metres, easy to read dials, rugged construction, good looks) while incorporating new colours, new designs and even bigger cases.
Innovation is also important. Timex, for example, is this year introducing a Solar series of sports watches, along with Timex Fitness Line Heart Rate Monitors, which are dedicated heart rate monitors for the serious fitness enthusiast. These watches are designed to be good looking enough to wear when outside the gym as well.
Dakota is introducing innovative ideas like the affordable Hybrid series, which combines LED technology and analogue quartz technology. "This gives the customer 'easy to see time and date' under any conditions, including dual time and perpetual calendar," Dakota's Cooper details.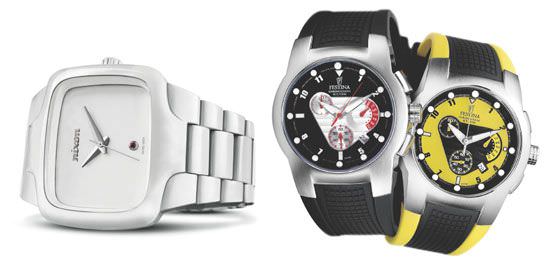 NIXON, FESTINA


Versatility
For the most part, entry-level sports watch buyers are looking for a watch that can do just about anything - stand up to the rigours of sports while also filling a fashion need. The offerings from the major players in this marketplace meet the specifications of what serious users demand, but they also fit the bill when it comes to style and fashion.
"Our customers see versatility as a key characteristic," says Andy Laats, Nixon Co-Founder and President. "Sports watches need to be accepted by the authentic side of the sports participants, but also stand up to the normal pressures of fashion. So we see customers wanting a nice blend of functional utility in a design that matches their style tastes. In general, this turns out to be a blend of water-resistance, comfort, and durability with a design that's forward and in tune with other fashion trends."
Body Glove, one of the most recognizable names in water sports, is debuting watches this year at BaselWorld. "We did a great deal of oversize in the Body Glove collection, keeping with the trends now," says Time Concepts' Cohen. "What we have heard from the customers out there, both young kids as well as retailers, is that the line looks different from other things that are out there. We have some serious pieces, like the divers' watches, but there is a great deal of colour in the line. Body Glove's colours are black and yellow and that runs through the line. We are going to independent retailers as well as action sports retailers, surf shops, fishing, boating."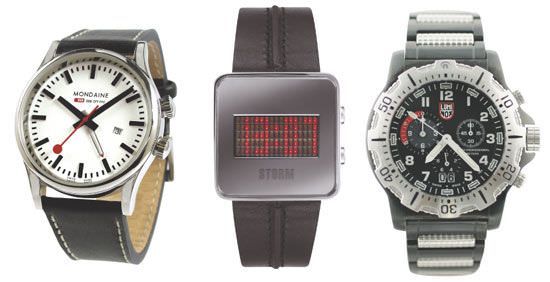 MONDAINE, STORM, LUMINOX


The future
The future for entry-level sports watches is looking as strong as the watches themselves. These watches are affordable for just about everyone and quality product with the right look and feature set can really take off.
"Nixon's business is connected with the global youth market via the board and action sport specialty retail channel," explains Nixon's Laats. "The global youth market is vibrant, with the USA, Europe and Japan leading the way based on strong demographics, strong economics, or both. 95% of our sales are outside traditional watch channels, but the fastest growing segment for us is traditional watch retailers.


For more information:
www.dakotawatches.com
www.festina.com
www.mondaine.com (camel active)
www.nixonnow.com
www.timeconcepts.net (Bodyglove)
www.timex.com


Source: Europa Star April-May 2007 Magazine Issue