The name 'Obaku' is derived from one of the three main branches of Zen philosophy, founded in 1654 not far from Mount Obaku in Japan. The three founders of this particular branch were called 'The Three Brushes of Obaku' because of their talent in calligraphy. The logo of the new Obaku brand, a simple circle, draws symbolic inspiration from the 'circle of life' that is so special to Zen monks: time continuously flows and returns upon itself, therefore, we must accept the present moment as that is what counts. Forget about time!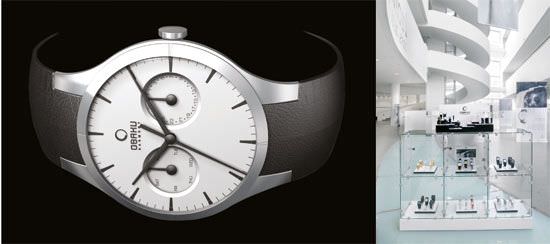 Anti-bling bling to the extreme
Two Danish designers, Christian Mikkelsen and Lau LiengÅrd Ruge, both highly experienced in the watch domain, were looking for a way to combine "the best in the tradition of the purest Scandinavian design," renowned for the quasi-monastic simplicity of its lines, with this Zen philosophy, in order to create a new minimalist approach to watch design.
The result is a collection, already quite large since it includes more than 50 styles of watches, available in 160 variations that are designed with simplicity and purity in the goal of finding harmonious calm. The collection comprises a palette of soft and relaxing colours, aiming for the strict essential, clarity, readability, and functionality. Nothing is left to chance because, as correctly states Christian Mikkelsen, "People believe that what is simple is simple to design, but it is exactly the opposite."







The cases are sculpted in hand-polished 316L steel, of Japanese origin, and are equipped with Japanese quartz movements, whose batteries do not contain either mercury or lead.
The 'gold-plated' models are realized using a special technique: the plating is composed of a blend of titanium and gold that is mixed into the steel using a fusion technique in a vacuum. The hands are luminous. Most of the models are equipped with a technologically new and exclusive glass—the 'Titan Glass' that is, according to its creators, "ten times more resistant than sapphire crystal." The straps are made of leather or Kevlar. All of the watches are water resistant to a minimum of three atmospheres. Their prices vary from 99 Euros to 209 Euros.







While the Obaku Harmony line, property of Comtech Watches Limited, are Zen in appearance, their commercialization has, on the other hand, followed a much more frenzied rhythm. Presented for the first time at BaselWorld in 2007, their debut and what followed occurred at lightning speed, and they are now distributed in over 20 countries (Bahrain, Belgium, Czech Republic, Denmark, Finland, France, Germany, Hungary, Italy, Japan, Korea, Luxembourg, The Netherlands, Oman, Portugal, Saudi Arabia, Serbia, Spain, Sweden, Uganda and U.S.A.).
The brand's success has been more than just commercial, and now the watches are exhibited at the all-new Museum of Modern Art in Aros in Denmark.


Source: Europa Star April-May 2008 Magazine Issue