The traditional two weeks of springtime has been transformed this year into a veritable "month" of watchmaking. Indeed, faced with the remarkable number of new models, more and more brands have tried to get ahead. Already before the end of January, invitations to discover the latest creations began pouring down on the watch press as well as retailers, agents, distributors…
In this race to be the first to gain media visibility, the brands, and especially those belonging to the large luxury groups, pulled out all the stops. Everyone tried to outdo the other with an overdose of expensive luxury voyages, gastronomic meals, dream hotels, excitement and adventures of all kinds... that nearly made us lose our sense of professional objectivity. But back in the real world, assuming that total objectivity is impossible, here is a subjective look at the two weeks and the major events at Basel and Geneva that commanded the attention of the entire microcosm of our watch universe.

When a Frenchman explains Swiss Made
Everything began Wednesday, March 30, during the traditional morning press conference at BaselWorld. There was nothing really remarkable to mention about this consensual 'mass' except perhaps to note, as René Kamm, CEO of 'Basel Messe' (the organizer of the various fairs and shows that are held in Basel) did, that "BaselWorld has achieved its transformation", effectively becoming a magnificent and luxur-ious window on the world of watches and jewellery, and the uncontested premiere event in its category (2,197 exhibitors from 45 countries, 160,000 square metres, 30,000 people employed on the stands, 800,000 hotel nights, and 7,000 trucks to get everything there and set up). Yet, one thing is certain: "The choice
is qualitative," asserts Jacques Duchêne, President of the Exhibitors' Committee, "and BaselWorld will not get any bigger." Thus, a warning to the brands that are not there now but are hoping to obtain a ticket.
The press conference ended on a rather amusing note. The representative of Al-Jazeera from Germany insistently demanded a precise definition of 'Swiss Made' implying that this term was merely an empty shell. Upon hearing the rather confused and imprecise explanations of a number of Swiss representatives, it was finally the watch industry representative from France, Patrice Besnard, who spoke up. Still, the cover was quickly placed on this boiling question. (On this subject, read our Letter from Paris, in this issue.)

The shortest press conference of the year
The 'Press Day' then got underway, while in the halls, many latecomers were still in the process of putting the finishing touches on their stands or the watches in their windows.
At 1 o'clock that afternoon, the CEO of the Bulgari Group, Francesco Trapani, gave his press conference. It was probably the shortest on record: something like one minute and 30 seconds. It took all that time just to say that the Bulgari Group is "very profitable," that its "watches are strategic, at 31% of turnover, with 9% growth in 2004," adding that"Asia is the group's largest market, and in Japan, sales grew 23%."At long last, Trapani asked "Any questionsı" "No questions." Ah yes, Indiaı "An upcoming market." "Thank you." Exit stage left.
Speaking of watches, Bulgari is preparing for the September 2005 launch of a new and beautiful line, the Assioma whose complex, architectural case is made up of no less than 67 component parts. It is a complete collection and will be available in three sizes, in steel, yellow gold and, for the Assioma Precious version, with three types of stone-setting, mounted on a satin bracelet. Another new item is the Ipno, a very surprising cylindrical watch in steel and ceramic, a small digital jewel whose global launch is expected sometime in June. Finally, in the sports arena, the brand is presenting the vigorous Titanium, with a titanium bezel, and a titanium and aluminium dial on a rubber bracelet.
During this time, a duo of charming acrobats took possession of the Maurice Lacroix stand and showed, in their svelte and supple manner, the increasingly marked refinement and delicateness of the watches from the Zurich firm. (see also the report by Malcolm Lakin in this issue.)

Away from all this excitement that attracted the majority of the journalistic troops, Cinette Robert, owner of Dubey & Schaldenbrand presented her latest realizations in all modesty. One could once again admire the refined proportions of her timely propositions that have continued into the latest models.
Among them, the new Verso, as the name indicates, is a beautiful watch with two dials that turns in an ingenious manner. We'll present it to you in a future issue.

Gothic Inspiration
Over at the Corum stand, they were celebra-ting the brand's 50th anniversary, the fifth BaselWorld under the Wunderman reign, and the official passing of power from Séverin to his son Michael. Among the new creations, besides the Golden Bridge, Corum presented a new Admiral's Cup, vigorously redesigned. The brand also announced that it was going to again become the Official Sponsor of the famous race of the same name.
Corum's gothic inspiration, with its parade of cranes, bones, and bats was still as much in evidence in the Classical Vanitas models, depicted in precious stones and mother-of-pearl, as it was in the Corum Bubble Special Edition of the year, the Bubble Bats, which seems to already be reaching "cult" status, or in the Bubble Corsaire. A more pastoral inspiration, however, led the brand's designers to create two models in the Buckingham series, the Les Mésanges and the Golden Pheasant, both refined and enchanting.

Innovations of all types
From there, we proceeded quickly to the press conference held by Ulysse Nardin. Introduced by the vibrant drums of the Basel Carnival, Rolf Schnyder, the brand's owner and manager, presented a new concept, a new material and a new process in the Freak 28,800 v/h Diamond Heart, equipped with a new "Dual Ulysse" escapement, made of industrial diamonds by a selective photolithographic technique! This process, identical to the one used by Patek Philippe for its silicon anchor wheel (see Europa Star 2.05), eliminates not only the traditional cutting, milling, and drilling, but it also elimin-ates the need for lubrication. Used in the revol-utionary Freak movement, which is a new type of carrousel tourbillon developed by the ingenious Ludwig Oechslin, a long-time collaborator of the brand and also Curator of the International Watch Museum in La Chaux-de-Fonds, this industrial diamond escapement certainly opens new horizons in mechanical timekeeping. This also confirms the remarkable place now occupied by Ulysse Nardin in the palette of truly innovative brands. (We will come back to this innovation in detail in our next issue.)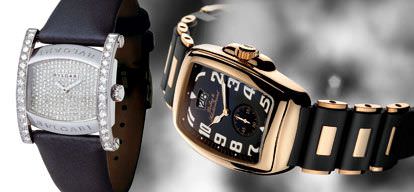 Bulgari, Dubey & Schaldenbrand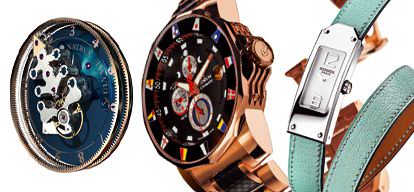 Ulysse Nardin, Corum, Hermès


We then moved directly on to another innovative presentation, but one of a completely different type. The company is DMC, managed by the energetic and passionate Jean-François Ruchonnet, who creates the best 3D virtual images for many watch brands, and was the originator and designer of TAG Heuer's V4. DMC presented a totally original concept called LuxuryScreensavers.com. What…you askı
Jean-Christophe Babin, CEO of TAG Heuer and one of the first sponsors of the project explained that it is designed to find "new marketing tools to counteract the apparent lack of interest in watches by young people today." In Japan, for example, the young generation prefers the cell phone, which also tells time, over the watch.
LuxuryScreensavers lets mobile phone users download 3-D virtual images of watches onto their phones. These images are very realistic and even move, rotate, and turn. They are also functional, tell the time, and can even perform chronographic tasks. This is an interesting way, according to Babin, to try and "get the younger generations attracted to the watch, hoping that later, they will purchase one." Place your bets…
The first night fell over Basel and, after the evening meal, the young lions met up again at the local watering hole, the Campari Bar, to revisit and remake the watch world over a few drinks until the wee hours of the morning.

Private meeting
The morning of the second day began with a very refreshing film. In a 'private showing', Hermès presented a charming movie by Claude Delafosse, entitled The Hour of Hermès. For once, a watch brand decided to not take itself so seriously and to forget about superlatives. We could not resist the pleasure. The Hour of Hermès transforms all the brand's new pieces for 2005 into playful and comic little creatures: insects, small boats, and animals excited by powerful and vaguely retro music. Hands flow in the air; bracelets turn into snakes and earthworms in a delightful and refreshing fantasy, evocative of the brand's playful approach to watchmaking.
All this for a Hermès that has made its own watches for a long time, (its watch tradition dates back to the 1920s and, in 1978, the brand established itself as a watchmaker in Switzerland) but that has chosen the path of modest patience in order to acquire a true savoir-faire, slowly building its timekeeping legitimacy. Here at Hermès, we were 1000 leagues away from the tourbillon craze that engulfed 120 brands this year, where even the least legitimate among them considered itself capable of making one (or having it produced by others), slowly killing this wonderful art from another era.

TO BE CONTINUED...
In the forthcoming days, the rest of this lenghty survey will be added to our europastar website.

BASELWORLD & SIHH: Part 1
BASELWORLD & SIHH: Part 2
BASELWORLD & SIHH: Part 3
BASELWORLD & SIHH: Part 4
BASELWORLD & SIHH: Part 5
BASELWORLD & SIHH: Part 6

Source: June/July 2005 Issue

Click here to subscribe to Europa Star Magazine.