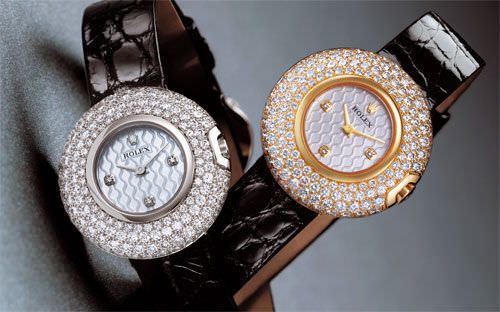 CELLINI ORCHID
18 carat yellow and white gold watches equipped with a quartz movement. Guilloché mother-of-pearl dial, diamond-set bezel, black crocodile strap with diamond-set buckle.


In professional watch circles, the question often arises in conversation as to why Rolex doesn't suddenly launch some audacious, hitherto unseen horological creation. The most oft proposed theory is that the brand's designers shy away from producing a revolutionary timepiece because they are manacled to 'the Rolex look'.
The truth is in fact not far from that concept. Rolex watches have a very strong identity and are immediately recognizable to consumers from Aberystwyth to Zagreb and Azerbaijan to Zurich. To maintain this awareness and depending on the model, it is clearly stated which elements can be changed or modified and which ones must remain untouched. And these rules do not, under any circumstances, get bent!
The Oyster has a particularly distinctive identity based upon the product's function, and at Rolex, form generally follows function. Despite the established technical constraints, there is an on-going design process that affects the various facets of the watches – the case, bezel, bracelet, clasp dial and the indices. This is carried out by the design team comprising researchers, designers, engineers, infographers and model makers, who work closely with both the technical and marketing teams, all of whom play an important role in what can only be termed as the Rolex phenomenon. Today, there are 170 different Oyster models divided into four categories: Men's Ladies' Mid-size and Professional which results in as many as 3,200 variations.
A perfect example of what can and cannot be done at Rolex, is the Daytona Cosmograph launched at BaselWorld 2004. With its leopard skin style dial and bracelet in gold and precious gemstones it was one of the talking points of the show. Despite the fact that even we questioned the sanity of the watch's designers in creating what was, for all intents and purposes a 'fashion' design, the Neanderthal timepiece sold its total production within the first twenty-four hours of the show but, as we discovered later, the core of the watch remained unchanged whilst all the modifications were within the strict guidelines of the brand – and like the watch or not, the workmanship was quite magnificent.
The Rolex principal is to build on what they have. Hence a simple gold dial can evolve into one in mother-of-pearl, or as in one of the latest models, a mother-of-pearl dial is encrusted with layers of yellow, white or pink gold dust to create a original colouring and give a sense of depth.
The Cellini collection on the other hand, leaves more room for creativity, offering an almost unrestricted freedom, including shape, just as long as precious metals are used.
The watches in this article illustrate some of the possibilities of what can be achieved within the brand's established guidelines. Times may change, but the Rolex Oyster maintains its classicism since it has become an icon within the watch world. It has universal appeal and for many it is a symbol of how time should be seen. Given its extraordinary popularity, with sales estimated to be around 700,000 pieces a year, who can argue with the brand's strict evolutionary identity philosophy?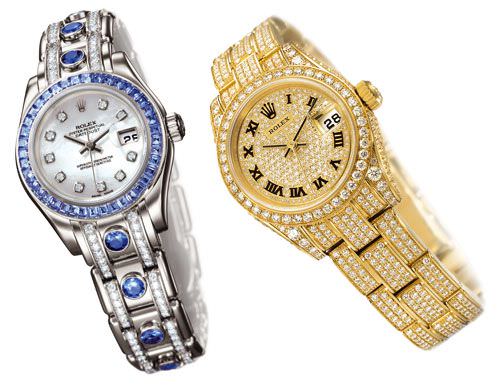 OYSTER PERPETUAL LADY-DATEJUST PEARLMASTER
An 18 carat white gold chronometer equipped with a self-winding movement. Mother-of-pearl dial set with diamonds, bezel set with blue sapphires, bracelet set with diamonds and blue sapphires, sapphire crystal, water-resistant to 100 metres.

OYSTER PERPETUAL LADY DATEJUST
18 carat yellow gold chronometer equipped with a self-winding movement. Diamond pavé dial with black enamel numerals, bezel, lugs, case sides and bracelet set with billiant-cut diamonds, sapphire crystal, water-resistant to 100 metres.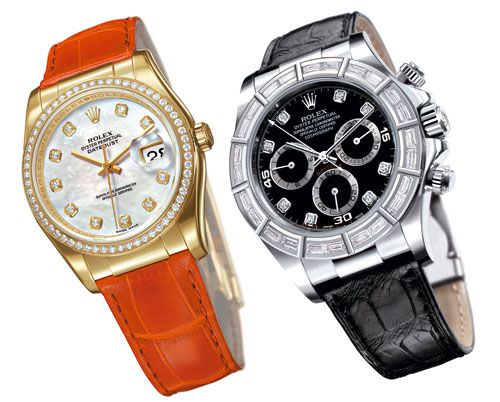 OYSTER PERPETUAL COSMOGRAPH DAYTONA
18 carat white gold chronometer equipped with a self-winding movement. Black dial with 8 diamonds, bezel set with baguette diamonds, screw-down pushbuttons, sapphire crystal, leather strap with gold folding clasp, water-resistant to 100 metres.

OYSTER PERPETUAL DATEJUST
18 carat yellow gold watch (36 mm) with a diamond-set bezel and mother-of-pearl dial set with 10 diamonds. Orange leather strap with folding clasp.



Source: October - November 2005 Issue

Click here to subscribe to Europa Star Magazine.