Swatch, the Swiss watchmaker known as the number one maker of fashionable, colourful and affordable plastic watches has confounded expectations today by announcing a unique, luxury-edition mechanical watch known as Diaphane One Turning Gold. Featuring a revolving movement and exquisite finishings, Diaphane One Turning Gold is an expression of the watchmaker's art. And in a break from its own traditions, Swatch will make its luxury timepiece available in a limited and numbered edition of only one hundred pieces—and only in selected markets. A cheeky and ironic challenge to everyone's expectations, Diaphane One Turning Gold is a luxury watch.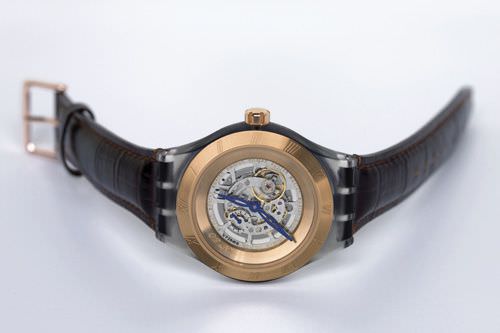 The unique art of Diaphane One Turning Gold
Designed to astonish in both technical and aesthetic terms, Diaphane One Turning Gold is a 'skeleton' watch; the revolving movement is visible from front and back, its beauty evident from any perspective. The technically unusual, fascinating 25-ruby movement, which must be wound by hand, is mounted in a smoky translucent plastic case that evokes the core aesthetics of the brand's more traditional and less exclusive models. At the same time, its blued-steel hands and nobly worked 18-carat pink gold flange, bezel and crown appeal to the most exclusive and refined of tastes. A brown leather strap enhances the exclusive look and feel of this exquisite expression of the art of luxury watchmaking.





Technical aspects of Diaphane One Turning Gold
Diaphane One Turning Gold is neither a tourbillon nor a carrousel; the revolving central cage, which houses the wheel train and regulating organ of the watch, completes two full revolutions every hour. The platform that serves as the base of the cage holds all the wheels of a traditional timekeeping movement, along with the escapement and the balance wheel. Three spring boxes positioned on a fixed plate below the cage function as energy accumulators, providing 50 hours of autonomy.

Strictly limited luxury
Diaphane One Turning Gold is unmistakably exclusive. Who but a select few connoisseurs can afford to indulge in the irony of a luxury timepiece from Swatch? As exquisite as any top-end work of horological art, Diaphane One Turning Gold is available in selected locations in a strictly limited and numbered edition of 100, each unique piece identified by its number engraved on the flange (No 1).

Source: Swatch

www.swatch.com

www.swatch.com

Contact: katy.jolidon@swatch.com
(Please credit europastar.com)