You have to give credit to Maximilian Busser, the man who manages Harry Winston's 'Rare Timepieces' division, for having succeeded, in only a few years, in making the celebrated jeweller into a true watchmaker in every sense of the term. With its inventive and often unusual timepieces, Harry Winston has earned a place in the world's inner circle of authentic watch brands. Prime examples of its prowess are the well-known 'Opus' series and the 'current' collection, if we might use this term for products at the highest levels of luxury.
In keeping with his policy of collaborating with the most inventive master watchmakers of the moment, Max Busser entrusted the realization of his Excenter Tourbillon to Peter Speake-Marin, a very talented young English watchmaker living in Switzerland and a member of the Academy of Independent Horological Creators.
The result is an attractive tourbillon, with the elevated frequency of 28,800 vibrations per hour, and whose rotational system for the cage is constructed inside the cage itself. It operates with great reliability, is resistant to shocks resulting in an architecturally beautiful movement.
With a power reserve of 100 hours, or nearly five days, the Excenter Tourbillon has a double power reserve indicator on the back, a little like certain classic English cars that combine two gas tanks. To let the wearer know when time is running down, a 'warning' appears on the dial 25 hours before the watch is completely unwound: the silvered 'HW' logo, engraved on the sapphire crystal over the dial at 6 o'clock, becomes electric blue. A world first for this subtly refined piece, it features a rose gold or platinum case, ruthenium bridges on the dial and under the cage, whose anthracite grey colour accentuates the polished steel of the tourbillon bridge, and emphasizes the hour markers engraved in the white gold.
Among the other notable details of this watch are the use of blue sapphires in place of the normal ruby jewels, a diamond set at the centre of the tourbillon bridge, blued screws for the hand-angled bridges, all of which make the Excenter Tourbillon one of the most beautiful and balanced tourbillons of the season.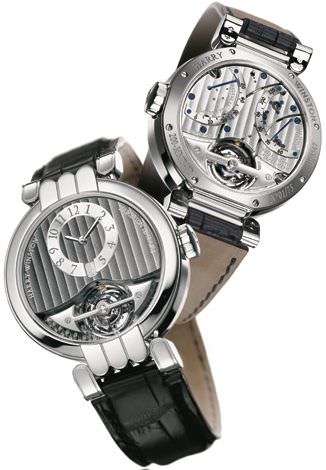 Source: April-May 2005 Issue

More…Click here to subscribe to Europa Star Magazine.