Piaget has a mission for 2007 and that mission is to communicate what has become a little known fact about the brand - they are one of the industry leaders in movement design and manufacture. Usually, a brand has its competency in movements or in jewellery, but rarely in both. The fact that Piaget is a leader in both realms has been somewhat of a curse, as many watch people don't think of Piaget as a watchmaking brand because of the brand's leadership position in high jewellery watches.
Piaget is out to change all that.
"Piaget has not done a good enough job selling itself," admits Philippe Leopold-Metzger, President, Piaget Worldwide. "We have a lot of good stories to tell about the brand. We are a movement maker and we have a big legitimacy in jewellery and we have become gold crafters and specialists in precious stone settings. When you look around, I don't think there is any other company who, for such a lengthy period, has legitimacy in both areas. The mistake we made was that we put forward the jewellery side of the business and the perception of Piaget was that the movement inside was irrelevant."
Piaget recognizes that there is major opportunity in mechanical watches and Metzger is committed to getting the word out about Piaget's incredible ability. "Today, I don't know if anyone is as integrated as we are," he says. "Today, every watch uses a Piaget movement and we do all the cases ourselves. If it's not our movement, we don't use it. The inside of a Piaget watch is Piaget and the outside is Piaget."
This year for SIHH, Piaget is focusing on ultra thin watches, a historical hallmark for the brand, new ways to showcase the time and a new manufacture movement for the Polo Chronograph.

The highlights for men include:

Reinventing the Coin-Watch
Piaget launched the 'secret' or case-spring coin watch featuring a case crafted from a 20-dollar gold coin in 1957, using the now famous calibre 9P, the ultra thin hand-wound movement. Piaget is reviving this tradition by offering a limited series of case-spring watches made from genuine 24 carat gold US dollars and Chinese yuans. Piaget powers these new coin watches with an identical re-edition of the 9P. This series is limited to 10 watches per type of coin.





The PIAGET COIN-WATCH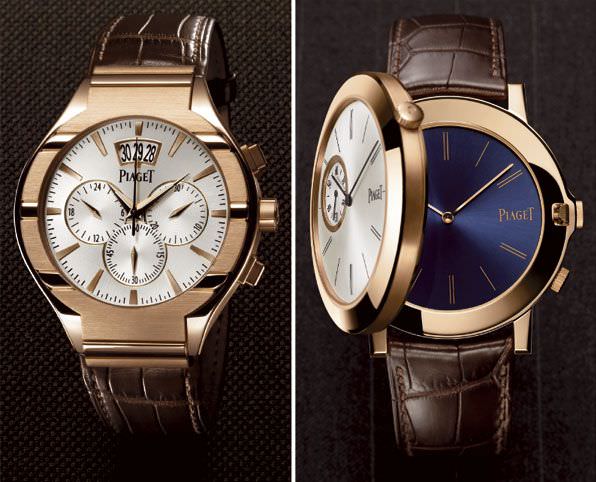 The Piaget POLO CHRONOGRAPH and the DUAL TIME ZONE PIAGET


Altiplano Double Jeu: Dual Time Zone Piaget
Introduced in 2006 as a limited edition, the Altiplano Double Jeu this year uses two pink or white gold cases, one on top of the other. The upper case has a Calibre 838P mechanical hand-wound movement (hours, minutes, small seconds), while the lower case houses an 830P mechanical hand-wound movement, reflecting the brand's established aesthetic codes. The Altiplano Double Jeu model is also available in gem-set variations.

Piaget Polo Chronograph: A Piaget first
The Piaget Polo Chronograph introduced this year features the new Calibre 800P, the first mechanical chronograph movement entirely designed, developed and produced by Piaget. In addition to the chronograph and flyback functions, this proprietary movement drives the hour, minute, small seconds at 6 o'clock, as well as the date display at 12 o'clock and a 24-hour dual time-zone display positioned at 9 o'clock. This chronograph is available in rose gold or white gold, or a variation set with 34 diamonds adorning a white gold case.


Source: Europa Star April-May 2007 Magazine Issue