The True North Perpetual by Arnold & Son reflects a symbiosis of time, within which civil time, i.e. the average time within a time zone and the globe as a cosmic clock are brought together for the first time in an extraordinary wristwatch.
Powered by a hand wound movement with a 7-day power reserve, the watch features a perpetual calendar which takes account of leap years, a moon phase display calculated on a 29.5 day lunar cycle, a 24-hour time zone indication which can also show the mean solar time, and a double equation of time display (equation segment and running equation indication, both giving the difference between true solar time and mean solar time).
The True North Perpetual is the very first timepiece capable of indicating true solar time in a given place and the true geographical North – once a day at true solar noon. It also includes another innovation: it incorporates summer time or daylight saving time correction and the longitude of a given location.
Crafted in 18 carat white gold the True North Perpetual is equipped with a movement produced exclusively by Jaquet SA for Arnold & Son. Using a revolutionary technology of gears with an elastic toothing, the movement is also equipped with a three-level going-train comprising an interior toothing (patented). The finely decorated movement features the '1764' signature on one of the wheel bars. Water-resistant to 30 metres, this handsomely innovative timepiece is also available in a Limited Edition in platinum and a pink gold version featuring a progressive minute-track.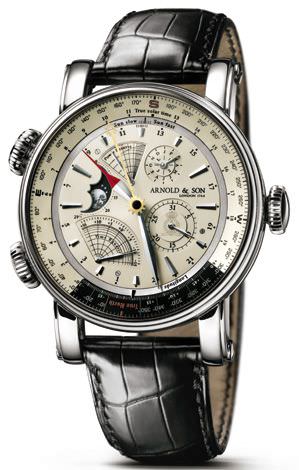 Full article in print copy of Europa Star BaselWorld issue 2/2005

Click here to subscribe to Europa Star Magazine.