The signing of a deal between the Austrian watchmaker, Jacques Lemans, and Formula One boss, Bernie Ecclestone, created great interest at this year's BaselWorld. The contract concerns the official use of the 'F1' logo.

"It was an almost unreal situation when the helicopter of the big boss from the world's most famous sport landed on the roof of the Jacques Lemans headquarters†, describes Alfred Riedl, President and owner of Jacques Lemans, about the signature that will go down in Formula One's history. Bernie Ecclestone, keeper of more than a thousand licenses, officially gave one license to another company.

"This is a unique and extraordinary deal and a great honour. Certainly it is bonded to precise agreements, which rule the use of the logo, the design of the watches and advertisements, even the choice of dealers, presentation in the shops, marketing strategies and many more, which we have to keep†. What is extraordinary about this deal is the quantity of watches to be sold in the first year. Jacques Lemans is liable under the contract to sell 500,000 watches in the first 12 months. In response to the question that this goal doesn't seem to be that easy to reach, Alfred Riedl says, "Thanks to our extremely fast development and the perfect cooperation with the production we were able to establish the F1 Collection within the shortest time and already start the marketing activities in January. In February we had the first samples – right in time before the first F1 Race in Bahrain. So, due to our very good working infrastructure and the highly interesting price range we were able to sell 230,000 watches within the first three months. So I would say, that we have already made a very big first step to reach this goal†.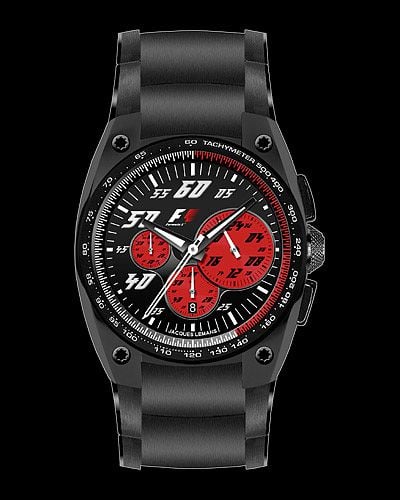 The watches are positioned between €199 - €395, which makes it possible for almost every F1 fan and connoisseur of motor sports to afford this first official F1 watch.

"This Jacques Lemans F1 collection is a big challenge for our entire team – from the production to the sales departments and the marketing to the distribution. We will have to be dedicated to manage the administration which includes about 20 more people at our headquarters†, explains Riedl about the high significance of the deal.

The world première at BaselWorld 2006 had been a great success. Although Jacques Lemans already exports into over 60 countries in the world and sells on-board several airlines, the F1 Collection also aroused interest among wholesalers from other countries where Jacques Lemans hadn't been represented until now. "We were able to win new customers in markets such as Japan, India and China. We are still negotiating with others†. Explains Leonhard Schweiger, Export Manager of Jacques Lemans.

"Telling by the interest and the volume of orders that have already been placed, BaselWorld 2006 was one of the best fairs ever for Jacques Lemans†stated the obviously satisfied CEO, Alfred Riedl.

Source: Jacques Lemans
www.jacques-lemans.com

Contact: info-sales@jacques-lemans.com
(Please credit europastar.com)