Tennis player Roger Federer has signed a multi-year endorsement deal with Rolex. Federer previously endorsed Rolex before signing with Maurice Lacroix in 2004. He paid a 'break-up fee' to Lacroix to end his deal with the company two years into a five-year contract.

In an interview with Europa Star's International Editor, Keith W. Strandberg, Philippe Merk, CEO of Maurice Lacroix Worldwide, said he was pleased to have had a good run with Federer and he wishes him well. "The deal with Federer was a positive association for us," Merk explains. "I don't feel this is a negative at all. It's excellent for Maurice Lacroix. The response to this has been 'So what?' 'What else is new?'
"We achieved much more than we thought we would, having hosted 15 major events in our most important markets, so I think it had a pretty good effect,"Merk continues."The remaining time we had with him would probably not have had the same impact."

Federer is already featured on the Rolex website as one of their ambassadors. They have a good tag line on his page: 'Let's not talk history yet. He's still making it'.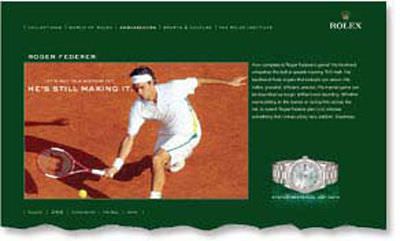 www.rolex.com

Source: Europa Star