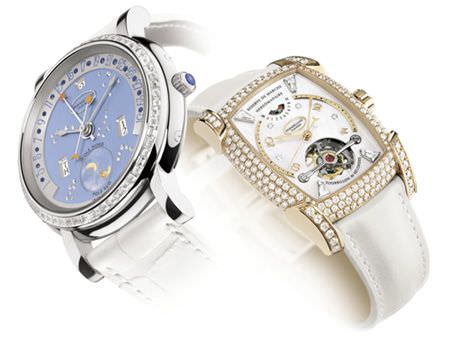 The TORIC RETROGRADE PERPETUAL CALENDAR, the 'LUNA BLU' and the KALPA XL TOURBILLON DIAMONDS.


In a very consistent manner, Parmigiani has entrusted the essential aspects of the design and production of its new feminine collection to five women working at the enterprise. A designer, watchmaker, gemmologist and engraver, a person in charge of the markets, and a brand 'ambassador' all participated on the front lines to create the design of these new watches.
Fluid lines, great attention to detail and the subtle curves of the pieces, as well as an obvious refinement are evident in this new collection. For the largest models, the brand has even succeeded in combining mechanical movements with remarkable charm.






Anne Laure Parmigiani, Nancy Thomas, Michelle Veyna, Catia Hofmann and Carol Vallat.


Haute horlogerie
The most emblematic models of this feminine endeavour are without a doubt the Kalpa XL Tourbillon Diamonds and the Toric Retrograde Perpetual Calendar, the 'Luna Blu'.
Both collections brilliantly combine excellence and mechanical complications with very sophisticated and formal refinement. This aesthetic is, quite clearly, emphasized by the omnipresence of diamonds, but it is not limited to the presence of 'ice'. The brand's 30-second tourbillon, mounted on a manual winding calibre 500, is especially noteworthy for its immaculate mother-of-pearl dial, accentuated by two time zones with 18 carat gold appliqués. The open window on the movement, showing the weekly power reserve indicator, delicately articulates the technical skill of the piece. Encircled as it is, however, like the tourbillon, with two large trapeze-facetted diamond markers, it perfectly illustrates the determination of Parmigiani Fleurier to fuse these two worlds.
The Toric Retrograde Perpetual Calendar, 'Luna Blu', takes this 'fusion' even farther. Besides the retrograde date indicator and the display of days, months, and leap years, it offers a poetic and precise presentation of a double moon (for the northern and southern hemispheres).
This poetry is underscored by the constellations of diamonds that sparkle from the large blue (or red) dial. This jewel is animated by an automatic Parmigiani Fleurier 333 calibre, with a power reserve of 45 hours.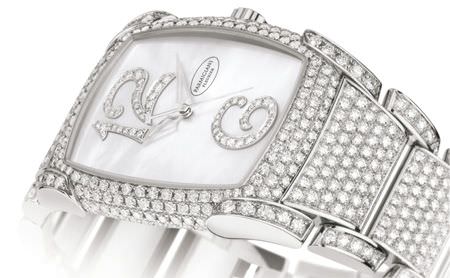 The KALPA JOAILLERIE


Haute joaillerie
The Kalpa haute joaillerie timepiece is another story. It is completely covered in brilliant-cut diamond pavé (white or pink), for a total weight of 17.2 carats! On the white or pink mother-of-pearl dial are only two large numbers, which are also set with diamonds. This avalanche of 'ice' does not hide the architecture of the Kalpa. On the contrary, it draws attention to all its curves, and reveals the perfect integration of the bracelet with the case. To animate this jewel, Parmigiani understandably gave in to the temptation of quartz.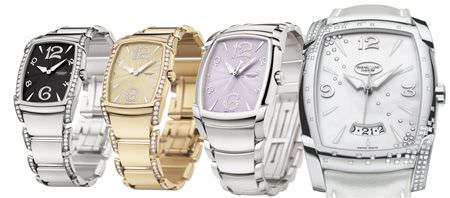 The KALPA DONNA and KALPA PICCOLA, KALPA GRANDE and KALPA GRANDE JOAILLERIE.


Jewellery watches
We find the quartz 'motorization' (but with a superior decorative refinement: hand chamfering of the bridge and Côtes de Genève pattern) in the families of the Kalpa Donna and Kalpa Piccola timepieces. They are available in steel or in gold, with or without lateral diamond setting.
Particular care has been paid to the polish of the steel, which has a remarkable brilliance, emphasized by the superb guilloché 'sun' pattern, coming in colours of amaranthine, champagne, ivory, black or 'lilac'. Hermès leather straps are also available for some models.
Automatic mechanical movements are found in the gold or steel Kalpa Grande timekeepers with their pure, classic lines, which are perfectly emblematic of the affirmed design of Parmigiani Fleurier's feminine watches.related to Parmigiani, click on Brand Index at


Source: Europa Star April-May 2006 Magazine Issue