T
he art of watchmaking has always progressed by combining technical mastery with the search for new materials and forms. Centuries of progress have resulted in the near-perfect machines that are modern watches. But this story is not over: many new chapters are still to come.
The new Aventi Wraith A15-01 SaphiteTM Paraiba, billed as a "laboratory of ideas", is intended to open a new path in this ongoing struggle for innovation. There are many reasons to take a close look at the qualities of this timepiece, and not just because of its unusual design.
Founded in 2020, the brand has made its specialty to produce very innovative and distinctive timepieces and is not afraid to dare... and to dare a lot. More specifically, Aventi has been focusing on sapphire crystal and its integration into watchmaking. That is how it has created an innovative material, "SaphiteTM". This crystalline structure is embedded within a glassy matrix, which allows its qualities and characteristics to be improved.

"Not only is SaphiteTM more resistant to daily use than traditional sapphire glass and less subject to scratches: it has a refractive index of 1.65 as opposed to 1.76, which makes it more transparent and less prone to optical deformation," states the brand.
In addition, SaphiteTM, as opposed to traditional sapphire crystal, "can be coloured in an infinite number of different hues, and the proof comes from this delicate blue colour, which in nature is found only in tourmalines mined in Brazil's Paraiba region." The case of the Aventi Wraith A15-01 SaphiteTM Paraiba, crafted like a huge tourmaline, is composed of 92 faces and 124 vertices.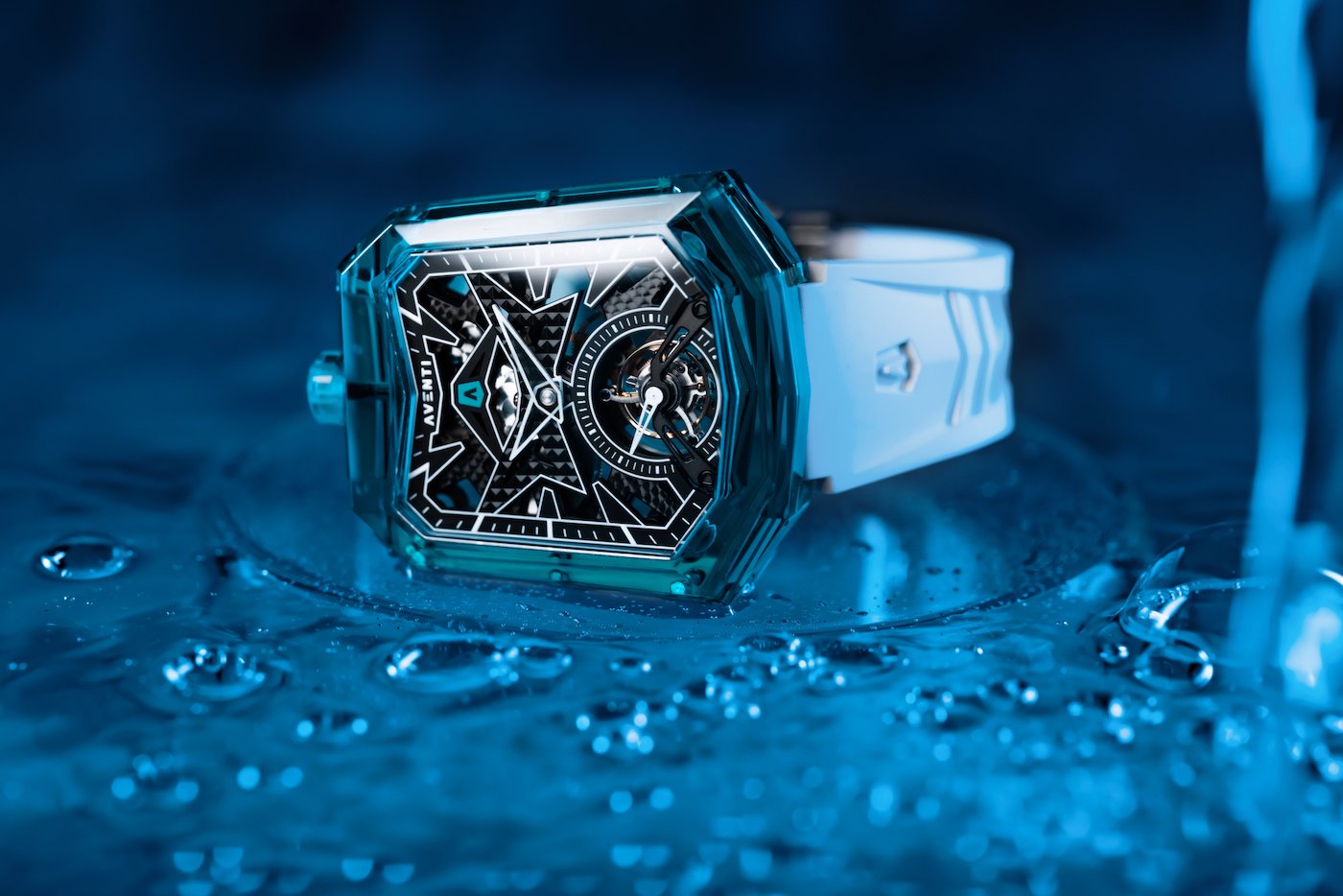 A redesigned tourbillon
The brand also introduces its own take on the tourbillon, watchmaking most famous - and hypnotic - complication. Aventi's GT-01S calibre includes a tourbillon composed of just 18 elements, as opposed to about 40 in traditional models. The skeletonized movement is made entirely of black titanium, with plates and bridges completely finished with fine perlage and an anglage with mirror polishing of all oblique surfaces. The movement is made, assembled, and regulated in La Chaux-de-Fonds.

Carbon coating protects every element of the calibre. Once assembled, each movement is calibrated by Aventi's master watchmaker, Olivier Mory, to ensure superior chronometric performance. Additionally, the movement offers resistance to magnetic fields (over 2,000 Gauss) and shocks (as much as 5,000 G).
High-tech dial
Micro-engineering is not limited to the movement: the in-house, fine dial is a work of high-precision too. The brass is machined with a guilloche hobnail pattern, with an accuracy of up to 0.01 mm, and the outer reliefs are polished and coated using SuperLuminova BGW9.
As an echo to its case, the Aventi Wraith A15-01 SaphiteTM Paraiba has hands made entirely of sapphire crystal. Thousands of hours of research were required to achieve such a result, with the creation of transparent, thin hands finished with a rim coated with SuperLuminova BGW9.
The sapphire crystal that protects the dial and the hands also has a unique look: it is there... but it does not appear to be there. This is the result of a special anti-reflective coating used by the brand. As many as seven layers of anti-reflection have been applied to the inner surfaces and seven to the outer surfaces of the Aventi Wraith A15-01 SaphiteTM Paraiba to get rid of any trace of reflection, as it might affect a crystal-clear view of the time and movement.
An agile profile
Finally, the strap is made of FKM rubber, a special high-density compound (1,800 kg/m3) with an optimized design to promote breathability of the skin, and wraps around the wrist with a velvety, comfortable feel. In addition, it features a steel and titanium butterfly clasp buckle, which makes it even easier to put on and remove the watch.
Aventi is quite distinct from the usual watch brand in the sense that it operates without factories or showrooms. Instead, it collaborates with a global network of partners and caters directly to customers, in a way reinventing the Swiss tradition of "etablissage" for a contemporary setting. "We simply do everything we can to bring something new to the global watchmaking scene," states the brand.