T
he perfect titanium sphere of the Earth with its continents and oceans is one of Greubel Forsey's most iconic creations. It was the centrepiece of the GMT, GMT Earth, GMT Quadruple Tourbillon and GMT Sport. Greubel Forsey is now dedicating a brand new calibre to the terrestrial globe, decisively replacing its predecessors.
On the GMT Balancier Convexe, the Earth, positioned at the very heart of an amphitheatre-like depression, moves in a constant 24-hour rotation, just as our planet rotates in real life. This amphitheatre is bordered by three rings that indicate two complementary times: local hours and minutes, as well as universal time. The 24 time zones are set against a black background if the time indicated is at night, and on a white background during the daytime.
The purest and most contemporary interpretation of the GMT complication ever imagined: this theatrical composition is staged within the signature titanium convex case designed by Greubel Forsey.
Local time is indicated on two outer rings: one for the hours, on a grey satin-finished ring, and minutes on a thin black outer ring. Each time indication has its own hand with a red triangular tip filled with luminescent material. These hands display world time as they move around two more rings, engraved with key words dear to Greubel Forsey. Finally, an off-centre display at 10 o'clock indicates a second time zone with a blue gold hand.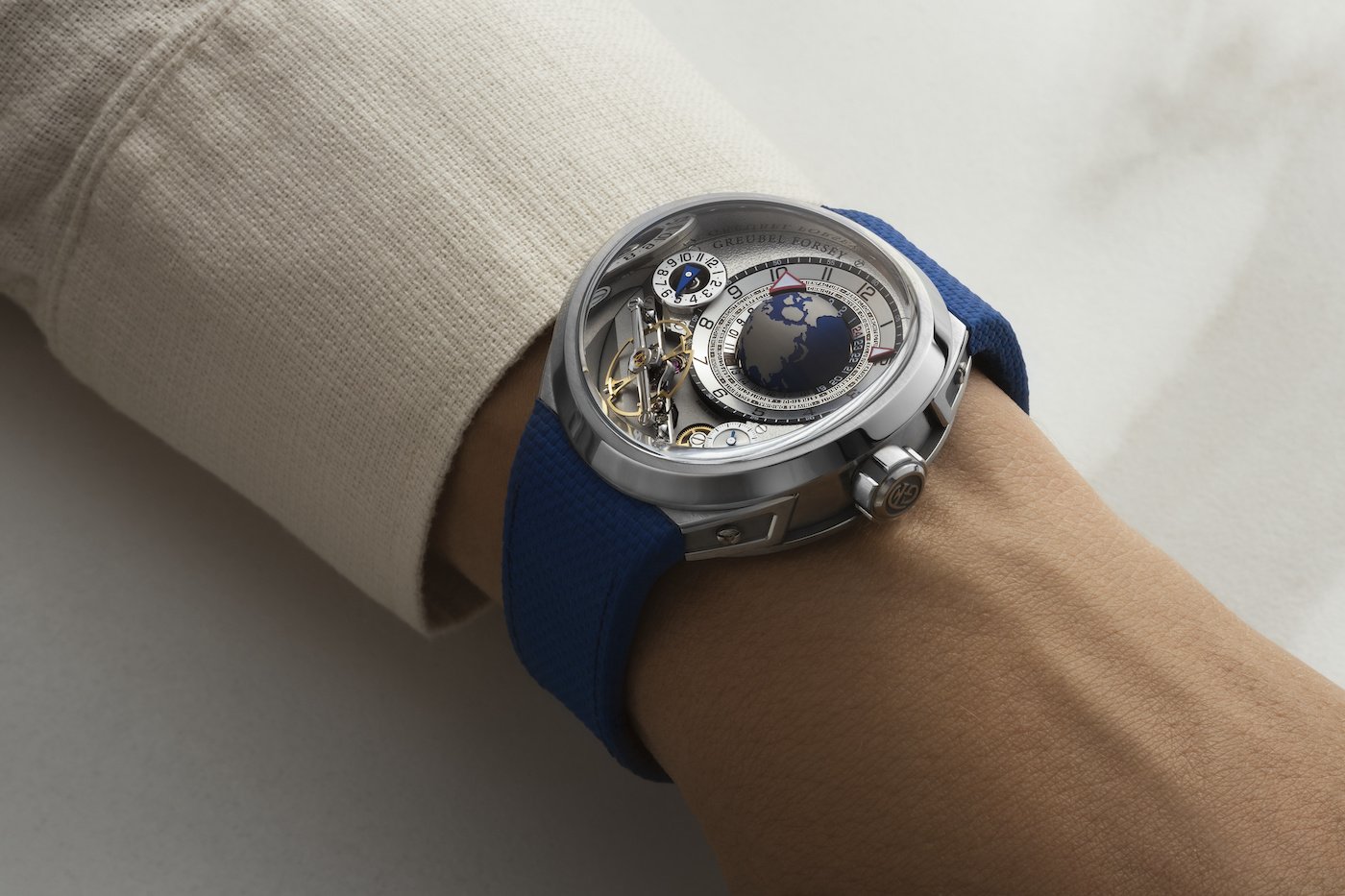 The balance wheel inclined at 30°, seemingly suspended in mid-air, is held by a beautiful flat black polished and barrel polished steel balance wheel bridge on polished steel pillars. To its right the small seconds, displayed with a blue gold hand, completes the ensemble. The titanium bridges are hand-finished with a steel brush, giving them a frosted texture.
For the caseback, Greubel Forsey opted to keep the disc with 24 time zones indicating the 24 reference cities, but with a rather appropriate modification: Paris has been replaced by the city where the brand has been established since its earliest days: La Chaux-de-Fonds! Greubel Forsey will make just 66 GMT Balancier Convexe timepieces: 22 per year between 2022 and 2024.
Price: CHF 400,000
CLICK HERE FOR MORE INFORMATION