I
n January 2021, De Bethune presented the DB Kind of Two Tourbillon. Bold and classic, its double dial was something of an anomaly, and its complexity challenged every limitation. Now the brand has introduced the DB Kind of Two Jumping GMT, offering a different time zone on each of its sides. Double-sided watches hold a special place in the realm of highly complicated watches.
The DB Kind of Two Jumping GMT is perfectly reversible and can be worn on either side according to the mood of the moment and the time zone chosen. One side bears the jumping hour hand of the GMT function, and the other has the central jumping second hand.

Would you prefer a modern or more traditional design? The original concept was to create a watch with two very different identities, where the aesthetic aspect would guide the technical design of the new calibre entirely developed by De Bethune.
The front of the DB Kind of Two Jumping GMT displays a dial featuring a sleek and contemporary design that highlights the mechanics. A new way of telling time is centred around the balance wheel at 6 o'clock, accompanied by the minute index on the periphery.
The GMT side reveals a dial based on more traditional aesthetic inspiration, with a finely hand-guilloché centre surrounded by the numerals already featured on the dials of De Bethune models such as the DB8 and DB10.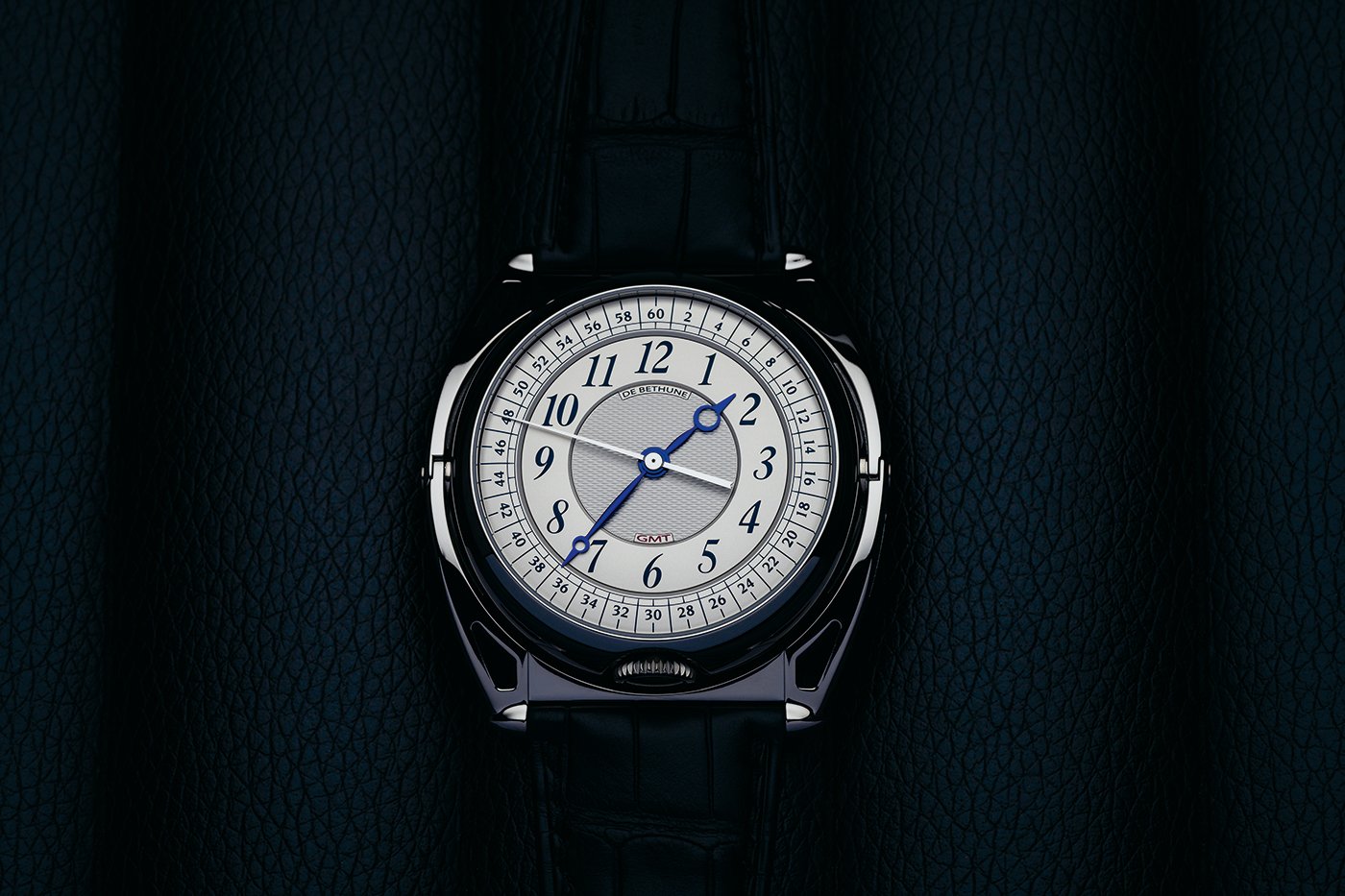 The layout of the functions is based on a double display of hours and minutes on both sides. First, the owner sets the reference time, known as home time, on the contemporary side (indicated by the hour and minutes hands on the dial at 12 o'clock) by pulling out the crown to position 3.
Second, he sets the second time zone on the "classic" GMT side on the hour and minutes hands, by pulling out the crown to position 2. Every detail has been taken into consideration. Easy to use, yet highly complex, the system of floating lugs lends itself particularly well to the "pivoting" of the case.
Price: CHF 195,000