T
he result of the Corum Bubble X Aiiroh partnership watch isn't an unusual departure for this creative brand, which has collaborated with a host of artists over the years. In fact, when the Bubble watch was first introduced 22 years ago in 2000, the artwork and decorative dials – along with the huge domed crystal – made an impressive statement that garnered the brand a cult-like following. The must-have 44mm watch was not only radical for the times, but also, and more importantly, it inspired emotion.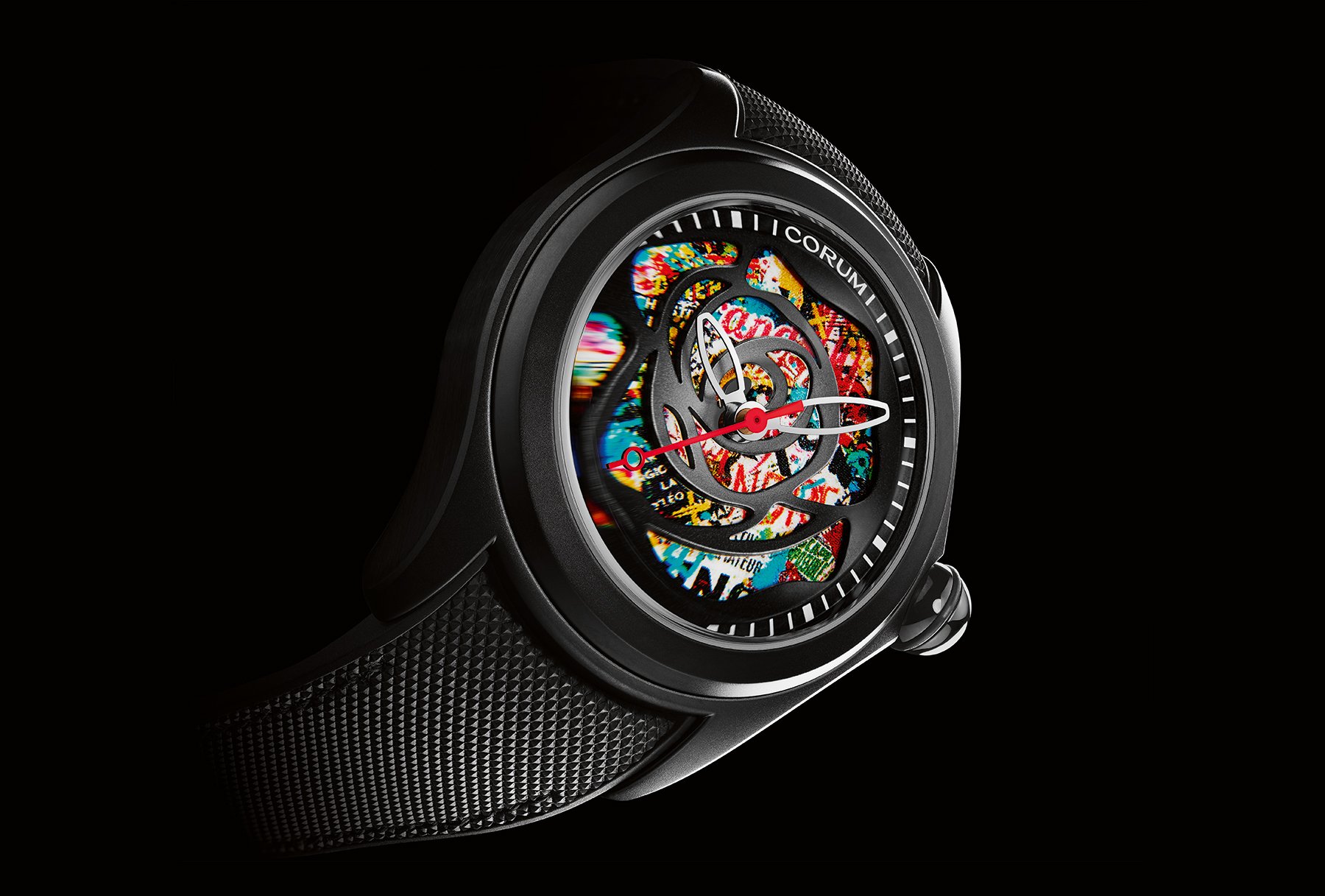 Aiiroh's famous "Black Série Rose" artwork's effect is entirely recreated on the watch dial, almost like a transfer of the original piece of art. It uses two different dial appliques that add dramatic depth and dimension. Against a stark black background, the boldly beautiful rose petal collage is almost fluorescent in shades of turquoise, orange, lavender, purple, blue, red, yellow and green – as found in concert, festival and political posters. Overlaid onto the first layer of the dial is a second black dial swirl made of aluminium in the shape of a stylised rose.
Powered by the mechanical automatic calibre CO 082 that offers 42 hours of power reserve, the new larger-than-life 47mm Bubble X Aiiroh watch brings its own message to the forefront: one of daring colour and bold style. Crafted in stainless steel with a black PVD coating, the watch is inspired by Aiiroh's famous "Black Série Rose" artwork that uses street posters and headlines in a decoupage-like collage to form the petals of a colourful rose. He then superimposes another stylised black rose spiral motif on top of that for added allure.

As intriguing as the Corum Bubble X Aiiroh watch is, it brings a further surprise in the form of its accompanying packaging and wall art. Limited to just 88 pieces, the watch will be sold with a special art work by Aiiroh and Japanese modern artist Namisen, brought to life as a final piece in resin by French visual artist Soyz Bank. The sculpted wall art is an original design inspired by Corum's watch certificate, complete with the immediately recognisable key logo. It is created as a flat painting, semi-folded, and finished in resin.
Price: CHF 7,200