O
ne of Kari Voutilainen's most well-known virtues is his great humility. But this natural reticence conceals lofty ambitions. I have a story to tell about that. In 2007 he won the Men's Watch Prize at the GPHG with his highly precise Observatoire model. During the winners' photo call everyone was visible except for Kari, who was hiding behind the imposing physical dimensions of one of the alpha males of the watchmaking tribe.
Kari wears his success very lightly. Since 2007 he has amassed an enviable collection of nine GPHG prizes, but you won't hear about it from him. He has become one of the most recognisable representatives of the watchmaking world, without making any more noise than the discreet tick-tock that emanates from his beautiful timepieces with their wondrous dials. These days, he surveys the Val-de-Travers from his eyrie in the Chapeau de Napoléon, quite possibly the world's most vertiginous watch manufacture.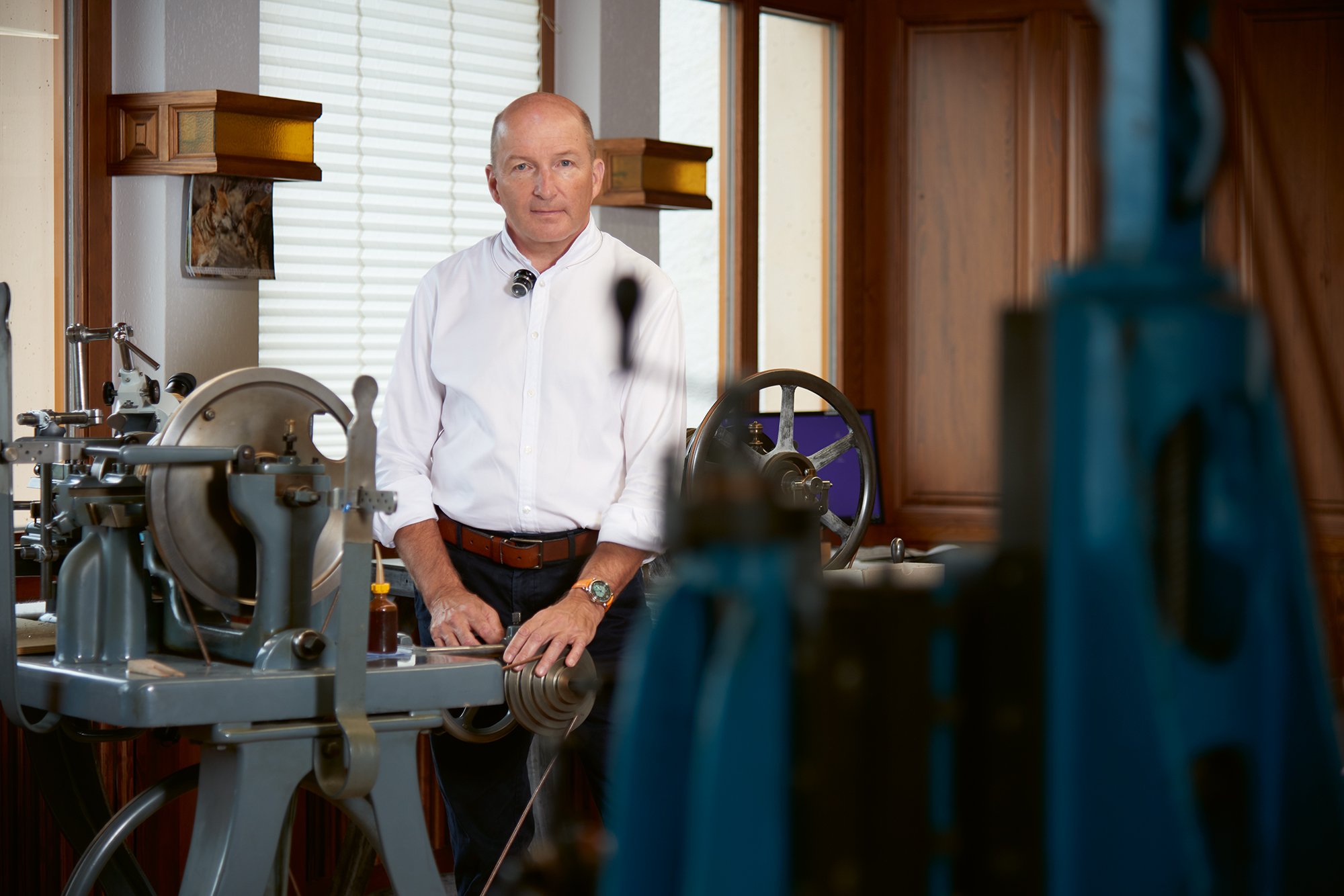 But his ambitions are even loftier.
He is far from being the one-man show of his early days, when all his tools would fit on one enormous, very thick table. He now works directly with some 30 staff. The Kari Voutilainen manufacture produces practically everything in-house, with the exception of rubies (although they are corrected if necessary), barrel springs, balance springs (Moser) and sapphire.
Every movement component – escapements, plates, bridges, wheels, pinions and pins (more than 16,000 machined components per year) – is designed, manufactured and assembled in this workshop. The components are decorated, chamfered, bevelled and refined according to the strictest rules of the art. The movements are assembled, disassembled, and reassembled. They are adjusted, corrected and controlled, and the finished products are advertised and sold. This is a truly independent watchmaking manufacture.
For almost ten years, Kari Voutilainen has also been a shareholder in Comblémine SA with its 26 staff, where all his incredibly complex dials are built and produced.
Very discreetly, he is also in the process of reviving the historically significant horological legacy of Urban Jürgensen, which he bought in 2021 with a group of investors, and of which he is now CEO. Founded in 1773, the brand celebrates its 250th anniversary this year. To mark the occasion, Kari will be unveiling some new collections that revisit the heritage of this exceptional horological dynasty while adding some "new ideas and technical solutions". And we can take Kari at his word. He knows the maison well, having previously worked with the late Peter Baumberger and the great watchmaker Derek Pratt.
A centre of excellence for guilloché
But that's not all. Kari Voutilainen, who is widely recognised for the excellence of his dials and the quality of their guilloché (not forgetting the one-of-a-kind pieces that combine guilloché with rare artistic crafts), is also currently working to set up a centre of excellence in the art of guilloché (Urban Jürgensen is another leading proponent of the technique). But it's all pretty hush-hush. Obviously.
Deeply committed to preserving these crafts and convinced of the vital importance of passing on the savoir-faire – his own career has borne witness to this (see our portrait in the July 2021 edition of Europa Star), Kari Voutilainen learned recently that Georges Brodbeck, one of the most accomplished guillocheurs still working, who is nearing retirement, was looking to secure the future of his craft and ensure his precious tools were left in good hands.
Georges Brodbeck among his machines

Photo: Guillaume Perret
For Kari Voutilainen there was no question of letting this legacy of the centuries-old art of guilloché, the living heritage gathered together in Georges Brodbeck's workshop in Saignelégier, be broken up, or sold for scrap. There is every guilloché tool known to man: rose engine lathes that can create regular sectors, straight line machines, and "tapestry" guilloché machines capable of creating "pockets", such as flower designs with petals in 3D. Georges Brodbeck, a skilled precision engineer, has restored, modified and improved all these machines (they stopped being made in the 1950s).
But you do need to know how they work. Today, Georges Brodbeck is the only person who knows how to make use of their incredible potential. Buying the machines was one thing, but ensuring his aid to train up future guillocheurs to use these wonderful machines was quite another. Indeed, it is Georges Brodbeck's artistry and his many "secrets" that bring these machines to life, and open up their immense potential. A legacy only survives if it is nurtured, passed down and used.
But it doesn't stop there. In November 2022 Kari Voutilainen learned through an acquaintance that another guillochage workshop was for sale – that of Wolfgang Lötterie, a renowned guillocheur from Pforzheim in Germany, who at the age of 80 was ready to retire. A specialist in guilloché decorations for the famous Braun table lighters, cigarette holders and fountain pens, and a long-time admirer of Fabergé eggs, he had some extremely rare specialist guillochage machines. Not one to do things by halves, Kari took the opportunity to buy the entire workshop. It contained a dozen exceptional machines in perfect condition, including tapestry machines, a machine for pens (which was immediately adapted for watch dials) and a rare machine made of wood and metal dating from 1907, another from 1920 – the list goes on.
A rare "tapestry" guillochage machine

Photo: Guillaume Perret
By this point, Kari readily admits, he had begun to "believe very strongly" in his idea. He brought everything back to Fleurier, and persuaded the local authorities to let him buy the old watchmaking school, built in 1896. There, he found a home for all of Brodbeck's and Lötterie's tools, and created his centre of guillochage excellence.
His concept, his dream, is, in his own words, to "make guilloché a central element. There are so many things to explore, so many shapes and variations. There's so much to learn." Georges Brodbeck is already passing on his knowledge of the art and the mechanical science to Ali, one of Kari Voutilainen's employees, and five guillocheurs are already working there.
The Fleurier watchmaking school in 1905
Kari has nevertheless kept five of the guillochage machines for his eagle's nest at the Chapeau de Napoléon, overlooking Fleurier, where he makes his own dials. He intends to gradually convert three floors of the Fleurier premises (one floor is already given over to unique pieces and prototypes) into a centre specialising not just in guillochage, but also in other artistic crafts including engraving and enamelling.
Kari Voutilainen has already made a signature feature of the consummate artistry of guilloché on many of his watch dials, demonstrating the expressive beauty of this artisanal technique. Waves, curves, interlocking figures and geometric rigour, clever reflections, optical illusions – the list of possibilities is endless.
The new Worldtimer CSW Cushion Shape Worldtime
Kari Voutilainen's latest Worldtimer will come as a surprise to many. With its bold cushion-shaped case in steel, measuring 39 x 39 mm with a depth of 12 mm, its four special screws attaching the bezel (there are four identical screws to secure the caseback), and the interplay of different shades of grey on the dial, it has an air of unapologetic modernity that marks a detour from Voutilainen's trademark classical formality.
The technical and sporty styling of the CSW (Cushion Shape Worldtime) provides the perfect showcase for contemporary guillochage. Two sectors share the centre of the dial, made from silver plates plated with ruthenium, each with a different guilloché motif. 24 engraved divisions around the outside feature a sunray pattern, while in the centre is a finely executed Trivagues wave motif. Around the periphery, the city discs represent the 24 time zones and the 24 hours of the day, in white or black to show day and night.
The Worldtimer CSW Cushion Shape Worldtime
The three-part case (a construction that simplifies casing-up and placing the Worldtime discs) remains sleek because the universal hours are adjusted not via a dedicated pushpiece but by pressing the crown. The watch is driven by the proprietary 216TMZ calibre (like last year's famous Ji-Ku), which features a new escapement with two direct impulse escape wheels connected to the 13.50 mm balance wheel (adjusted by a weight rather than a detent mechanism), and a Philips/Grossman hairspring, beating at 18,800 vph.
Performance has increased by 30%, the entire mechanism is shock-resistant, and the power reserve lasts 60 hours. This configuration is perfectly suited to the rotating motions of the discs while maintaining a compact size of 30 mm with a depth of 6 mm. It goes without saying that the movement's decoration and finishes are exceptional. The main plate and bridges are made of nickel silver, the wheels are rose gold and the hands are white gold, exclusively crafted by the master's hand.
A couple of touches make reference to Kari Voutilainen's personal journey. Among the cities of the world displayed on the 24 time zones of the Worldtimer are Môtiers, the village in Switzerland's Val-de-Travers where Kari set up his first independent watchmaking workshop, and Kemi, the Finnish town where he grew up. This exceptional Swiss mechanism contains a deeply artistic Finnish soul.