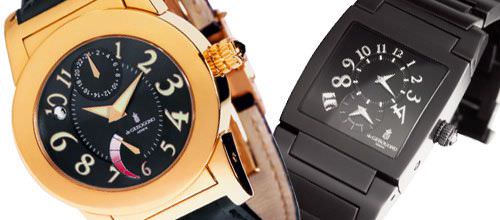 INSTRUMENTO TONDO
Curved oval-shaped pink gold watch equipped with a mechanical self-winding movement. Three-level black dial with power reserve and a second 24-hour time zone, leather strap, crown set with a black diamond, water-resistant to 30 metres.

INSTRUMENTO No. UNO
Blackened stainless steel watch equipped with a mechanical automatic movement offering dual time zones and oversized date. Black two-level dial offering dual time reading and an oversized date. Crown set with a black diamond, 42-hour power reserve, water-resistant to 30 metres.

When he founded de Grisogono SA in 1993, Fawaz Gruosi was driven by intuition rather than by any strategy, and he specialized in the creation and sale of designer jewellery and objets d'art. His original creativity ensured that each of his jewels met with immediate success.

1996: the (re)discovery
of the black diamond…
Whilst the profession had abandoned the black diamond, this very young company singled itself out by making the whole world rediscover this really unique gem. The company offered exceptional products ranging from simple jewellery to prestige furniture, the offers successfully combining aesthetics and creativity, audacity and originality. From the very beginning, de Grisogono was strongly imbued with the taste and style of its founder, Fawaz Gruosi.
The company's first six years were marked by very steady growth, a growth far superior to that of the average luxury company of the same size. In the wake of this, four boutiques were inaugurated in Geneva, Gstaad, London and Rome.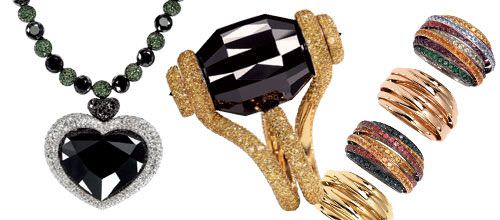 Necklace in white gold set with 58.77 carats of black diamonds, 14-10 carats of tsavorites, 378 white diamonds (14-16 carats) and a 115.34 carat heart-shaped black diamond.

Yellow gold ring set with 8 carats of yellow diamonds, two black diamonds (0.13 carats) and enhanced by an exceptional mobile facetted black diamond of 83.30 carats.

Yellow and white gold rings some set with black diamonds, pink, yellow and orange sapphires, emeralds, blue topaz, peridots and amethysts.

2000-2002: breath-taking growth.
Three years during which de Grisogono's success accelerated. The watchmaking department came into being in 2000, thereby affirming the brand's determination to be present in the almost hermetically sealed world of precision watchmaking. The watch collection Instrumento N° Uno, presented at the Basle Fair in 2000, contributed greatly to this growth by exceeding the wildest expectations and hopes: more than 3,500 pieces have been sold to date at prices between 9,800 and 240,000 Swiss francs.

It was during the course of these three years that Fawaz Gruosi made a discovery which would enrich the world of gems which had sunk into oblivion: lactescent diamonds, whose moon-like colour and brilliance seemingly softened by an inner veil are quite astounding. He named them "Icy" and created the "Icy Diamonds" collection. A new challenge meeting with exceptional success.
This very encouraging success, plus the unbridled enthusiasm of the professionals and the clientele, obliged de Grisogono too to readjust its growth plan. With sales exceeding CHF 63 million in 2002, this amounted to a 55% increase compared with 1999. Quite some performance. As a result of this, de Grisogono was now in a position to offer its clients a personalised service as regards the choice and design of jewels and watches. The company had to adapt itself somewhat like a self-employed artisan who suddenly has to apply the rigorous standards of a small or medium-sized company.
2001. The company, whose staff had increased from 10 to 50 within five years, moved into spacious offices better adapted to the size it had reached. In September, a boutique was opened at 27, Rue du Rhône in Geneva. Its 400 m2 henceforth housed the commercial activities of one of the most beautiful boutiques in Geneva, offering de Grisogono a setting worthy of its prestige.
2002 was the year when the second de Grisogono watch, the Instrumento Doppio, was born: it was given this name because of its two-sided watchcase with, on the one side, a dial offering the functions of a chronograph and a large date and, on the other side, a dial with a second time zone. Equipped with a hitherto unknown and patented mechanism, this new watch was offered for sale in a limited series of 500 pieces. Presented at the Basel Fair, the Instrumento Doppio too met with immediate success. Fully determined to benefit from this appreciation, Fawaz Gruosi continued developing two other fields of his company's activity, prioritising very high quality by rigorously selecting exclusive distributors all over the world. At the same time, points of sale were multiplying in Europe, Russia, the Middle East and Asia. In April, de Grisogono opened a subsidiary in New York, de Grisogono Inc., to better meet the requirements of its American distributors and clients.

2003: the year of consecration…
Demand from its international clientele was growing stronger day by day. To cope with this in a professional manner, de Grisogono opened new franchised boutiques in Hong-Kong, Kuwait and Moscow, where there are now two. The very beautiful London boutique is situated in the most elegant of streets - New Bond Street. Two boutiques were opened - in Paris in January, and in St-Moritz in December, and an additional one will be opened in New York in 2004. These inaugurations reflect the company's good health and enhance recognition of the brand among the public. However, far from getting carried away by this exceptional success, Fawaz Gruosi has decided to favour quality by limiting the number of boutiques in the world to ten in his own name and ten in the form of franchised boutiques. For him, luxury must remain exclusive. This is why he is so rigorous in his selection of his points of sale.
Basel 2003: the brand launched its third watch, Instrumentino. Smaller, as its name implies, this model was inspired by the now famous Instrumento N° Uno.

… and of shagreen.
Fawaz Gruosi is certainly not someone to rest on his laurels. Creative and indefatigable, he is the first in the watchmaking and jewellery world to have offered, in 2000, ladies' watches with bracelets made of shagreen or galuchat, a substance extracted from ray skin. In 2003, encouraged by the enormous success of the collection, the brand also launched throughout the world an entire shagreen jewellery collection set with gold and precious stones.
The company's growth, its expansion worldwide and its ever-growing fame should enable it to attain its objectives: to increase watch production to 10,000 pieces within five years and to consolidate its position in a highly competitive market on a lasting basis.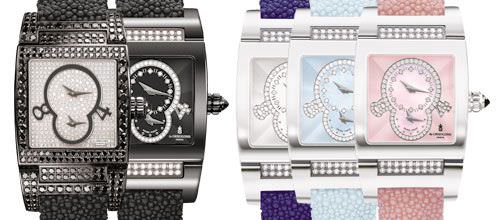 INSTRUMENTINO. 6 versions in 18 carat white gold with various coloured dials and galuchat straps and some diamond-set. Mechanical automatic movement with a dual time zone (also available with a quartz movement), crown set with a black diamond, water-resistant to 30 metres.