In the few short years that de Grisogono has been a part of the watch industry, the brand has gone from strength to strength. Fawaz Gruosi, the man who put the company on the horological map, has a personal design philosophy whereby he always aims to create something unusual, but at the same time maintaining an essential simplicity. As Fawaz Gruosi explains, even his Doppio, with both its mechanical and technical complications, is still basically simple and doesn't appear too busy.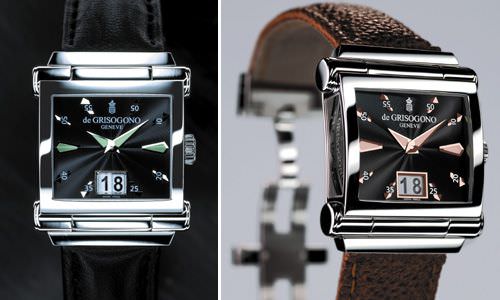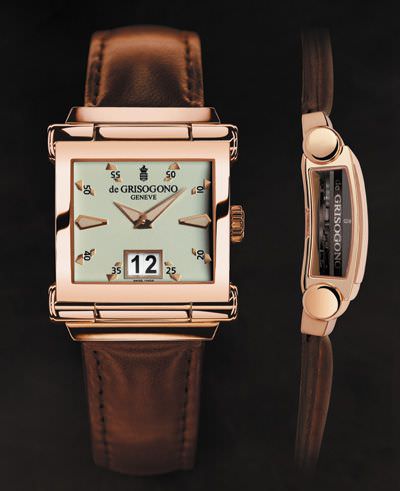 The Instrumento Grande
The brand's latest creation, the Instrumento Grande, follows this concept. It is a very handsome, generous-sized watch measuring 39.7 by 48.3 mm (which includes the strap attachments) with a thickness of 12.8 mm. There are four different coloured dials – silver, off-white, black and brown – with a guilloché pattern divided into twelve sections, luminescent dauphine hands and arrowhead bevelled indices at 3 and 9 o'clock. The big date aperture is genuinely 'big' with a bevelled frame making it highly readable but not obtrusive. And for the maestro's touch of something different, the minute numbers 25 and 35, are the only ones in the 'standard' position. 10, 20, 40 and 50 are viewed side on, whilst the 05 and the 55 are upside down and, remarkably, they remain totally comprehensible. The de Grisogono crown logo stands proudly at 12 o'clock with the brand name beneath it.
The case is in either 18 carat red gold or stainless steel and there are articulated attachments with the central section rigid and part of the case, whilst the two outer sections move with the strap thus ensuring total comfort for the wearer. The crown is in the classical 3 o'clock position and for the enthusiast there is a sapphire crystal window in the side of the case at 9 o'clock where you can admire the movement along with an additional module bearing the engraved de Grisogono name. As one would expect, there is a sapphire crystal caseback through which the oscillating weight bearing the engraved inscription 'Instrumento Grande' can be seen. The automatic movement is a basic ETA Calibre with the addition of an exclusive module for the large date. The watch is water-resistant to 30 metres and is completed by a brown or black alligator strap (galuchat is optional) with a folding buckle.
There are several different versions of the Instrumento Grande. In stainless steel the watch takes on an elegant almost sporty look, whilst the red gold version offers a refined, luxurious appearance. Resolutely masculine, the Instrumento Grande, with its chic rectangular profile, is an exceptionally fine and functional watch that is clearly destined to be a 'standard' in the de Grisogono repertoire.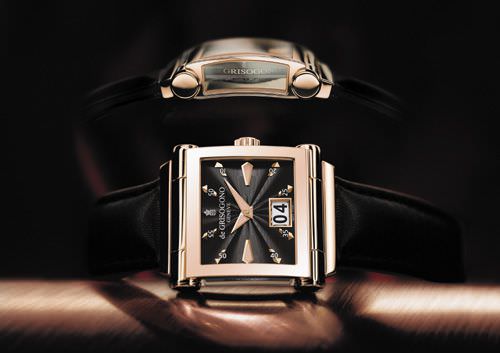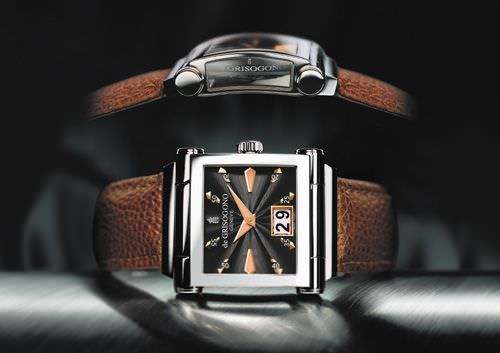 Then …
Before we look forward, let's quickly take a brief look back.
In just five years, deGrisogono timepieces have grown in both demand and horological stature. The year 2000 saw the introduction of the brand's first innovative watch, the Instrumento Nº Uno, with an automatic mechanical movement, a second time zone display and an oversized date aperture in the original position of 7.30.
2001 saw the creation of the Instrumentino, a slightly smaller watch with its dual time zone, a three-level dial, and the option of either a mechanical or quartz movement. A year later, the innovative Instrumento Doppio was launched at the Basel Fair. With its pivoting case it offered on one side a chronograph with an oversized date and on the other a second time zone with an analogue display of the second time zone. Technically, the Doppio broke new ground inasmuch that both displays were driven by the same movement and barrel, with the hands on the second time zone side passing through the winding rotor.
In 2003, de Grisogono launched two new models: Instrumento Doppio Tre and Instrumento Tondo. The Tre offered three time zones, two of which were on one dial with an oversized date at 7.30 and the third time zone on the reverse side. The Instrumento Tondo was visually totally different to any previous models because of its oval form, nevertheless it introduced further horological refinements with its automatic movement, a 24-hour counter at 12 o'clock and a power reserve indicator between 6 and 7 o'clock.
Last year (2004), we saw the introduction of the Instrumento Chrono, a handsome and original chronograph followed by Lipstick a unique ladies' jewellery watch that combined Fawaz Gruosi's distinctive watch styling with his creative jewellery designs.

Now …
"I always want to stay exclusive," Fawaz Gruosi confides. "I aim to keep producing watch classics with unusual touches – keeping in mind that I really don't want to make more than 5,000 pieces a year. In our first year, 2002, we produced 850 watches, in 2003 we made 1,450, in 2004 we jumped to 3,300 and this year we will be close to the 5,000 mark and that is the number I would like to maintain otherwise our watches will lose that all-important exclusivity.
"We have produced ten different models with many variations since de Grisogono came on the scene, which really isn't bad in only five years," Gruosi continues. "I would like to maintain that level of creativity and also maintain our high quality of workmanship."

The future …
The near future is, of course, BaselWorld and de Grisogono has a couple of surprises up its proverbial sleeve. I have it from a very good source (the man himself) that there will be a new sports watch and a fantastically original watch called the Occhio Ripetizione Minuti (Minute Repeater) … which I have seen, but because of the publication date embargo will only appear in the pages of Europa Star in the special Basel/SIHH issue.
With his innate sense of creativity, Fawaz Gruosi will certainly be keeping the de Grisogono name in the limelight and if we believe what we see, there should be no end to the surprising complications in the brand's collections, especially since as he explains, "… people want watches and they look for something different depending on their mood, their outfit, the seasons, something that will dramatize their appearance.
"When I believe in something, I do it," Fawaz Gruosi avows. "Fortunately, I'm never short of ideas because if I look at something, perhaps something as simple as a flower, I get inspiration. But there's one thing I have to tell you: I don't work for the money. I work for the love of the work!"