When people tell Franc Vila that he started his brand 'at the right time', the 36-year old Spaniard just smiles and nods his head. At BaselWorld 2005, the date he introduced his timepieces to the public, he had already placed the bar very high with his very first watch, the FV01, a perpetual calendar minute repeater—quite extraordinary!
He launched his brand that same year, at a time when a new wave of watch companies came into existence, created not by independent master watchmakers but rather by entrepreneurs. Since then, many people have tried to emulate these ventures, so much so, that this year alone, some 20 new brands began their careers in the haut de gamme sector. For many of them, however, we might fear that it is not, in fact, 'the right time' to enter a market that is both saturated and weakened by the global economic downturn.
But let's return to Franc Vila. Not only did he start his brand at the right time—during a period of full economic expansion that allowed him to 'consolidate' his activities before the current turbulent times—but he also found the means to achieve his goals.
This dynamic man, full of ideas and energy, carries on with exceptional perseverance. He wagered everything on just one design, which he created, called 'Unique Spirit'. He has never varied from this design, and today his watches are highly identifiable and recognizable—and yet they are nearly all different in one way or another.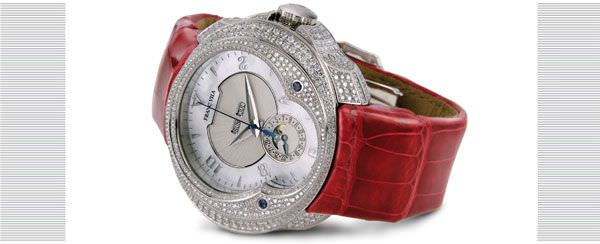 FVa7 MASTER AUTOMATIC CALENDAR fully paved with 1,300 diamonds


Taking a chance on a single design
The major advantage of the very recognizable design of Franc Vila's figure-eight shaped case is that it frees up space on the lower part of the dial. This lets the watchmaker add various complications, a tourbillon, additional functions or specific counters. In addition to this benefit, however, the design expresses the very essence of Franc Vila's approach to timekeeping. Starting with his first steps into the world of watches, Vila wanted to create very contempor-ary pieces while still remaining true to the great traditions of the art of watchmaking.
Inspired by the design of the most traditional dial—where the small seconds hand is displayed below the hour and minute hands—and then pushing this reasoning even further, Vila arrived at his own special design. Since then, he has never wavered from it. The result is a fully integrated and highly architectural piece with a very complex case that lends itself to all types of materials and textures. Flirting with dimensions as large as 52 x 45mm, the watch is contemporary yet draws on its 'classical roots' in terms of readability, distribution of functions, choice of complications and decorat-ive refinement. In short, Franc Vila pieces are typical of watches crafted in the great trad-ition of the art of timekeeping.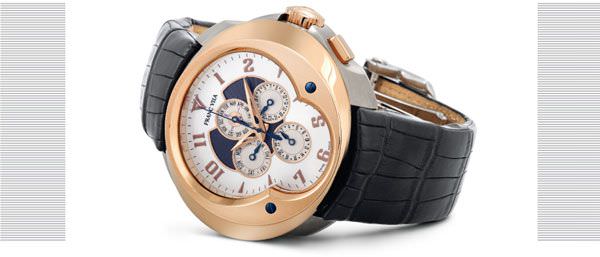 FVa10 AUTOMATIC GMT PERPETUAL CALENDAR


The choice of the open manufacture
The balance between traditional and the contemporary is also expressed in an extreme demand for quality. "I have always required—and paid for—my pieces to have the best degree of finishing as the most expensive watches in the marketplace, those that come from the most traditional brands," affirms Franc Vila. "And this is true for my entire collection, from the entry level watches (for example, a big date chronograph selling for 19,000 Swiss francs) to those in the very haut de gamme sector (for example, a tourbillon minute repeater whose price tag is in the neighbourhood of 500,000 Swiss francs). In this regard, I am totally uncompromising."
These demands also led Vila to work with the model known as the 'open manufacture', instead of the procedure used by others, who he says waste time, energy, and resources in wanting—at all cost— to become autonomous in terms of production. While all his watches (at the current rate, this means between 500 and 1,000 pieces per year) are assembled and controlled in-house at the brand's headquarters in the old town of Geneva, all the rest are developed and produced by a selected group of suppliers that work with him as a team. "It is nonsense to want to become a manufacture," insists Vila. "Moreover, historically, Switzerland did not develop its watch industry in that manner, apart from a few notable exceptions. It is the artisanal and industrial fabric that provided—and continues to provide—the richness of Swiss timekeeping. What is the use of wanting to produce everything yourself when you can work with the best independents in the world? I also want to emphasize that all my watches are 100 per cent Swiss, including the bracelets and straps. Even better, almost 90 per cent of my components are made in Geneva."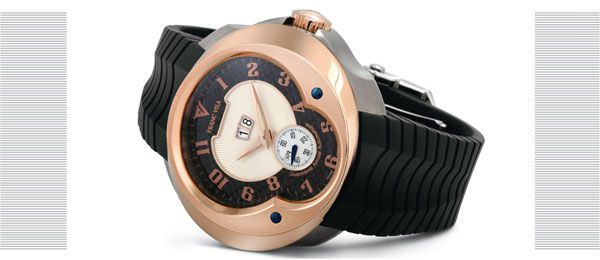 FV8Qa AUTOMATIC GRAND DATE PERPETUAL CALENDAR


A gradually developing concept
How did the Franc Vila adventure begin? The young Spanish collector, Franc Vila, set off in search of the 'ideal' watch, one that would match his own taste and specifications. Not finding it, however, he decided to create one. In the beginning, his goal was not to start a watch business but his friends became very interested in what he made. So, little by little, the personal adventure turned into a commercial venture.
Right from the start, Franc Vila knew precisely what he wanted to create. Based on his clearly defined ideas, he worked to develop each strongly characteristic detail. Whether the case or the movement, he looked for new solutions, forms, and types of materials. His objective was not to cause a 'revolution' but rather to incorporate the great classics of haute horlogerie—the tourbillon, minute repeater, perpetual calendar, and chronograph—into his own concoction, somewhat in the manner of a great chef combining specific ingredients.
As expected, his route quickly crossed that of the constructor, BNB Concept, founded in 2004, with whom Franc Vila developed a number of his movements, beginning with the tourbillon. Thus, at BaselWorld 2006, Franc Vila was able to present—not even two years after the brand's creation—his own movement, the Five-day Tourbillon Planétaire that equipped the FVN°1 watch (not to be confused with the FV1—at Franc Vila, the names of watches equipped with original movements are indicated by FVN°,while other movements are listed as FV). We can easily imagine that the young Spaniard, who had no hesitations about upsetting a few codes, would get along perfectly well with a constructor such as BNB Concept, a company also seeking to push the limits. Since the beginning, a similar team spirit also connects Franc Vila to Dubois Dépraz.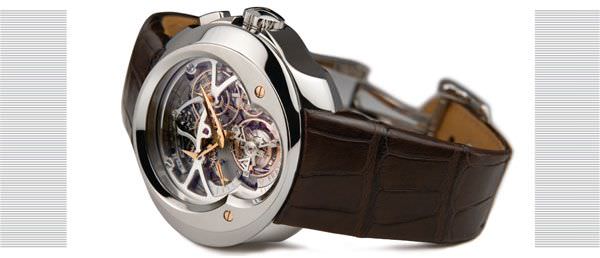 FVa Nº CUATRO TOURBILLON DIAL-SIDE COLUMN WHEEL MONOPUSHER CHRONOGRAPH


A programme for the long term
Besides his own tourbillon, Franc Vila also presented a series of watches in 2006: the FV5, a universal time zone, the FV8, a large date chronograph, and the FVa8QA, a perpetual calendar with large date.
Looking at all these numbers, in no seemingly consistent order, you might wonder what his rational is in naming them. For example, his first collection, in 2005, included the FV9 a chronograph with a complete calendar, the FV11, a perpetual calendar flyback chronograph, the FV10, a GMT perpetual calendar and the FV7 a complete calendar with lunar phases.
Anticipating our question, Franc Vila explains: "Right from the beginning, I knew exactly what I wanted to do, which pieces would be in my collection. I imagined it so that a collector would be able to find everything that he was looking for. Thus, the numbers of my products correspond to their specific place in my collection. However, I created them and introduced them one after the other, in no special order, as my own programme advanced," He goes on to add, "And if I never varied their shape or design, it is because I did not inherit an age-old tradition, but rather I had to create a strong identity from scratch. To do so meant being creative, inno-vative, luxurious, and therefore exclusive."
His progress thus led him to present his FVN°2—his second original movement—in 2007, which is a five-day planetary tourbillon with GMT indication. That same year, he also presented his FVN° Cuatro, a single pushbutton chronograph tourbillon.





FVa9 EL BANDIDO


A lesson in adaptation
His recent incursion into the arena of the sports watch with, for example, his very black collection, El Bandido, in 'black diehard extreme steel', demonstrates that his strict concepts are nonetheless perfectly adaptable to the codes of the most contemporary sports timepiece and to the various mixtures of materials that are so much in demand today.
A very spectacular demonstration of adapta-bility is the recent Blue Lightnium version of his SuperLigero skeleton tourbillon (the picture on the Cover). The timepiece's FVaN°6 movement is made—for the first time—of an a colored alloy based on lithium. Its very low density combined with its particular solidity allows for the construction of a skeleton mechanism that is very resistant to shocks.
An additional virtue of the 'open manufacture' is being able to collaborate with a flexible constructor who is willing to deeply reflect on the problem at hand. The result is a skeleton movement whose transparency comes as much from the high degree of simplification of the movement as from the sophisticated forms of the various bridges and plate. Regulated by a flying tourbillon equipped with an 'Inertial Moment Control', Franc Vila's latest watch is already indicative of the road that the brand intends to follow in the near future. Thus, we are told that the upcoming products will include new versions of the tourbillon chronograph, a new tourbillon minute repeater, and a collection specifically intended for women that will maintain the same iconic Franc Vila shape. Other projects in the pipeline include a new tourbillon and a big power reserve watch.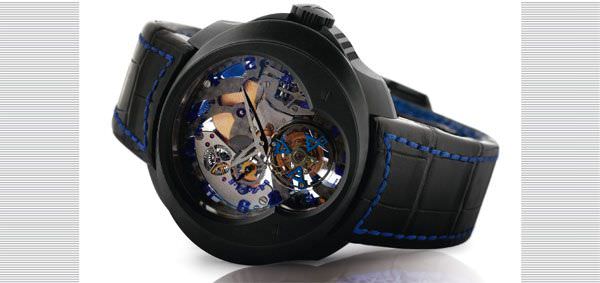 The SUPERLIGERO SKELETON TOURBILLON FVaN°6 BLUE LIGHTNIUM


Step by step distribution
When asked about the distribution of his watches, Franc Vila is quite pragmatic in his approach. "We are moving ahead step by step because I do not want to open a market without knowing that we are able to deliver. And, I want to build a network that is as exclusive as possible—like our watches. For our simplest models, we produce 88 pieces, while for our perpetual calendars, we make just 48. For the tourbillons, production is limited to eight pieces.
At the moment, the Franc Vila brand is particularly well positioned in Russia, the Ukraine, the Middle East, Singapore, Malaysia, Mexico, the United Kingdom, Spain, France, and even Australia. Obviously, there is a lot of room for expansion. The brand has just started a formal distribution programme in the United States, via the WLuxury Group headed by Michael Wunderman of Corum. That also leaves Hong Kong and China in the brand's sights.
There is no lack of opportunity but Franc Vila must concede, as have many others, that "today in Switzerland, the problem is with the suppliers. There are still too many bottlenecks." Although this is a recurrent complaint, the situation may become less critical in the months ahead.
Yet, after only five years (in 2009), the timepieces of Franc Vila—reasonable by their high quality, bold by their contemporary design—should be able to withstand the turbulences affecting the watch sector today. His potential for development is certainly an argument in his favour.


Source: Europa Star October-November 2008 Magazine Issue