The beginning of the Russian love affair with horology dates back to 1404 when the first chiming clock was built into the Kremlin tower in Moscow by a Russian monk called Lasar Serbin.
The first watch schools appeared, again in Moscow, around two hundred years ago and further development of the country's watch industry took place during its period of industrialization in 1929 when the first 'five-year-plan' came into effect.
During the period of the USSR (Union of Soviet Socialist Republics which had a total population of around 258 million in 1977) around 70 million watches were manufactured a year thus placing the watch industry second in terms of profitability in the Russian engineering sector.
The Soviet watches were of traditional Russian design, had good quality mechanical movements and were moderately priced for the Russian consumer. The competitive prices of the watches also meant that demand was high abroad and around 40% of the total annual production was exported.
In the 1990s the watchmaking sector went into recession. With the collapse of the Soviet Union and, faced with a sharp increase of watch components produced by factories from the new states and an expansion of the low priced watches from Asia, Russian watch manufacturing began to take a back seat. But from 1999, the Russian watch industry saw the beginnings of a new era as some of the better known and established brands along with some new ones and the revival of some pre-revolutionary brands (Moser, W. Gabus etc.) began production.
Today, there are more than 15,000 skilled people working in the thirty or so watchmaking companies and factories that produce more than 6 million watches annually. In Moscow there are 13 watch companies employing some 10,000 people that produce and assemble 3.5 million watches a year.
In 2003, according to the official statistics, 26 million watches, both Russian and imported, were sold in Russia.

FIRST MOSCOW
WATCH FACTORY (Moscow)
Manufacturers of the famous Poljot brand, the company was founded in 1930 and since its beginnings manufactured everything from the case and movement to the balance spring. In 1931, Poljot made 70,000 watches and by the following year had reached 200,000.
Watch production stopped during the war years but afterwards, with new assembly lines, the next few years saw production increase regularly until 1955 when it reached a production of over a million pieces. Until then, the company had specialized in men's watches, but in 1986 production of ladies' watches began.
With the advent of quartz the company also began quartz movement production but in 1995 returned to manufacturing only mechanical movements and importing quartz movements from Japan.
Today, the company manufactures 85% of its own mechanical movements, but imports around 1,000 to 1,500 Swiss ETA automatic movements a month for their watches.
The company employs 450 people and manufactures 500,000 watches a year, 60,000 of which are chronographs. The production figures break down into 85% men's and 15% ladies' watches of which 25% of its manufactured movements and 25% of its complete watches are exported.
Over the last thirty years, Poljot has sold more than 30 million watches in more than 35 countries.

VOSTOK (Chistopol)
Vostok has been manufacturing mechanical watches for more than 60 years. Originally in Moscow, Vostok was re-located to Chistopol where defence material was produced during World War II. At the end of the war it began making mechanical wristwatches producing everything in-house. Maintaining its contacts with the Defence Ministry, the company launched into military watches such as the Komandirskie and then developed a wide range of timepieces and clocks.
There are 4,000 people working in the enormous Chistopol complex (the local population is 60,000) and as a throwback to the old Soviet system it contains an education institute for taining around 800 students, its own supermarket and medical centre .
85% of Vostok's total production of 2 million watches a year are for national distribution and 15% are exported – its largest external market being Germany.

CHAIKA (Uglich)
Founded in 1940 and formerly called Volga, the company began its existence producing all types of stones for watches and then moved into its own watch production.
In 1956, the company changed its name to Chaika, but began producing watches under two brand names – Chaika and Volga: Chaika produces the lines for the ladies - Classic, Elegance and Jewellery, men's wristwatches, pocket watches and clocks; the Volga watches are collections for both men and women with a special line for the younger consumer.
The watches are available with mechanical or quartz movements (Citizen) and between 1,500,000 and 1,800,000 are produced annually. 70% are for the Russian market and 30% are exported to former Soviet countries, Europe, Africa, Germany, Canada and some of the old Eastern Block countries.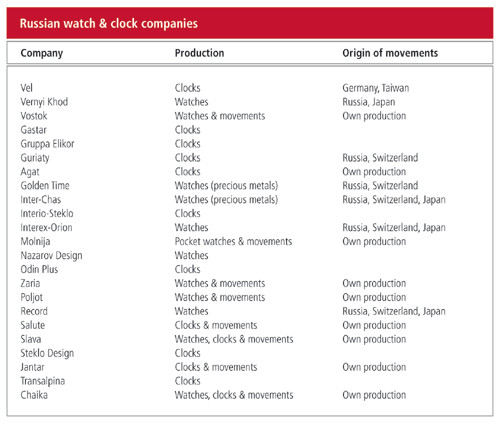 TO BE CONTINUED...
In the forthcoming days, the rest of this lenghty survey will be added to our europastar website.

Revolution in evolution (PART I)
The Russian economy (PART II)
The Russian watch industry (PART III)
The Russian watch market (PART IV)
Watch companies in Russia (PART V)