SOHO
Stainless steel watch and bracelet. Swiss ETA quartz chronograph movement, 60-second, 30-minute and 1/10th of a second counters, date at 4 o'clock, black dial with glare-proof crystal, water-resistant to 50 metres. Also available with a black croco strap.


"2003 was an excellent year for Gant watches," Christoffer Owers, Gant's CEO states with enthusiasm. "We saw the watch business struggling in general, but Gant watches saw a 100% growth in volume last year.
"We launched in 2002 and it was a very difficult year. We were launching and the markets were slow. We had no real history at the beginning, but 2003 saw a dramatic change, we now have distributors in thirty countries. In most of them we had good results, in some they were excellent and I have to admit that there were a few with poor results. But, in general, in the countries where the Gant name is known because of the clothing, the watch collection is doing very well.
"Gant clothing is classical and our concept for the watches is to follow that style. We focus on classic design and offer a quality product that has either a Swiss ETA or Ronda quartz movement. We also have a Limited Edition mechanical watch that is equipped with an ETA movement.
"Three months ago Gant launched its first range of women's clothes, so we are going to expand our ladies collection by about 30%. We recently introduced a new range of elegant ladies' watches that have either 8 or 11 diamond indices on the dial and sell for around 350 – 400 euros."

Developing distrinution
Gant are currently negotiating with several distributors and will launch into two new markets – the UK and Italy. The brand's most important sales are in the Scandin-avian countries, the Benelux, France, Portugal, Greece and Turkey and although the watches can be already found in Hong Kong and the Philippines they are not big markets for Gant.
In the USA where Gant is renowned for its clothing, the watches are still not available there. Owers explains: "The US market is really the big thing for us. But our strategy is to slowly build the brand, consequently we are still evaluating the US market. We have a lot of respect for the US market, however it is a difficult one. Nevertheless, we do have the heritage of our brand and that counts, but we have to have the right partner and we are still evaluating the prospects."
Asked whether or not there would be a problem of producing sufficient watches to meet the demand in the USA, Christoffer Owers said the main problem was not one of meeting the demand, more the complexity of the market. "With the US watch market, you don't get a second chance if you mess it up. We want to find the right partner who knows and understands the complexities of the market. Someone capable of handling the marketing, working with the distributors, the retailers and the various chain stores. He's going to have to handle everything over there, that's why we are still assessing the prospects."
In the two years of its existence, Gant has made some very positive inroads into the international markets. The watches come at very affordable prices and are true value for money given the elegant, yet classical, styling, the quality workmanship and the fact that only Swiss movements are used. If these latest models are anything to go by, the chances are that the Gant watch brand will soon be as successful as its big brother in the clothing industry.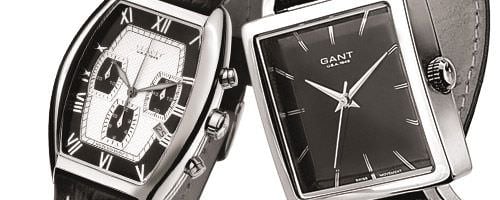 KEY WEST CHRONO II
Stainless steel tonneau-shaped chronograph equipped with a Swiss made Ronda quartz chronograph movement. Central hours and minutes, seconds, minutes and 1/10th of a second subdials, two-level black dial with silver guilloché enamelled centre, blued luminescent steel hands, applied Roman numerals, curved hardlex mineral crystal with glare-proof treatment, crown with Gant logo, black padded strap, water-resistant to 50 metres.

UNION SQUARE
Stainless steel watch equipped with a Swiss made Ronda quartz movement. Black curved retro-style dial with diamond-cut hour markers, hardlex mineral crystal with glare-proof treatment. Hours, minutes, seconds, Gant logo on crown, black croco leather strap, water-resistant to 50 metres.