"The domestic Japanese watch market is in convalescence," confirms one of the managers at Citizen. "But it is slowly coming back. It was up 2% in value terms in 2003 in relation to the previous year. And, against this backdrop, business with Japanese manufacturers is improving a little bit more rapidly, up 5%," he continues, "which means they have taken 3% of sales from the imported international brands."
These same managers are somewhat more optimistic when it comes to the contribution that their own brand has made to the relative rise in value of the Japanese watch companies. According to Citizen, the company's watch sales increased 12% in Japan alone last year. What is the reason of this relative successı The response is immediate: the 'radio-controlled' watch, which is the highest selling model in the Citizen line-up. This market is capital for the brand since it represents 30% of the sales of Citizen.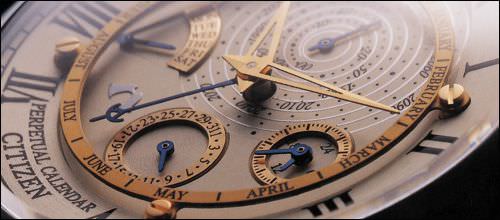 PERPETUAL CALENDAR ROUND


The particular vogue for 'radio-controlled' timepieces has not been lost on industry watchers and indeed has been given special importance in the annual study carried out by the Japan bureau of the Federation of the Swiss watch industry. In this study, Japanese retailers (of which 45% believe that the situation will be 'rather bad' for domestic brands in 2004), have high expectations for 'radio-controlled' watches (while six out of fifteen retailers estimate that the situation for Japanese brands will be 'good', only one in four estimate that it will be 'the same').

Technological inside but a classic look
Citizen has followed a different road than its competitors. The brand offers a partial list of its international models to the domestic market, but as in the case of Seiko, it is positioned clearly higher in Japan than abroad.
While the 'contents' of Citizen watches are often 'hi-tech', their appearance is becoming more and more classic in design. "The market for young consumers is in decline," explains Toshinori Nishimura, Manager of the Marketing Development Group at Citizen. "In the generally stagnant economic climate, with salaries at often rather low levels, young people are not making costly purchases, but are increasingly using their cellular telephones. So, since Citizen is positioned rather high in Japan, we are targeting a 'middle aged' clientele. These people, while they appreciate technological innovation on the inside, prefer classic design on the outside."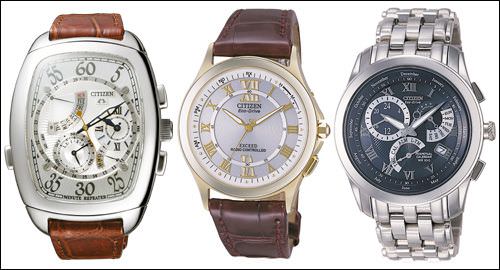 MINUTE REPEATER, ECO-DRIVE RADIO-CONTROLLED and ECO-DRIVE PERPETUAL CALENDAR.


Besides the 'radio-controlled' pieces that are rapidly gaining market share, the core of Citizen's domestic market is to be found in watches equipped with hybrid movements such as its 'Eco-Drive'. These alone account for more than 50% of the brand's sales. Citizen, in ad-dition to its quartz movements also produces strictly mechanical movements, but has not placed them for sale on the local market. Moreover, Citizen actively engages in licensing, with some twenty sub-brands principally in the feminine market and in the fashion sector, as does its competitor Seiko.
From a design point of view, Citizen's core models are classical in appearance. In fact, Citizen is one of only a few brands that combines the style and functions of mechanical watchmaking with hi-tech movements. This was evident at BaselWorld, where the Japanese brand presented its latest timepieces. Exemplary is its new watch, Exceed, a radio-controlled model combined with an Eco-Drive movement, the thinnest in the world. "With its conservative styling and high quality finishing," explains a spokesperson for the brand, "this model is exactly what is needed for the Japanese domestic market."
Another round model is a perpetual calendar, still with the Eco-Drive calibre and combined with an alarm function. The guilloché dial, added to the appliqué Roman numeral hour markers and its various other indications, gives this a very classic look. With an even more classical design, but in appearance only, are the tonneau models belonging to the Campanola family. Equipped with a new quartz movement, the Calibre 6765, the collection notably proposes a minute repeater on a three-dimensional regulator type dial. Other features include blued hands, guilloché dial and separate hour, minute and second indications.
In the same haut de gamme collection, the Grande Complication series is made up of finely polished timekeepers that are manually assembled and equipped with a superb lacquered dial using the ancient Japanese 'Urushi' technique. Among the complications featured in this series are minute repeater, perpetual calendar, lunar phases and chronograph.
There is even another interesting timekeeper featuring a round perpetual calendar, with the month circle suspended in space. With Citizen, we are a far cry from the highly futuristic image often associated with Japanese watchmaking. Yet, this classic quartz piece demonstrates that European watchmaking still exercises a strong design influence on Japanese consumers.


TO BE CONTINUED...
In the forthcoming days, the rest of this lenghty survey will be added to our europastar website.

1. The Japanese watch market in convalescence
2. In Japan, Seiko is also positioned in the haut de gamme
3. Citizen – Classic Outside, Hi-Tech Inside
4. The IWC image challenge in Japan
5. Girard-Perregaux in Japan: the cultural strategy of an independent
6. The exemplary establishment of Hermes in Japan
7. F-P Journe in Japan: Listening to intuition!