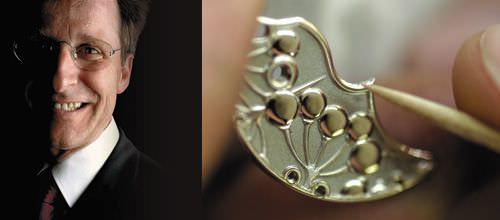 Michel Parmigiani


Michel Parmigiani has had the good fortune that he deserves. He is fortunate that his great talent as a watchmaker and artist has been duly recognized by his peers and customers. He is also lucky to have his destiny tied to a rather unusual organization, the Sandoz Family Foundation. As the primary shareholder in his company, the Sandoz Family Foundation is not a group of investors controlled by the stock exchange and thus held hostage to its ups and downs. Rather, it is a foundation created by a Swiss family whose fortune was made primarily in the chemical industry, but who decided to diversify into other domains, one of them being watchmaking. Again as its name indicates, it is a 'family' foundation, but one that has its sights set on the long term. For it, perpetuity is the essence of its activity.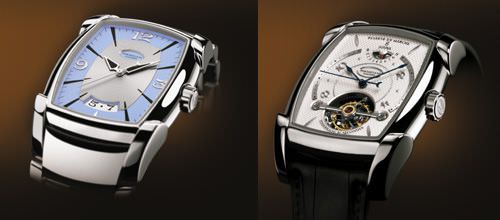 FORMA XL AUTOMATIC STEEL
FORMA XL TOURBILLON
Self-winding 30 seconds tourbillon, double barrel, 21,600 vibrations per hour, 8 day power reserve.


Pushed to create a 'manufacture'
"With the Foundation, we wanted to get the brand on track for the long term," explains Michel Parmigiani. "Everything was decided as a function of this objective. In the beginning, we did not really have the intention of establishing a 'manufacture'. But confronted with the problems of obtaining supplies, as well as getting the quality we wanted, we were pushed in this direction. If we wanted to maintain our independence and the desired excellence, there was no other way for us to go. So, we acquired three industrial entities: Affolter for cases, Atokalpa and Elwin for micro-mechanics and metal turning. Progressively, and simultaneously, we put them into place and created what has now become the movement manufacturer, Vaucher, which also includes a dial making unit."
Developing a calibre involves considerable financial outlay, to the order of 3 to 5 million Swiss francs. How do you justify such an investment, with a brand like Parmigiani, which makes about 3,000 watches a year, with a goal of 5,000 over timeı The only solution was to open this 'artisanal/industrial' capability to other brands. "In order to amortize our investment, we decided to offer our expertise and products to other brands. Using our basic movements, we offer various types and degrees of personalized finishing. This flexibility allows us to propose truly different products, designed to meet the specific needs and desires of the brands that come to us. However, we have reserved our own exclusive finishings for the Parmigiani brand."
Having reached this degree of vertical integration, do Parmigiani and Vaucher intend to maintain their independence in the domain of regulating organsı The response is the same, "Given the production attained in Switzerland in the area of mechanical watchmaking, the quality of the regulating organs is not up to the levels of excellence that we require. Our products are above current standards and so must be our component parts. Logically, we would like to become independent in this area as well and are working actively in this direction. We are on the right track but it is still too early to announce anything concrete."

Revived watchmaking
In the meantime, let's return to the central question. Has this new integration and this new production tool influenced or transformed the watchmaking of Michel Parmigianiı The response is certainly 'yes', and on several levels. First, from an organizational standpoint: by structuring the enterprise into two distinct entities, Parmigiani Fleurier SA and Vaucher Manufacture SA, which is headed up by Emmanuel Vuille, Michel Parmigiani is free to "concentrate on the design, technical and commercial development" of his brand.
The results were not long in coming. The new collections have been 'liberated' from an aesthetic viewpoint, especially in the Forma line. This line has been given a new freshness, notably in the dials and the surprising colours (lilac, sky blue), as a prelude to moving into ladies' timepieces, which is perhaps overdue.
On the other side, with its high level of quality control in the manufacturing process, the assurance of component availability, and its structure and personnel, Vaucher allows the creativity of Michel Parmigiani to flow freely. We saw evidence of this creativity recently with the very lovely 30-second tourbillon housed in the Forma XL. This is an extremely elegant piece with a technical virtuosity to match. We will see it again in an even more surprising manner in the new Bugatti which is being introduced this autumn.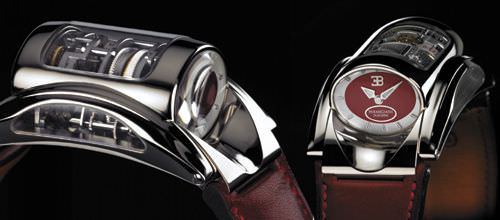 THE BUGATTI 370


A transversal movement
"The Bugatti 370 is only the first model in a family of watches that will ultimately include the wildest of functions," smiles Parmigiani, who insists that he "has many other ideas in mind as well." The first attempt at moving away from classical watchmaking, the Bugatti is innovative primarily in its linear architecture made of a succession of bridges. A sort of 'motor block' to wear on the wrist, Bugatti aligns the balance, gear train, double barrel and the display in somewhat the same manner as certain historical pieces and marine chronometers. "The difficulty," adds Parmigiani, "was to first make a prototype that was commercially feasible. It was necessary to take a second look at what we were doing so that everything was perfectly lined up, a little like aiming at a target, and with no room for error. In watchmaking, it is crazy... It is a long way from a sketch on paper to reality. There are many differences in terms of adjustments and research to make the movement work. It is also a process of trial by error."
This astonishing transversal movement, in which the screws have been replaced by hexagonal nuts, rests entirely on silent blocks. Sapphire crystals of a rare complexity allow the viewer to see the movement from above and from the side. To wind the watch or adjust the time, one uses a surprising pen-starter, which alone is worth a second look. It is inserted in two minute openings situated under the watch. The energy is transmitted to the watch via a clutch mechanism, a spherical differential and conic gears. Inside the pen-starter, one discovers barrels in series, a differential that regulates the force, a liquid-silicone chamber designed to amortize the speed of winding, and a dynamometer that controls it all. The watch has ten days of autonomy.
I admit that before seeing this bizarre Bugatti and putting in on my wrist, I had some strong doubts about its aesthetic qualities. However, these doubts were soon swept away when I saw the magic in this creation. It was at the same time both childish, like a precious building block set, and erudite. Easy to wear and comfortable on the wrist, its beauty was enhanced by a superb Hermès leather strap. But, with a price tag of around 269,000 Swiss francs retail, the fifty 'toys' that are produced each year will remain quite exclusive.

On Vaucher's side
Leaving the elegant patrician headquarters of Parmigiani, one only has to cross the street to visit the manufacturing facilities of Vaucher.
What is most striking about this newly installed facility is that is seems both complete and compact at the same time. The cleanliness and organizational structure border on clinical perfection. The air is recycled everywhere. There are clean rooms within clean rooms, airlocks, eco-solvents, maximum security, comfortable and well-lit working environments. Housed here are the primary crafts and metiers related to haute horlogerie.
It is beyond the scope of this article to detail all that takes place in these buildings. Briefly, however, the first one houses the CAD tooling of component parts (five or six of the latest state-of-the-art five axes machines, with automatic reloading, are operational from 7 in the morning to midnight), plus workshops for cleaning, finishing, dry sanding, wet sanding, chamfering (eight people hand-bevel the component parts), decoration (Côtes de Genève, circular graining, snailing, sun-designs, hand texturing, and hand brushing), parts assembly, pre-assembly, quality control, etc. These individual workshops are strictly separated to avoid dust and any other foreign matter from contaminating the process.
There is also a polyvalent electroplating unit that can handle dials and movement parts (mostly used for gold-plating gears and rhodium plating bottom plates). This installation, as compact and complete as the rest of the facility, also handles research, especially in terms of colour, as well as a large palette of other treatments, including metallization. It is completed by a workshop dealing with printing and applying appliqués, which ensures total autonomy in the manufacture of dials.
A second building, situated close by, houses a movement assembly workshop (employing about 15 watchmakers), specialty ateliers, a large watch laboratory, mechanical atelier, methods bureau, and a technical bureau where new calibres are developed. We must mention, as well, a rather rare 'school' where five apprentices are trained each year.
Finally, in the third building, which is next to the first one, we find the 'Saint of the Saints', a workshop for extreme complications, where the 'masters' create exceptional timepieces, minute repeaters, enamelled watches, and custom order pieces.

A new pole in the haut de gamme
Vaucher groups together about 130 people with its high-end case manufacturing unit, Affolter, and its units specialized in micro-technology and machine tools. It has become a veritable new pole in Swiss watch production.
Except for the Bugatti transversal movement, strictly reserved for Parmigiani, the other mechanical movements that have already been developed, (automatic movement, manual movement with eight-day power reserve, automatic perpetual calendar, a manual winding 30-second tourbillon, and a chronograph currently under development) are and will be sold to other brands. "But," quickly adds Emmanuel Vuille, "this does not mean that they are for everyone. We reserve them only for quality brands, for whom we develop very personalized versions. At a minimum, the bridges and plates are different from one brand to another, and often the differences are much more. In the same manner that we developed the Bugatti movement to be used only for Parmigiani watches, we are developing other things exclusively for other brands. Having said that, all calibres remain the property of Vaucher Manufacture SA and are stamped with our name, as required by law."
The strategy developed by the Sandoz Family Foundation opens new vistas, both for the Parmigiani brand, which finds itself with the industrial means to ensure the perpetuity of exceptional timepieces, and for the haut de gamme sector of watchmaking, which has found a new and strong participant.