Pierre Koukjian, the designer behind deLaCour's meteoric rise in the world of watch complications, has been in the watch and jewellery business for more than twenty-five years.
Trained as an interior designer and a painter dedicated to the old Renaissance techniques, Koukjian turned to sculpture and creating objets d'art and unique pieces of jewellery.
Twelve years ago, Pierre, along with a couple of friends and Alan Jugy, founded Piallo in Austria, a private label watch company.
deLaCour was founded in 2002 – the name comes from Pierre's wife, the Countess Graziella deLaCour, whose great grandfather was William deLaCour of châtelaine watch fame – and first exhibited at BaselWorld last year. Despite the notorious problems associated with 2003 (SARS, Iraq war), the brand's first year saw a surprising production of 3,500 timepieces.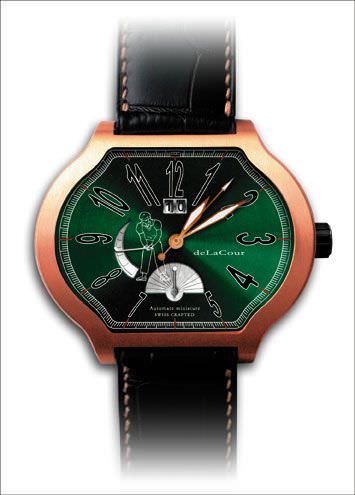 Surprise, surprise …
"I enjoy the element of 'surprise' in designing – particularly in watches," Pierre Koukjian explains with an enigmatic smile. "A basic necessity cannot have a surprise element can itı I mean what can you do with a can opener or a knife, fork and spoonı Therefore when I talk about 'surprise' it has to be incorporated into a luxury item – something you don't need. I did this with large automatons and a mystery Aladdin clock, which when you touched the lamp, the surrounding rock crystal illuminated, played music, burned incense and a 'surprise' clock emerged from the lantern. Another 'surprise' was a clock with rock crystal numerals whereby the hour numerals lit up in keeping with the hour."
'La Green' is just one of the new 'surprises' that deLaCour has put on the market this year after last year's eye-catching Bichrono Double Time Zone that won many plaudits. With a patented movement that took just under a year to produce, this bi-retrograde seconds timepiece starts with the golfer and his club at the top of its swing (top left) and the golf ball far right. Over the thirty seconds required for the bi-retrograde movement to complete its passage, the golf club descends to meet the ball that has moved from right to left during the same time. When the club hits the ball, both the club and the ball return to their original position and take another thirty seconds before they make their way to another meeting. This ingenious bi-retrograde automaton concept can be used for watches illustrating many sports such as tennis, golf, football and polo.
The watch is in 18 carat pink gold equipped with a basic ETA 2892 automatic mechanical movement with a specially developed module for the bi-retrograde seconds automaton. The watch has a guilloché green enamel titanium dial, black enamel numerals, a crystal sapphire front and back, a date aperture at 12 o'clock and an alligator strap.
deLaCour has three collections so far, the City Line, Via Larga and the Fusion Line and has already achieved its sales target of 3,500 pieces for the year, although the new forecast is estimated at being around 5,000 pieces. The brand's collections can already be found in the Middle East, Japan, Malaysia, the USA and in Europe in Italy, France, Spain, the UK and Switzerland.
Sworn to secrecy concerning a revolutionary watch that is to be launched towards the end of this year, all I can say is that we are all in for a few more 'surprises' from this innovative and dynamic brand.