The Brand Name Gallery first appeared at the Hong Kong Watch & Clock Fair in 2001 when only nine brands participated. This year there were sixty-three exhibitors. Although that may seem a small number, it is important to remember that Hong Kong developed its reputation as, and continues to be, the watch world's leading source for OEM (Original Equipment Manufacturers), or private label suppliers.
Today, at least 75% of Hong Kong's output (a substantial amount of which now emanates from China) is still the manufacturing of watches for popular fashion labels and other recognized brand names. But more and more companies are turning to ODM (Original Design Manufacturing) – branded watches. Not all of them feature in the Brand Name Gallery, most maintain their OEM business with booths in the main Halls of the Fair, displaying a brand watch alongside their private label offerings. Of the 760 exhibitors at this year's Fair, according to the catalogue, there are around 800 registered brand names, most of which don't actually enjoy any marketing.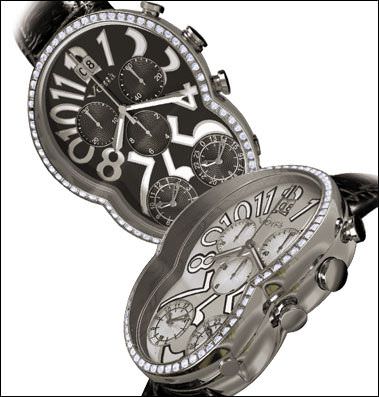 VOILà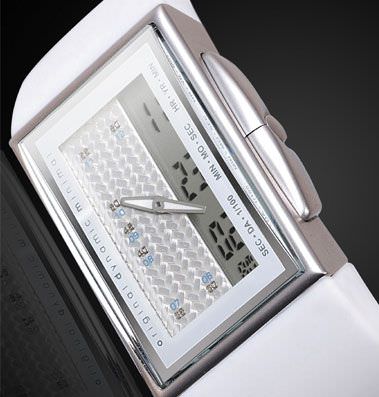 O.D.M.


Making a go of it
One company that has achieved a 100% volte-face from OEM to a bona fide brand product is Voilà (written Vo!là with a warranted exclamation mark). Roger Khemlani, the creative man behind the brand, along with his charming wife Serena, have managed within the last couple of years to develop collections of spectacular watches that are beautifully made using the finest materials from Switzerland, Italy and Japan. After introducing the Chevalier, Rigido, Cruz, Ose, Dazzle and the much talked about Op-La, we now have the No. 8, a watch in the form of an eight (the symbol of infinity and prosperity) which houses the first triple time zone chronograph with oversize date using miniature Swiss quartz movements. Already eye-catching in the stainless steel version introduced earlier in the year, the new diamond-set version is purely and simply dazzling in both looks and concept. It also happened to be the most expensive watch in theFair. Khemlani's byline for Voi!à is 'Revolutions in time' and the brand is striving to be revolutionary meriting the attention it is now receiving.
The Brand Name Gallery continues to play host to many interesting brands, unfortunately too many to enumerate. Nevertheless, here, alphabetically, are a few that caught my eye: Ami d'Amour (HK) ladies' watches with their softened, elegant lines; Barbie (HK) with Barbie doll images on the dial; Fiyta, the best-selling, listed company on the Chinese mainland, with its fine selection of sports watches; Jacques Farel (HK) with their various collections that covers Kids, Teens, Sport and Fashion; Marilux (HK) pearl and stone-set collections; Mark Ratio (HK) with modernized Art deco timepieces for ladies; o.d.m. (original, dynamic, minimal) a fine selection of modern, innovative watches, including colourful chronographs and an elegant digital/analogue watch; Sea-Gull, another Chinese mainland brand offering elegant mechanical timepieces including chronographs, skeleton models and a tourbillion; Torgeon (HK) with its inexpensive but precision-made aviator watches and Tunlees (HK) with its beaded straps and jewellery watches.
The overseas contingent included Chronotech from Italy with its striking Prisma range of facetted crystal watches, Fubu from Australia, a new watch brand but an established sportswear company; Paul Baldin from the USA with its blend of mechanical movements and Italian styling; Ritmo Mundo from the USA (see Europa Star 4/2004) with watches combining contemporary styling and classic designs from the early 1900s.

… and elsewhere
An escalator or a few paces away from the Gallery in the vast Halls of the Fair, OEM manufacturers continue to exhibit non-branded watches that look like renowned branded models. But in the final analysis, who is to blame – the manufacturers of the watches or the companies that ask for the copiesı Personally, I plump for the latter and the sooner they are educated in the ethics of watchmaking the better it will be for all concerned.
However, overall there is far more originality and creativity in the watch designs by Hong Kong watchmakers than a few years ago – or come to that, even last year. But the most noticeable change during this Fair was the move towards automatic movements, followed closely by the emergence of several companies offering mechanical watches with complications – and not just any complications, but tourbillons.
My first foray into the world of mechanical timepieces at the Fair was when I stopped at the booth of the hauntingly named Ocean Voice Time-Tech Ltd. In the display window were three or four good-looking regulator watches in stainless steel. The regulators had three different seconds hands in different sections of the dial, each one offering a retrograde period of twenty seconds. A gentleman called Mr Peter came out to see if he could be of assistance so I asked if I could see the watches. "No." I then asked why not and he said: "Not for touching, only for looking!" The price for these timepieces was US$ 65.
I then moved on to Time Spec of Hong Kong whose automatic Original Time Indicator, also with 3 x 20 retrograde seconds, looked good in the display window, but because of the bustle of clients trying to get onto the tiny booth, I moved on.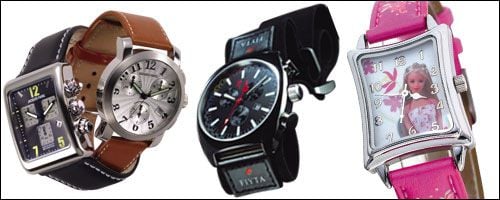 JACQUES FAREL, FIYTA and BARBIE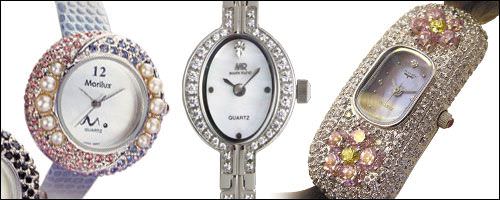 MARILUX, MARK RATIO and TUNLEES


And the tourbillons …
I had more luck with the charming Grace Cheng of R & S International. The company manufactures both private label watches (an excellent range of mechanical watches) and a brand called Gallucci. In addition to the various complications – chronographs, power reserve, GMT, etc. - they have two or three different tourbillon models and Ms Cheng was more than happy to show them, discuss their factory in Shenzen (China) and let the pieces be photographed. The tourbillon in stainless steel sells for around US$ 1,200 for a small order. The range also included gold-plated versions and skeleton models.






Tourbillons by GALLUCCI and Tourbillon movements by PTS RESOURCES.



Another company called Million Smart also had tourbillion watches, but it was always too busy to get to speak with anyone. Suffice it say that I perceived one or two 'names' from the West within, deep in discussion and presumably checking out prices and delivery times. The Chinese brand Fiyta, with 1,000 employees and a production run of 50,000 watches a month also offered a tourbillon, but the exact details were not available – due mainly to language problems.
The splendid Grand Hall of the Convention Centre is where the official handover of Hong Kong by the UK to China took place on July 1 1997. During the Fair it houses the parts and components section and it was here that PTS Resources had a small stand. In the midst of its range of mechanical and quartz movements were four different tourbillion movements – one of which was a flying tourbillon. The finish was good, but the +/- 30 seconds a day left a little to be desired. Nevertheless, the company seemed to be doing a brisk business and Terence Lee, the Sales Engineer and William Ho, the Technical Director, were proud to show us the movements, discuss their pros and cons and let us photograph the various models. The prices for the movements were around US$ 860 for a minimal order of ten pieces.
And so the Fair ended on a very positive note. Creativity is at last finding its way into the Hong Kong manufacturers collections, automatic mechanical movements are proving to be popular, but above all, the unexpected appearance of inexpensive tourbillons looks like causing a minor – or could that be majorı - revolution in watchmaking. They are not Patek Philippe quality, but who knows what the future will bring. Only time will tell … but using what movementı