Fossil was founded in 1984 by Tom and Kosta Kartsotis, brothers, currently Chairman of the Board and CEO respectively, focusing on fashion and value at a time when no company was really doing that. The image the company communicated was vintage Americana, which turned out to be a huge homerun. Quartz movements from the Orient helped Fossil design and manufacture price point critical timepieces, fashion statements that could be mixed and matched, and repurchased when fashion changed, and the Fossil company was born. Since 1984, the company has experienced astounding growth. In 1993, with revenues of just over $70 million, the company went to Wall Street and became a NASDAQ listed company trading under the symbol FOSL.
To ensure quality and have control over its production, Fossil started to acquire assembly facilities in the early 1990s. As the company's success continued, Fossil expanded into other areas, including leather goods, sunglasses, licensed products and the company focused on expanding into new geographical markets as well. Today, the company sells various accessory products under multiple owned and licensed brand names across over 90 countries around the world. These products are sold in department, specialty and jewellery stores in addition to the company's own retail stores and e-commerce website with yearly sales now exceeding $850 million.

How Fossil Does It
Fossil is nothing if not a hub of creativity. So many different designs are created within the building in Richardson, Texas, it's a wonder that the people can continue doing it month after month, year after year. In the fashion world, there are four seasonal markets for which Fossil has to have new product. Now, not every watch they introduce is a winner, but the ones that do succeed have a shelf life (often six months to a year) while the marginal watches drop out of the line, never to be seen again.
The overwhelming philosophy behind the products coming from Fossil is fun, fashion and quality — which encourages impulse and repeat buying. After all, when a watch costs about $75, how long do you really have to think about the purchaseı
The various brands that Fossil owns or licenses have different product philosophies, but the overriding mission is to provide unique product at a reasonable price.
And Fossil does this incredibly well indeed.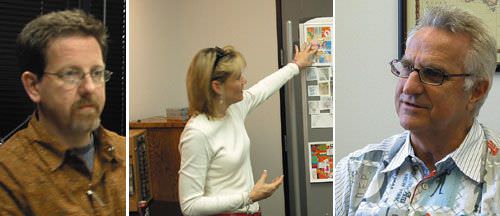 Tim Hale, Shannon Washburn and Gary Bollinger


Design
Fossil, as a company, encompassing all its brands, developed more than 12,000 new designs last year, bringing between 2,000 and 3,000 to market.
"What makes Fossil unique is the way we approach the business," says Shannon Washburn, Vice President, Watch Product Development, Fossil. "We are a creative marketing company with a very commercial base. Fossil designs product that is directional in the market and offers a great fashion look and value to our customer. Being first to market and setting a fashion direction is what sets us apart."
Fossil has its own stores where the company tests innovative designs and styles. If a style sells well, the company can react quickly to capitalize on that success.
The design areas of Fossil are filled with energy, the walls plastered with sketches, pictures to encourage brainstorming, pieces of art, toys and fun things, all to keep the designers fresh and on the edge. The atmosphere throughout Fossil is one of creativity and casual fun - I didn't see anyone in a suit and tie, and every office was filled with interesting objects, pictures and paraphernalia.
"Here, they hire good people and leave them alone to do their job," says Gary Bollinger, Senior VP and Brand Manager for DKNY and Frank Gehry with Fossil. "These are 'Fossil people.' You gotta have toys, it's a creative atmosphere."
Each of the design areas for the different brands are carefully cloistered, so the designs developed for Fossil, for example, don't drift over to another brand. It's important to Fossil that the design process be unique for each of its brands (house and licensed).
"We work in cells and I supervise 65 people here," says Tim Hale, Senior VP, Image Director. "We have year to year increases in the number of people by about five percent, while growth of the company is historically approximately 20% annually."
Though Fossil watches are all over the board in terms of design and function, there is a Fossil sensitivity to everything that the company creates. "I think it has to do with the quality we put in," says Richard Gundy, President, Fashion Watch Brands. "When you look at the Fossil brand, we've been solid stainless steel cases and bracelets for a long time. The leather products are very high quality. The watch has a feel and a look that sets it apart. I think that customers can identify with Fossil product."
Fossil's warranty on watchesı 11 years.






FOSSIL WRISTNET, MICHELE WATCH and DKNY





BURBERRY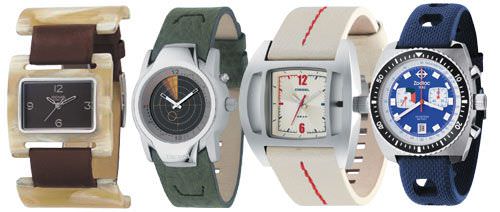 MICHAEL, DIESEL and ZODIAC


Technology
Though Fossil is known primarily as a fashion brand, there are technologies that the company develops that are pretty cutting edge. The colour changing technology, used first in the Fossil Kaleido watches, was a big step forward for the company and a phenomenal success (it is still in the line and still being expanded), while the work on the SPOT watches with Microsoft (Fossil calls it Wrist Net) is an area the company hopes really takes off. Wrist Net allows the wearer to customize his/her watch, via the Microsoft MSN network, to display up-to-date content (news, weather, sports, oh...and the time).

Licensees
Fossil has been very successful with its own brands and this success has led to companies coming to Fossil to create licensed watch lines. The licensed watch lines that Fossil designs, manufactures and distributes include Burberry, DKNY, Armani, Columbia and Diesel.
"Fossil has done an incredible job over the last 20 years building a powerful business in the US and globally," says Steve Bock, President, Luxury Division, Fossil, Inc. "Given that success, one of the results has been the ability and opportunity to build businesses with brands like Emporio Armani and Burberry."
When working on a licensed brand, Fossil has to make sure that the brand fits with Fossil's approach, and then the creative teams are set to work understanding the brand. Each brand has its own style language which Fossil has to integrate into the licensed watches.
"Generally, when approaching a project involving the launch of a new brand, we'll get together with representatives of the brand concerned and our group teams (industrial designers, graphic designers, project managers, etc.) and brainstorm," explains Diarmuid Bland, Senior Vice President, Watch Product Development, Fossil. "We'll come up with a foundation for product development, always consulting with the commercial side, and the teams flesh out into specific sketches, line art, computer design and more. We have rapid prototyping facilities here in the offices and in our product development groups around the world, where we can build size and shape representative prototypes in resin or brass. Then we work with the factories, then prototyping on a mass scale. From there, we come out with a result we are all pleased with."
Fossil is open to new licensee relationships, but it has to be a good fit or it won't happen. "The licensing goes both ways - we sometimes seek out companies that would be a good fit and we get contacted on a weekly basis," says Kurt Hagen, Vice President, Relic/Michael Kors, Columbia/Private Label, New Licensing. "One thing we are looking for is brands that we can fit into our international network. We look for brands that complement our existing distribution or allow us to tackle new distribution."

House Brands
Recently, Fossil has gone out and acquired two new house brands: Zodiac and Michele Watches. Zodiac was a calculated acquisit-ion to have a Swiss presence and the recent high profile purchase of Michele Watches (for $50 million) brings Fossil into another realm of distribution.
"Michele Watches has a very clean and very high level of distribution and that will continue," Bock says. "Fossil has a great ability to provide the behind the scenes support systems that a group like Michele will benefit from. In terms of representation and distribution to retailers, that's all done by the Michele people.
Zodiac, meanwhile, is a completely in-house brand. "Zodiac is its own brand within Fossil," says Bock. "We think it's very exciting. The evolution of the brand is now taking place and it was available on a global basis in June of this year. The Zodiac factory is in Switzerland and owned by Fossil, while the management of the brand is in Dallas and in Bienne.
"The excitement that we as a company can bring to the brand is what will make this a success,"Bock continues."Zodiac stands on its own two feet. It is a brand unto itself as are all the other brands we represent. It's important that it has its own DNA, its own marketing approach, its own positioning. It's purely a Zodiac position, the thought process that best represents the brand. It was established in 1882 and the heritage is very important to the brand. We want to understand and use the heritage and move the brand forward."
Despite being such a large company, Fossil is really a collection of smaller companies working independently under the Fossil umbrella. "Each of our brands is encouraged to have the flavour of their parent company and have unique styling that is appropriate for that brand," Gundy says. "It's done with the design for each of those brands, taking their cues and making it a saleable product. Every brand has its own silo - a group of people who are the artists, the product development people, the brand managers and that group deals with the brand independently. They look, feel and breathe that brand."

The Future
Fossil has been phenomenally successful since its inception and all signs point to the growth and success continuing.
"We continue to have incredible growth and increased opportunities, with all of our brands worldwide," Gundy says. "We foresee huge growth. We forecast 10-15% every quarter. It's the process we have. It is the speed of execution, from idea to product in the store, and it is the execution in the store. It's a constant attention to detail.
"Fossil is the dominant story in our company, because it is so large in watches and other categories,"Gundy adds."We bring professionalism; we bring excitement at the store level so the ultimate consumer gets a feel for the brand in packaging, execution, and styling. I think we are much quicker to market products than any other company. We have a great commitment to have the right products in the stores at the right time."


Fossil Facts
Founded: 1984
Gross Revenues in 1993: $70 million
Gross Revenues in 2003: $850 million
Employees in Texas: 1,200
Employees Worldwide: Over 11,000
Number of Fossil stores worldwide: 124
Number of Fossil stores in the USA: 105:
Jean stores - 21 / Accessory stores - 26 / Outlets - 58
Number of International Fossil Stores: 19:
Canada - 4 / Australia - 6 / U.K. - 2 / Singapore - 1 / Germany - 3 / Holland - 3
Number of designs developed each year: Approximately 12,000
Fossil House Brands: Fossil, Relic, Zodiac, Michele, MW Michele, Wrist Net
Fossil Licensed Brands: Frank Gehry, Philippe Starck, Michael Kors, Burberry, Emporio Armani, Diesel, Columbia, Callaway Golf, Davis Cup
NASDAQ Symbol: FOSL

Fossil, Inc. has entered into a license agreement with Marc Jacobs International to develop and distribute women's and men's timepieces under the Marc Jacobs and Marc by Marc Jacobs labels. Marc Jacobs watches will debut in the fall of 2005, while the Marc by Marc Jacobs line will debut in 2006.
The Marc Jacobs watch collection will be produced in Switzerland, to be sold at Marc Jacobs boutiques and select department stores domestically and internationally. In keeping with the Marc Jacobs sensibility, the watches will combine classic elements and luxurious materials. The Marc by Marc Jacobs collection will be more light-hearted in design and will offer a wide selection of styles on a global basis.
"Marc and I are quite excited to be working with Fossil based on their solid reputation and successful history in the watch business," says Marc Jacobs President Robert Duffy. "After meeting with the Fossil team, we are looking forward to a successful partnership."
Steve Bock, President of the Luxury Division at Fossil, adds, "We are delighted to be working with Marc and Robert and look forward to building a solid business together. Marc Jacobs is a great success story and expanding that success with Fossil into watches is a very exciting endeavour."



Click here to subscribe to Europa Star Magazine.