From time to time, in our fascinating world of watches, we discover a brand, a person, a project that wins us over. The brand Pilo has done just that – as has the brand owner … Amarildo Pilo.
Having been a distributor for ten years in Poland for several leading Swiss brands, Amarildo Pilo (his father named him Amarildo after seeing the Brazilian footballer in a World Cup) decided that he wanted to create his own brand. To do so, he sought out some inexpensive mechanical movements, designed the watches to house them, found some watchmakers to assemble the parts, then opened his own shop in a small, but very central street in Geneva.
"What I tried to do was bring something extra to the watches, to give them a mechanical look," Amarildo Pilo explains. "Initially, it was difficult to get retailers to take them because they said that they were not expensive enough. So I decided to go through jewellery shops and today I have 80 shops in Switzerland, which is quite good because it's a really difficult market here."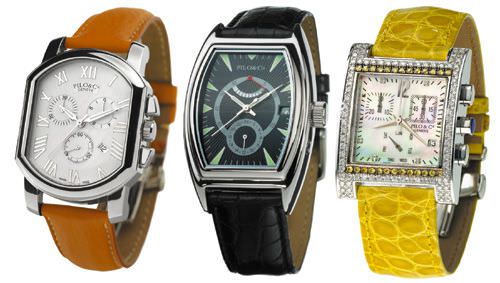 CHRONOGRAPH COLLECTION, CAPONE COLLECTION & DIAMOND COLLECTION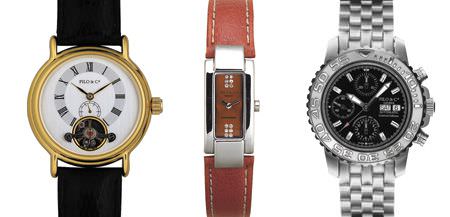 TEMPO COLLECTION, STRAVAGANZA COLLECTION & LIMITED EDITION CHRONOGRAPH


Quality at a bargain price
With his first collection, Pilo managed to sell 3,900 watches equipped with mechanical movements that retailed at 200 Swiss francs. True, the movements came from Asia, but the overall value for money was unquestionable. Last year, the brand sold both mechanical and quartz watches (70% mechanical), but Pilo is now using Swiss ETA movements and the delivery time for them is three to six months, which means that the production figures have inevitably decreased. The source ratio for the movements is now 80% Swiss Made and 20% Hong Kong.
Pilo continues to work from his shop, which goes by the name of Amajo, where he now employs eight people including two designers, two watchmakers and two salespeople. In the various collections there is an 18 carat gold watch with an ETA movement (Tempo Collection), a Swiss Made tonneau in both men's and ladies' sizes (Invidia Collection) and a Day/Date watch in the Capone Collection. Prices range from around 200 to 800 Swiss francs – although there are one or two that are slightly more expensive.
As Pilo emphasizes, "Our watch collections offer genuine quality at prices that almost anybody can afford … the design is good, the movements are good and we restrict the number of each model to 200 to 300 pieces."
The Pilo brand can now be found in the Lebanon, Malaysia and as of this year Russia. Having seen the standard of the design of the watches, the quality of the workmanship and the price/ratio, the future can only be bright.
If you are looking for true value for money, a watch with a difference, a mechanical watch that is available at a quartz watch price, then look no further. They say that a picture is worth a thousand words, so see for yourself, you be the judge!



Click here to subscribe to Europa Star Magazine.