Moving from marketing to creation (he managed the design department at Ebel where he instilled new life into the haute joaillerie sector), Patrice Reynaud decided in his turn to create his own brand, under his own name.
Fascinated by jewellery and its beauty and sparkle, he wanted to begin his new endeavour as a designer. First, he wanted to make an impression with his very well made formal, yet often surprising, pieces that would be of uncontested quality.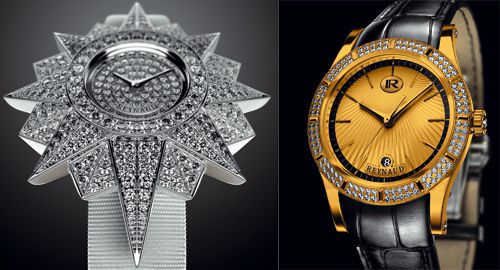 Sunshine & Sunrock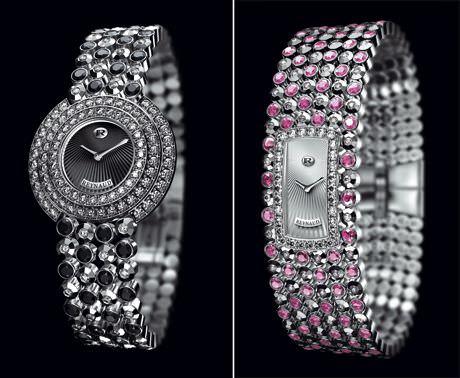 Gemtwist


The symbol of his brand, placed under the sign of the sun, the Sunshine watch is radiant with its 232 diamonds arranged in a star shape around the pavé-set dial set with 69 diamonds, and completed by a satin bracelet. The result is a hitherto unseen, yet bold and rare form that will surely and rapidly make a name for itself among jewellery watch designers.
The Gemtwist line is available as a manchette or in a round form with a cascade of diamonds, onyx, emeralds, tourmalines, coloured diamonds and golden granules. The bracelet alone is a marvel of suppleness with 216 pivoting elements, while the sun theme reappears in the guilloché sun pattern of the dial.
Men have not been forgotten with the very lovely Sunrock. At the centre is a large guilloché sun patterned dial, surrounded by a diamond-set bezel (120 stones) and twelve facetted hour markers. The sun theme is also found engraved on the gold oscillating weight.
Already present in the Middle East with these limited series (from 9 to 99 pieces depending on the models), Reynaud Genève aims to be distributed over the medium term in about 50 sales points around the world.


Source: April-May 2005 Issue

More...Click here to subscribe to Europa Star Magazine.