Founded in 1982 in Greece by Dimitris Koutsolioutsos, President, and his wife Ketty, Folli Follie is a company that designs, manufactures and distributes its own brand of watches, jewellery and fashion accessories. The target group is mainly 20-40 years old, fashion conscious, working women and the brand's core values are affordable, fashionable luxury.
As fashion brands increasingly become players in the watch market these days, Folli Follie, with its unique product mix and pricing has successfully implemented its formula through a selected distribution network. Following the success of this solid distribution avenue in Taiwan, Korea and Malaysia and with a firm established brand name in the Asia Pacific area, the company is well on its way to developing the same formula in Europe and already enjoys a successful international presence in more than 270 points-of-sale in more than 20 countries.

Fashion Design
Design and functionality are the key elements in creating a Folli Follie watch. As multiple watch ownership is no longer an extravagance, the brand studied the watch market and what the ever-growing style conscious watch consumer expects today. The company uses the same approach as it does for its highly successful jewellery collections – i.e. designing watches to complement trends in clothing and fill a specific gap in the market. Its vast watch collections play with light and colour whilst balancing elegance with personalized styling - the fundamental aspects that have catapulted Folli Follie watches into the spotlight of the fashion watch industry.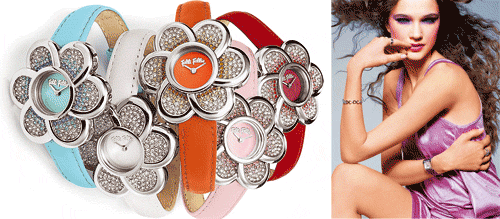 The Collection
This year Folli Follie unveils a collection of watches that confirms its commitment to style. Inspired by nature with a real passion for colour and shape, the collection conveys splendour and romance. Focusing on the floral patterns, the moon and a play on the cruciform, the watches come with slim leather straps in colours such as red, pink, blue and orange. Adorned with cubic zirconia in shades matching the strap and dial colours, the creativity of these pieces underlines the concept that a Folli Follie watch should be seen as a vital accessory.
To complete its successful line of watches, Folli Follie will be introducing its new diamond-set watch collection. Inspired by female film stars from the last century, the eight styles with diamond pavé setting in a steel case offer the wearer something desirable and indulgent. The dials are emphasized with unusual styling and are mounted on a sophisticated full grain leather black strap.
Folli Follie has created a unique alternative through its pricing and these watches confirm Folli Follie's philosophy that an affordable, fashionable luxury is within everybody's reach.


Source: April-May 2005 Issue

More...Click here to subscribe to Europa Star Magazine.