Having created the blu-Planet system for his creations whereby the planet and hour marker orbits around the dial of the watch, Bernhard Lederer focused his attention on designing a tourbillon that would do the same.
Since Lederer is a man who is not enamoured with 'normal' watches – meaning watches that indicate how much time is lost – his tourbillon was designed to elegantly show the passing of time in an original manner and at a leisurely pace. The result is as stunning visually as it is technically original.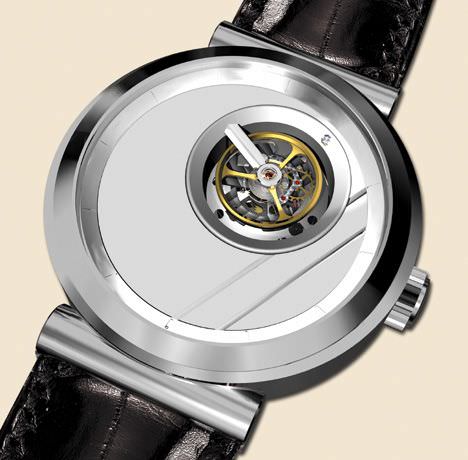 The blu-Planet Tourbillon (43 mm) is in 18 carat white gold and is equipped with a specially conceived hand-wound mechanical movement. It houses three cages fixed along three parallel axes, two of which are arranged linearly on the same plane. The half-flying one-minute tourbillon (in the illustration the ruby at the base of the minute hand is the upper part of the minute tourbillon) is placed within the flying one-hour tourbillion, both of which are arranged off-centre within the third flying 12-hour tourbillon.
Basically what happens is the blu-Planet tourbillon turns on three separate axes: the dial revolves around its own axis over a 12-hour period; inside that mechanism there is a flying one-hour tourbillon in which the cage acts as the support for the half-flying minute tourbillon whose cage contains the escape system which is sent on its 12-hour orbit of the dial. The energy required to drive all these functions is supplied by twin operating spring barrels (72-hour power reserve) place on the underside of the base plate, a space normally reserved for the escapement and the gear train. In this watch, the gold escapement wheel is placed within the cage of the one-minute tourbillon with the gears positioned in a more linear arrangement in order to move all the tourbillons as well as rotating the dial.
To read the time, the diamond on the lip of the 12-hour tourbillon indicates the hour – in the illustration it is positioned at 1 o'clock - and the hand, which is positioned at the 10 o'clock position, indicates the minutes: the time is therefore 12.50.
The speed of the gold balance wheel is two oscillations per second in order to retain its visibility and emphasize the harmony between the functions of the watch and it's proportions. As Bernhard Lederer explains, "blu timepieces are not created to chase radio-controlled precision, they exist to create a meaningful personal emotion. Time is not at the centre of or lives – we are!"


Source: April-May 2005 Issue

More...Click here to subscribe to Europa Star Magazine.