Daniel Schluep alongside the bust of his father, the founder.


Titoni's 'business model' does not correspond to any other. Since its founding in 1919 in Grenchen, not far from Bienne, it has been in the hands of the same family. The company has never deviated from its line, which is essentially mechanical (80 percent are automatic), Swiss Made, assembled in-house, with a very straightforward quality/price ratio. Titoni is also present in a small number of markets, in which the brand has been working intensively for a long time.
Its extremely Swiss rigour, consistency, and management style are like something out of another age. Daniel Schluep has total confidence in this concept, and according to him, it has a long future ahead of it. "We are not very large," he admits, "but we have a good future. Our Swiss management team signifies honesty, long-term goals, mutual problem solving, and good relations with employees and clients. Retailers understand this well. They realize the advantages of having partners like us, who don't want to dominate everything, who are not 'predators,' but rather who are real partners."
Schluep continues, "Because of this way of thinking, we have always developed harmoniously, without fluctuations. Since we have an extremely clear commercial strategy, we produce only what is ordered. We never stockpile our product, and we do not give credit or sell on consignment. We voluntarily limit our production to about 100,000 watches per year. We could easily increase that by 30 percent, but we prefer a constant and measured increase." These many qualities are, of course, very Swiss.






Watch production: Movement assembly and final inspection.


A secret: China
Titoni's big secret is also a place and a name that evokes images of the 'pot of gold at the end of the rainbow' in the minds of watchmakers. The secret is, of course, China. Titoni has been present in Asia for fifty years, or more exactly since the brand was launched in Singapore after 1945. The Chinese community appreciates robust, simple, and relatively affordable timekeepers. However, Chinese mariners can be credited with opening the doors of the immense Chinese mainland for Titoni, at a time when the country was only beginning to emerge from the shocks of history. As a highly prestigious watch brand, Titoni gradually gained favour with the elite, and then signed several contracts to supply watches to the Chinese Government.
Today, the firm from Grenchen exports 50 percent of its production to China, without counting the additional 20 to 25 percent that it sells to Chinese buyers residing in Hong Kong, or consumers in Taiwan, as well as to overseas Chinese in Singapore and the rest of Asia.
In China itself, Titoni is present in 620 sales points, with half providing specific Titoni display counters, plus an additional 45 shops in shops. "The strength of our position in China has also led us to recently open new sales points in Switzerland and in Europe, specifically targeting Chinese tourists who are beginning to come to Europe in large numbers," says Schluep.

New options
Has the current wave of watch brands flooding into China weakened Titoni's position there? "Yes, certainly," answers Daniel Schluep, "With the opening of China to the large brands in the prestige and haute horlogerie sectors, Titoni has seen its favoured position weakened. But we are putting into place another strategy, to find another 'niche'. Several options have presented themselves to us, and we are testing them. Our fundamentals – tradition, Swiss Made, automatic movement – are very important to our clientele, which is composed of serious, professional people. Don't forget that we remain today the seventh brand in China in terms of value, and that 85 percent of humanity has only one goal: to improve their living standard. The others, people who already have everything, are not our target market. For our clients, we are basing everything on quality and credibility. This means that we have to totally control our own production, here in Switzerland. We also guarantee that we can repair all of our models for at least the next 25 to 30 years."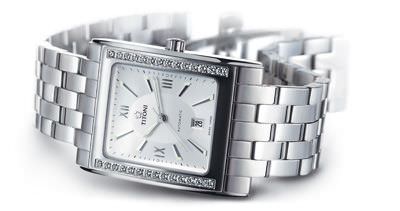 WALLSTREET


Production on demand
The production, "Just In Time", essentially takes place in the brand's facility in Grenchen. How the company stocks its component parts demonstrates its approach to producing on demand. The supply of movements, for example, does not exceed two weeks. Schluep says that only three weeks are needed between order and delivery to one of the brand's three distributors in China, with minimum orders generally amounting to 100 pieces.
The assembly lines are located on an upper floor above. Everything is assembled by hand, in production lines manned by seven people, each watchmaker carrying out a specific task. Lubrication and checks are done on automatic machines, in order to ensure the stability of these operations. In all, 32 people work in production, mainly on the basis of movement blanks and ETA kits (rhodium and nickel-plating as well as Titoni's particular decorations are sub-contracted out to small local companies). Six or seven people ensure the final assembly, which is 100-percent quality-controlled in-house (one week of production, one week of quality control).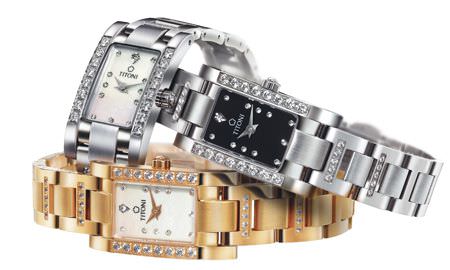 BUSINESS WOMAN


Classic collections
The collections, designed and prototyped internally, are mostly classic and robust, like the brand's Swiss philosophy. Nearly all come with steel bracelets and sapphire crystals. At the upper end of the collection is the Wall Street collection, with form watches. Cosmoking is next, with a sportier appearance and day of the week indicator at 12 o'clock, as well as divers' models with rotating bezel and water-resistance to 100 metres. The Impetus V, with its transparent caseback, is an elegant watch, as is the Madison, with classical styling and domed dial (Titoni has sold more than two million of these). Titoni's 'bread and butter' collection is called Airmaster, which, under its different versions of City, Tradition, Contemporaine, and Sport, is the brand's best-selling line. Last but not least is the quartz collection, Business Woman, decorated with zircons.
Titoni, an exception? Rather, it is an example of obstinate longevity that is becoming more and more rare. Perhaps this is exactly the good fortune of the Schluep family.


Source: February - March 2006 Issue