Headquartered in Le Noirmont, in the Swiss Jura mountains, Paul Picot was founded by Mario Boiocchi in 1976. The aim from the very outset was to create watches rich in the Swiss watchmaking tradition combining design with technical refinements.
The Paul Picot name is a part of watchmaking's heritage since he was one of the industry's important pioneers of the 18th century. In his time, every watch was manufactured entirely by hand and the brand's image today reflects the same horological values. Even during the electronic craze, Paul Picot stood firm and continued to manufacture only the very best mechanical timepieces.
Classical, elegant, sporty, casual, all these styles have their place in the brand's collections. There is the Firshire 1937 in stainless steel, gold or platinum made with a Paul Picot ébauche that dates back to 1937; the Atelier 310 has a moon phase and a full calendar using a basic mechanism that also dates back to the 1940s; the more modern Technicum, and first and only automatic chronograph with a dragging counter hand, COSC certified; the very sporty and eye-catching C-Type Chronograph and, of course, the latest Technograph models, Couleur and Pavé, with each model brilliantly exploiting a total of 854 hand-set diamonds.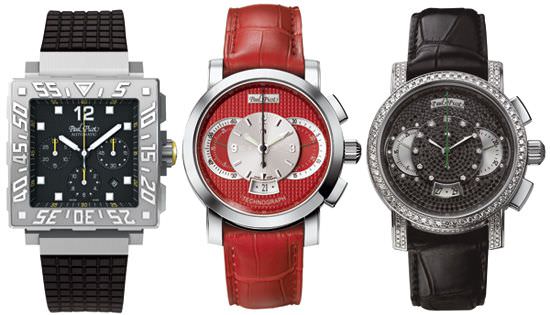 C-TYPE CHRONOGRAPH
Stainless steel watch (42 x 42 mm) equipped with a self-winding movement.

TECHNOGRAPH COULEUR
Stainless steel watch (44 mm) equipped with a self-winding base Valjoux 7750 chronograph movement.

TECHNOGRAPH PAVE
Stainless steel watch (44 mm) equipped with a self-winding base Valjoux 7750 chronograph movement. Case and dial set with 797 black and white diamonds.


Passion for details
Paul Picot watches all have an unmistakable feeling for aesthetics combined with watchmaking skills in the more expensive cat-egory of mechanical timepieces. The various collections have been designed and created for aficionados, collectors and consumers who are looking for something exceptional with a genuine sense of style.
That perhaps is the true force of Paul Picot: the combination of quality complications with classical, yet modern design. The almost effortless creation of watches that not only look great when worn, but also actually have a raison d'être via their technical content. But in the final analysis, Paul Picot's attention to the smallest detail, the creative conceptual work, the stunning use of the finest diamonds, the technical brilliance and efficiency of the watch, are all a part of the brand's nobility of detail.


Source: Europa Star August-September 2006 Magazine Issue