de GRISOGONO was founded in 1993 specializing in the creation of highly creative jewellery and objets d'art, always with a touch of design genius that set the company's pieces apart. When Fawaz Gruosi decided to launch his brand of watches in the year 2000, nobody would have dared to anticipate the creative and horological success he would achieve – except, perhaps, Fawaz Gruosi himself.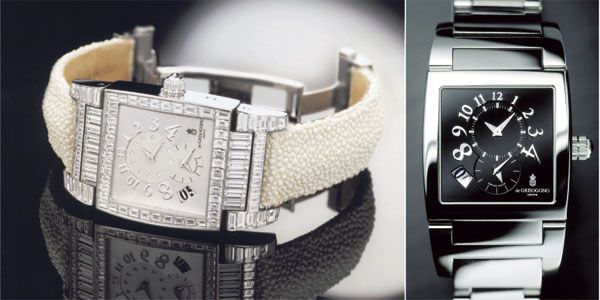 Instrumento N° UNO


The first watch
The brand's first model was the Instrumento N° Uno. An elegant square watch with a second time zone at 6 o'clock, it was particularly distinctive for its date aperture in the unusual position of 7.30 and also for introducing the galuchat strap on the ladies' models. Presented at the Basel Fair of that year, the watch enjoyed an instant success and sales of the model have now passed the 3,500 mark.
With the development of the timekeeping segment of the company, watches became more and more technical, innovative and demanding in the watchmaking sense. After the Instrumento N° Uno came the delicious Instrumentino for the ladies, followed by the more complicated Instrumento Doppio and Instrumento Doppio Tre, both of which swivell to reveal another watch face and another timing aspect.
By the time the Occhio Ripetitzione Minuti was produced in 2005, the company had grown to 115 employees and had reached the phenomenal turnover of 84 million Swiss francs: Europe (East & West) 47%; USA 21%; Middle East 20% and the Far East 12%.
Space was at a premium, consequently in addition to having increased its office facilities
in Geneva's very own watch universe of Plan-les-Ouates, de Grisogono has installed its new workshops in the Acacias – 850 square metres over three floors compared to the 200 m2 previously.
It is here that all watches are researched, designed, conceived, assembled and finally rigorously controlled through every step of production – which represents at present around 5,000 watches a year. By the end of 2007, thirty-five people will be working there, including the creation of a small production unit for small series of watches and prototypes. Over the long-term, de GRISOGONO aims to manufacture some of the watch's components and create after-sales facilities there, by which time the annual production figures are planned to be 10,000 pieces a year.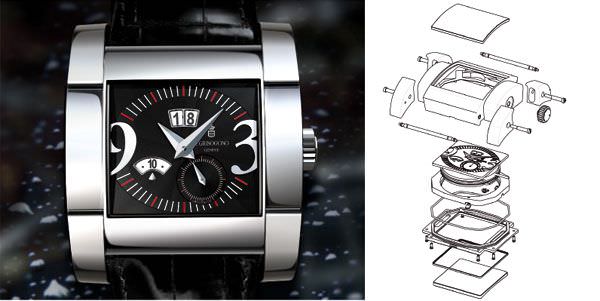 Instrumento NOVANTATRE


The latest watch
For BaselWorld, de GRISOGONO will present its latest creation, the Instrumento Novantatre, the first calendar watch in the brand's collections. However, as usual the unusual was sought and that touch of design genius of which Fawaz Gruosi seems to have in abundance, led to the watch having a large date at 12 o'clock, with a digital month readout at 8 o'clock and small seconds on a sub-dial at the atypical position of 5 o'clock. The Instrumento 93 is instantly recognizable as a de GRISOGONO timepiece with its 47.2 x 40 mm format, its black dial with a radiating guilloché pattern and two oversized indices 9 and 3. The watch is equipped with a self-winding mechanical movement and automatically switches to the 30 and 31 day months. A sapphire crystal caseback reveals the familiar blackened movement that is so much a part of the brand's originality. The watch comes with either an alligator or galuchat strap connected to articulated lugs for a comfortable fit - yet another de GRISOGONO innovation.
In a world where everybody seems to want to produce bigger, better and more unusable technical features, its nice to see one brand not only flexing its horological muscles, but also devoting time and effort to the aesthetics of watch wearing.


Source: Europa Star April-May 2007 Magazine Issue