As we know, history proved him right. Today, thirty years after its creation, the Paul Picot brand, still faithful to its basic credo, is well rooted in the watch landscape, producing nearly 7,000 timepieces a year. Under the direction of its Managing Director, Eric Oppliger (former head of Sector), the brand is entering into a new phase. "We are moving up-market," explains Oppliger, "and we are going to introduce more original complications, as well as make pieces that are finished to a more elaborate degree. Our timekeeping will be very advanced and adhere to the most rigorous criteria."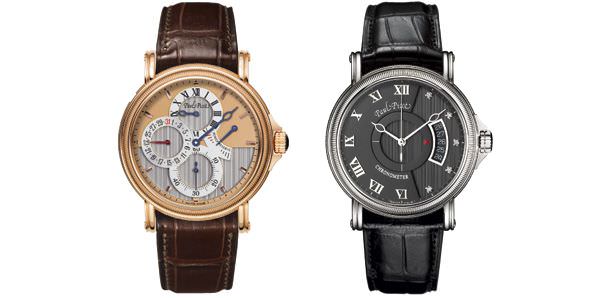 ATELIER 42mm


Original propositions
The brand's stated objective of moving up-market does not, however, represent a break with Paul Picot's past. The brand has always been clearly positioned as a manufacturer that respects the purest forms of traditional watchmaking. Over time, however, its designs have become more contemporary and creative, yet without ostentation. They represent a sort of revisited classicism.
Besides the obvious qualities of fine craftsmanship, the brand's strength resides in its original use of displays and complications. As "a partial manufacture", as Oppliger defines the brand, Paul Picot's goal is to internally develop and construct its own exclusive complications, based on ETA calibres or on historical movements. "We possess a veritable treasure chest," explains Eric Oppliger, a little mysteriously. "In this particular case, this means a large stock of historical movements, which we are using as the basis for developing new complications."
The brand also makes its own prototypes in-house, as well as assembles its own movements and adds decoration (for example, the delicate regulator skeleton movements, which are cut-out, polished, and chamfered by hand). The brand's watchmakers also encase the movements and carry out the final controls. In all, about thirty people work at Paul Picot, including those involved in logistics, the management of component parts and administration. The production is 100 percent Swiss Made, in the truest sense of the term, and is realized in close collaboration with a network of sub-contractors in the region.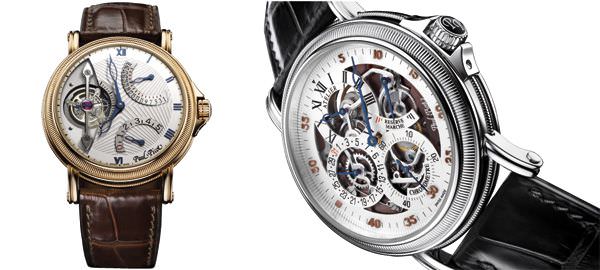 ATELIER TOURBILLON and ATELIER 'OPEN FACE'


A symbolic collection
One collection, in particular, perfectly symbolizes the brand's unique approach to watchmaking: the Atelier Collection. A round, finely fluted watch, presented this year in a 42-mm version, is emblematic of the brand's quest for classic elegance and functional originality.
With an emphasis on readability, the Atelier Collection is distinguished by its well thought out face, composed of two superimposed dials that offer a subtle play on the differences in height, colour, and surface treatment. The refinement of styling is wonderfully exemplified in the Classic model (offering hours, minutes, and seconds). It is equipped with a very original date that appears through an opening in the form of a quarter-circle and shows five days at a time.
Another model, the lovely PP 1100 with a regulator display, features a small seconds hand, power reserve indicator, and a circular date with a hand. Its great readability, reinforced by the interaction of the textures and heights of its dial, is apparent in the new 'Open Face' skeleton version with the same movement. Rather than making reading the time more difficult, the 'Open Face' displays information in a hierarchical way, so that the time functions stand out quite clearly from the skeleton movement behind.
The same Atelier Collection (all its movements are COSC certified) also includes a tourbillon, in rose or white gold. This amply demonstrates Paul Picot's determination to move up to the higher levels of haute horlogerie. Originally placed at nine o'clock under a vertical bridge, the tourbillon has a retrograde date and a power reserve indicator (five days), that stand out clearly against the background decorated with the brand's original CÔtes visantes design (it is much sharper and more contemporary than the traditional CÔtes de GenÈve pattern).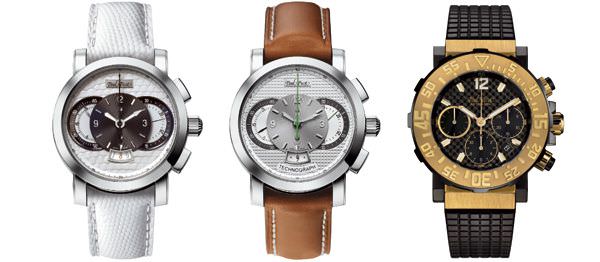 TECHNOGRAPH WILD, TECHNOGRAPH and C-TYPE


Creating identity
"Our goal," explains Eric Oppliger, "is to offer only a few lines, but lines with a strong ident-ity." In keeping with this strategy, Paul Picot has created two other main collections: the Technograph and the C-Type.
The Technograph is totally representative of the research conducted by Paul Picot on the display of time. An atypical chronograph developed on a Valjoux 7750 base, it offers a slightly raised central dial, showing the hours and minutes, as well as seconds indicated by a large green hand on a chronograph counter engraved around the flange. The small seconds and the minute counter are placed on each side of the central dial. Only a half-moon portion is visible, whose indications are given by two hands that disappear and reappear under the central dial.
The Technograph Wild model pushes the limits of design even further. Thanks to a specially developed technology, the dial is covered with a very thin piece of lizard or python skin (raised on farms) that is identical to that of the strap. At six o'clock, a date in a large window showcases a patented refinement: three dates are visible but only the current one appears in red, while the others remain grey.
Water-resistant to 300 metres, the high quality C-Type diver's watch is robust and well constructed. It reinforces the professional image of the brand, while conserving the refinement in styling that makes it so distinctive. The latest in the C-Type diver's collection is a model available in a two-tone version or in pink gold with blackened steel. The watch features a rotating bezel, anti-friction adjusting ring, crown pushbuttons, and black rubber attachments for the strap.

Independence
One of the brand's major distribution centres, Italy has now been joined in Europe by Spain, Germany, Holland, Greece, and Turkey. But the brand is also working actively to establish itself in the new markets of Russia, which entails the Ukraine, Kazakhstan, and Azerbaijan (where the brand has just become an official sponsor of the world wrestling championships), the Middle East, and Japan. Paul Picot also has its sights set on China where it will soon introduce its branded products. In all, about 450 sales points currently offer Paul Picot products.
When asked about the status of the brand's independence, Eric Oppliger insists that even if it means a certain number of disadvantages in terms of sales networks or communications, especially in markets where competition is fierce, "they are largely compensated by the liberty, the reactivity, and the quality of the long-term relations with their distributors and retailers. We are obliged to be inventive, when it comes to the product, and uncompromising, when it comes to quality," he insists. "In addition, retailers will need increasingly more brands that are independent. Their own freedom and long-term security depend on it."
One definite advantage in this endeavour is the excellent price/quality ratio that Paul Picot offers for all its watch products.


Source: Europa Star December-Januar 2008 Magazine Issue