One of the many advances that came out of Seiko's 25-year long research project is the remarkable improvement in accuracy of this totally silent timekeeper, whose hands slide smoothly like time itself. Its precision is of the order of +/–1 second a day, compared to the -4/+6 seconds per day required for COSC certification.
Launched in 2005, the Spring Drive has been available with a lunar phase indicator, and a chronograph version, not to mention the exceptional Credo Spring Drive Sonnerie. This year at BaselWorld, Seiko will reveal a remarkable Spring Drive that amply demonstrates the potential of this notable technology: the Spring Drive Spacewalk.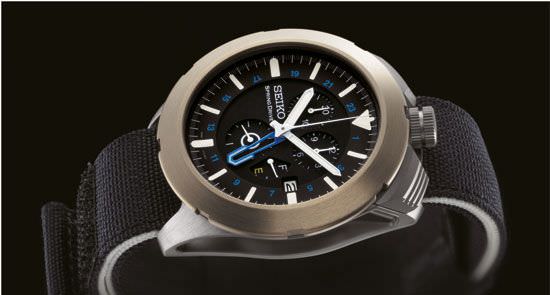 Direction: space
This unique new timepiece will be presented for the first time in public at the new Seiko stand at BaselWorld. Then, on October 12, 2008, it will take to the skies aboard the Soyuz TMA-13 spacecraft, which will lift off from the Cosmodrome in Baikonour in Kazakhstan. It will not be alone, but rather on the wrist of Richard Garriott, the sixth private individual to explore space. But, above all, the watch will be on the wrist of his space suit when Garriott becomes the first 'tourist' to take a walk in the great void.
When the project—to equip Richard Garriott with a watch that would not only function optimally during the space flight but that could also be worn in the vacuum of space—was submitted to the engineers at Seiko, they quickly turned their attention to the Spring Drive. For reasons of safety and reliability, they realized that it was not possible to use a battery-driven watch. The Spring Drive technology, on the other hand, seemed ideal to meet the requirements of a mission such as this, especially being able to withstand the particularly severe temperature variations, from less than 20 degrees to more than 70 degrees Celsius.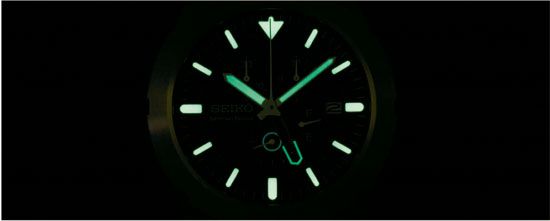 Numerous developments
The engineers therefore developed a new case. Drawing upon Seiko's experience in the domain of divers' watches, involving timepieces that could withstand pressures at depths of up to 1,000 metres, the brand's watchmakers constructed the Spring Drive Spacewalk to be hermetic and thus able to resist these great temperature swings. In order to maintain its airtight quality in the extreme cold and vacuum of space, they developed new types of waterproof seals made of a special material coated with rubber.
To be suitable for space, the watch also had to be as sturdy and lightweight as possible, making high-density titanium the obvious choice. The case was designed to occupy a minimal volume while offering the largest space poss-ible on the dial for optimal readability. The brand's in-house engineers had to develop new CNC equipment capable of cutting a case with recessed sides, which allowed for a reduction of 30 percent in its volume.
The chronograph controls were placed on the top of the case, on each side of a large central crown so that they could be easily manipulated with large protective gloves on. The requirement for rapid readability of the dial was the major factor in determining its design. The chronograph sub-dials were placed on the upper part, while the hands and hour markers were specially treated with layers of Lumibrite. The dial is thus three times more luminous than the dial of a normal watch. The timepiece will be set at space station time, while Earth time can be read using the blue hand that follows the 24 hour blue ring on the dial.
To arrive at the current timekeeper, more than three years of research and development were necessary. During this process, a Seiko team created and tested many ideas in terms of materials, shapes, luminescence, water tightness, resistance, etc. The goal of the operation was, however, not commercial. As the managers at Seiko state, "the challenge was accepted simply because it was difficult." Yet, the ideas, the savoir-faire, and the materials developed during this venture will perhaps find new applications in the future.
Six Spring Drive Spacewalk watches will be produced. Two will be given to Richard Garriott for his space travels and the other four will be sold at auction, after his mission, with proceeds going to benefit charity.

A family story
Richard Garriott's trip will last one week. During this time, besides his walk in space, he will conduct a series of scientific experiments, notably the growth of protein crystals in space, a technique with medical applications back on Earth.
The meeting between Richard Garriott, one of the world's leaders in video games as well as a great adventurer, and Seiko date back to Richard's father, Owen. An astronaut at NASA and a specialist in scientific space-based experiments, Owen made two trips with Skylab and then Spacelab in 1973 and 1983, respectively. During the 70 days he spent in space, Owen Garriott wore a Seiko too.
This is thus the second generation of space partnership between the Japanese brand and the Garriott family. It is the first time, however, that a Seiko Spring Drive takes to the skies—a fitting consecration for the watch that originated the 'silent revolution' and that 'reflects the true nature of time'.


Source: Europa Star April-May 2008 Magazine Issue