All of the true watch designers that I know are nostalgic about their many childhood afternoons spent building Meccano sets, dismantling alarm clocks, or tinkering with the gears and belts of small broken down machines. We see a little of this same spirit in the 'personal manufacture' that Denis Flageollet has built for his own personal research on the ground floor of De Bethune's manufacturing facilities located at the entrance to the small hamlet of La Chaux, surrounded by green pastures in the Jura hills.
In the middle of this watch alchemist's lab-oratory, whose workbench and tables are covered with hundreds, even thousands, of small mechanical elements, parts, wheels, and hands, Flageollet is building and dismantling his own Meccano toys. But these are not the small wobbly machines of childhood, quite the contrary. It is here that he experiments with and develops superb mechanical machines that are undoubtedly among the most sophisticated and most technically advanced watches in Swiss haute horlogerie. These watches are grabbed up by watch collectors and aficionados around the world as soon as they leave the workshop.
Denis Flageollet set up shop here in 2002 when he founded, along with David Zanetta, the brand they call De Bethune. In a few short years, they have succeeded in creating a watchmaking base that is —far beyond the slogan so often repeated—truly inspired by the past yet is resolutely innovative. These two men form a tightly knit and perfectly complementary timekeeping duo.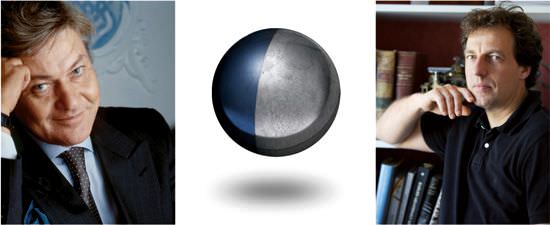 David Zanetta and Denis Flageollet


David Zanetta, the CEO, is a flamboyant Italian who was among the first, during the 1960s, to specialize in antique timekeepers. Establishing an excellent reputation, he became an adviser to many important collectors. He shares this extensive historical knowledge with Denis Flageollet, a watch constructor from France, who serves as the manufacture's General Manager. Flageollet has restored antique pieces and has worked alongside watchmakers such as François-Paul Journe and Vianney Halter in the THA venture, an atelier specializing in luxury clocks, today the property of Carl F. BÜcherer.

Breaking old habits
So much for historical inspiration! On the innovative side, the two men also share an iconoclastic observation: the success of great Swiss timekeeping is not due so much to exceptional creativity as it is to the 'genius' of formalizing and standardizing what had already been invented elsewhere. This observation led the duo to rethink the fundamentals of watchmaking "even to the point of redoing everything", affirms Zanetta. "When one can break old habits and begin anew in thinking about the basics of mechanics," explains Flageollet, "everything becomes easier, especially in light of the technology we have today. Take the balance, for example. We know that its equilibrium is a fundamental point. Therefore, to succeed in having better equilibrium and high inertia, it is theoretically sufficient to have a very light plate in the centre, surrounded by a very heavy ring at its circumference to achieve the best balance. This is all part of existing theory, but when I filed a patent, I was extremely surprised to learn that no one in the industry had taken into consideration this basic theory."
This specific work on the balance was started by De Bethune in 2003. Various solutions came forth that gradually led to a balance whose centre is a round silicon plate with a platinum edge. (For more on silicon, see our article in this issue.)
To accomplish what the brand presented this year, Denis Flageollet and his teams worked to progressively evolve the form and material of the balance, as you can see in the illustrations.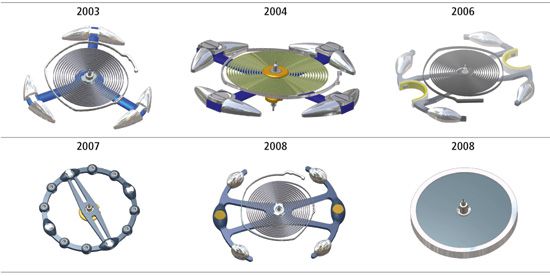 Thinking with the hands
This progressive creative process, illustrated here by the advanced research conducted on the balance, is exemplary of De Bethune's creative approach. The company's research and development unit, headed by Noah Chevreux, a polytechnic expert in new materials, along with two engineer technicians specializing in movement construction, is active in the construction and optimization of movements as well as basic research. In its treasure chest of tools is the most sophisticated 3D technological equipment on the market today.
But, in his own personal atelier, with pieces scattered all around, we might explain this creative endeavour by saying that Denis Flageollet 'then thinks with his hands'. What is most striking is the total integration, even the perfect harmony, of the technical approach with the formal approach. On one side, the research and development unit studies the optimization of the various components that make up the heart of the movement (with a goal of better chronometry involving research in eliminating friction, inertia and rubbing). On the other side, these achievements are gradually integrated into the movements and the watches.
This integration resembles a true work of fusion, a work of a watch 'sculptor', we could say, in which form and function are mutually eliminated to create a watch whose tiniest lines closely correspond to a unified concept. In this concept, all distinction between technique and design seems to have vanished.
Even the notion of design seems nearly heretical since the 'design' of watches is born progressively from the integration of technico-design elements that are gradually conceptualized, created, calculated, executed in 3D, then tested, recalculated, and transformed again - in an incessant cycle.

A totally unique manufacture
In this very real procedure giving birth to a watch, during which Denis Flageollet and David Zanetta seem to be constantly exchanging ideas, De Bethune can count on all the resources of a true manufacture. Located not far, in the village of L'Auberson, this manufacture reflects, in its totally atypical organization, the same particular creative process (90 percent of the component parts used by De Bethune are produced here). It is not divided into specialized ateliers, with one making case parts and another making components for the movement. On the contrary, the technicians use the same machines in the same workshops to stamp out small mechanical pieces and bridges, to create movable horns, to machine the cases, or to mill microscopic parts. In all, the range represents some 3,500 different component parts.
In the same spirit, the decoration atelier is also multi-purpose. The creation of fluted, spiral or CÔtes de Genève patterns, chamfers, and moulds are carried out here both by machine and by hand. "We are not fanatics who demand that everything be done by hand at all cost," explains Flageollet. "We work pragmatically as a function of the result we want to achieve, without letting ourselves be slowed down by prejudices." And the result, judging from the pieces' finishing, is assuredly splendid. This is especially true of the delicate polishing and blued elements, one of the distinctive stylistic symbols of De Bethune.
The ateliers for pre-assembly and assembly, with their highly trained watchmakers, demonstrate the same fusion between the mechanical and the design. Some elements of the case—certain dials, for example, that integrate mechanical components such as racks for the power reserve—are true crosses between technical and aesthetic el-ements, and thus have blurred or eliminated the usual distinction between the two.
One of the major interesting features of this type of organizational approach is that the manufacture works practically with a 'just-in-time' management method, from machining to logistics, with surprising transparency. As a complete manufacturing facility, it has some 40 trained personnel and includes a unit for electroplating, a unit devoted to complications, a quality control unit, an after-sales service centre and a logistics office. It produces approximately 500 watches per year, equipped with 15 or so different movements—tourbillon, chronograph, digital display, 10-day power reserve, GMT, automatic, three-speed automatic and even a movement created specially for jewellery watches.
The number of watches produced annually is modest but the brand's founders want to increase this number only very slowly, allowing time for the implementation of the concept of fusion. Since they are produced differently, yet adhere to the most orthodox and strictest work standards, De Bethune's timekeepers are indeed truly different.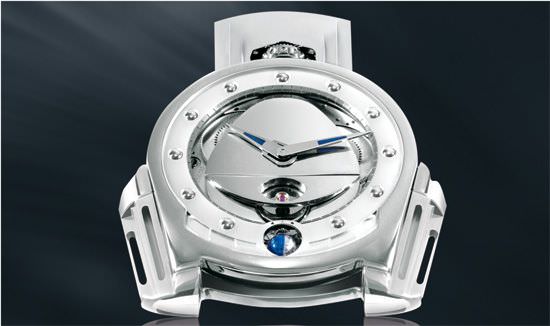 Dream Watch One
This timepiece has a palladium dial combining the varied tones of matt, burnished, and polished surfaces enabling the minuscule vibrations of the balance to be seen. Its centre is made of silicon, while the balance seems to be invisible. The dial is integrated into a case inspired by the DBS collection in palladium-plated white gold. To go beyond the normal standards and to progress even further into the concept of fusion, the case is fitted with moving cradles, making it extremely comfortable to wear. The watch also features three-dimensional moon phases and a power reserve of more than eight days.


'Matrix' watches
While De Bethune's innovations concentrate on the two amazing Dream Watches introduced this year, it should be noted that all of the brand's patents are adaptable to the entire range of movements produced in-house. Of the Dream Watches, No. 1 includes a silicon balance and No. 2 includes a silicon balance and a silicon tourbillon. Several Dream watches are made, but one only is placed for sale; the others return to the manufacture. They are not really prototypes since these timepieces are totally completed, but rather they are 'matrices' that will help in the development of new models, which will eventually be placed in current collections.
Today, De Bethune's collections, presented only a few years after the creation of the brand, are already large enough to attract an informed (and wealthy) clientele who have differing ideas on how to express their tastes. They include:


Classic Collection – Very pure and simple lines, with guilloché dials;


DBS Collection – More contemporary, without a traditional dial;


DB Digitale – Simple dial, with a spherical moon surrounded by stars displayed on the back;


DBL – Very delicate and refined ladies' watch which exemplifies a contemporary approach to decoration;


DB22 – More sporty, in Grade five titanium (the only polishable grade), rose or white gold;


DB24 – Integrates a new and exclusive function to regulate the speed of the automatic winding system;


DB12 Maxi Chrono – Five superimposed hands at the centre.
The brand with the spherical moon (another of De Bethune's 'obvious' innovations demonstrating that by thinking outside of the box, the art of timekeeping can be revisited on a deep level) has not yet received a great deal of media attention but it is certainly one of the most passionate adventures of watchmaking in our times.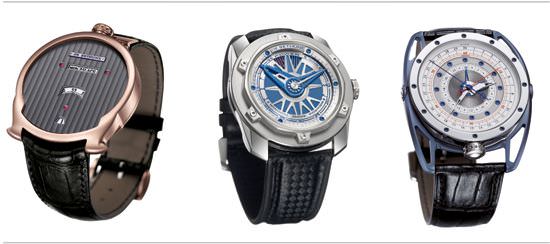 DIGITALE WATCH, DB24 VETROIS WATCH and DB21 CHRONOGRAPH


Source: Europa Star August-September 2008 Magazine Issue