To make something simple is not simple
Let's take a look at Jacob Jensen, born in 1926 at Vesterbro, near Copenhagen, who founded the Jacob Jensen Design studio in 1958. In his opinion, "constructing a watch, writing a poem, producing a play, or designing a locomotive all demand the same components, the same ingredients: perspective, creativity, new ideas, understanding, and—first and foremost—the ability to rework, almost infinitely, over and over." In this regard, what we see in a Jacob Jensen design is its apparent simplicity, but what we don't see is the extensive work and preparation that goes into creating it. In other words, to make something simple is not simple.
During the last fifty years, Jacob Jensen, who has since been joined by his son, Timothy Jacob Jensen, now director, principal shareholder, and chief designer at the studio, has produced more than 500 industrial designs and developed strategies, product lines, and specific languages for many global companies, including Bang & Olufsen, Gaggenau—the kitchen specialist—and Alcatel.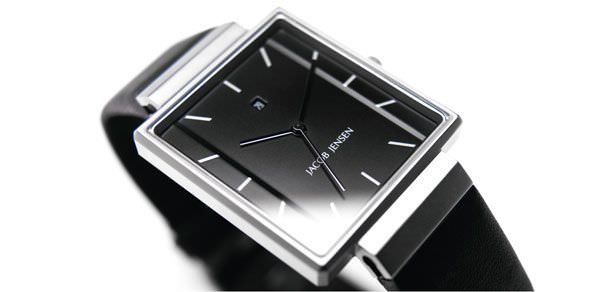 RECTANGULAR 885


But the first product developed by the Jacob Jensen brand was, in fact, a watch—or more precisely, two watches that immediately became part of the famous collection at the Museum of Modern Art in New York. The two watches were made of titanium and evoked the stylistic codes of the studio: the play of silver and black on the dial creates an 'association of day and night, of light and dark'. A small design detail: the hands are also coloured black and silver, so that when they move around the black surface of the dial, only the silvered part is visible, and vice versa.
Since the brand's first incursion into timekeeping, Jacob Jensen has developed a whole range of watches. The names of these collections also evoke simplicity, while clearly describing what they are: Rectangular, Square, Round, Clear, Digital, Dimension, Chronograph and Titanium.
Among the most recent creations is, for example, the Chronograph collection, launched in 2005. "Most chronographs made throughout history are more or less variations on the same theme: the more numbers, divisions and details, the better! But one should not forget that a watch is both an article for everyday use and an ornament. Therefore, we decided to create a different chronograph—a watch, which is simple and beautiful, regardless of time and place, but which, at the same time, fulfils most of the demands made on chronographs. I think that the result speaks for itself," explains Timothy Jacob Jensen. For this reason, the brand's new 37mm ultra simple and ultra readable chronograph, equipped with a Ronda movement, is so obviously amazing—and timeless since its form is the direct expression of its function.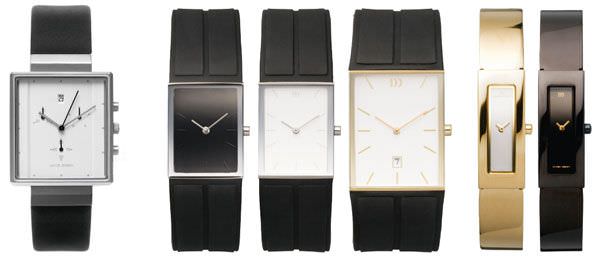 RECTANGULAR CHRONOGRAPH 806, DANISH DESIGN MODELS


Danish Design
In the footsteps of Jacob Jensen, the brand Danish Design (distributed by the same company, S. Weisz BV—see www.danishdesign-watches.com and www.jacobjensen.com) also proposes a type of watchmaking that definitely goes straight to the essential.
In this vein, Martin Larsen, a Danish designer born in 1970, thus earned the prestigious 'Reddot Design Award' in 2008 for a series of steel watches, with or without chronograph functions, that he created for Danish Design. In this series, we find the same sculptural minimalism that provides quick and easy reading of the various indications.
Larsen, in collaboration with another young Danish designer, Ana Gotha, born in 1980, has started offering more 'fashion' watches under the Danish Design label. These pieces have been freed somewhat from the strict stylistic traditions of the 'hard and fast' Danish design. While the shapes take a certain liberty, so do the materials, namely ti-tanium, tungsten and cases treated with anti-allergic PVD, etc. But there is certainly nothing in the way of baroque styling to be found here. Their forms remain balanced and the favoured colours are black and white, although sometimes a small touch of gold brings a little bit of warmth to the watches. But the prescribed elegance remains the rule.
These designs are the mark of a very particular 'school', the Danish school, which con-tinues to work in the same niche year after year—so much so that 'Danish design' has influenced, and continues to influence, quite a few international brands. And, it is no wonder. There is decidedly something timeless in this type of watchmaking where appearances are never gratuitous, but are always relevant to the product and the comfort of the wearer.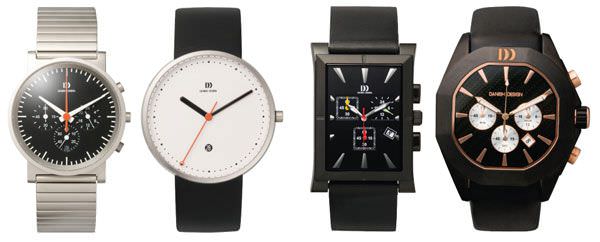 MARTIN LARSEN COLLECTION, SPORTIVE MENS WATCH


Source: Europa Star October-November 2008 Magazine Issue