With over a hundred years of experience in cutting crystals, Swarovski has decoded to launch its own sparkling timepieces.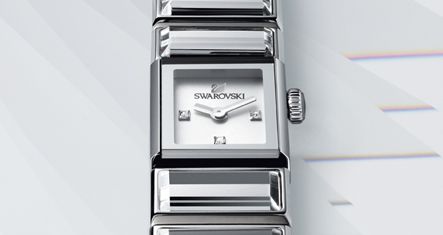 Baguette


Founded 114 years ago in 1895 to produce precision cut crystal elements or components, Swarovski expanded in the mid-1970s into the creation of finished crystal products, jewellery, fashion accessories, decorative items and is an important supplier of crystals to many watch manufacturers.
Robert Buchbauer, a member of the Executive Board and Swarovski family explains, "The time has come for Swarovski to present its own collection of watches. Introducing Swarovski crystal to the world of watches is the culmination of three years of research and development. It's also a real step forward for our company. We aren't trying to do too many things, we're moving step-by-step. We've been in the consumer goods for thirty years and this diversification into watches is a big step for us.â€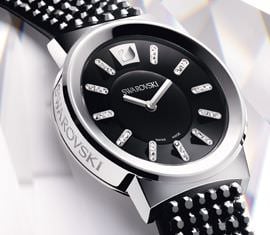 Piazza


Watches for the ladies
Although Swarovski has already been in the business of creating watches, according to Buchbauer they were very old-fashioned in styling and clearly not the right assortment for today's consumer. The new collections however are "aimed at the multifaceted woman, inspired by life, day, night and each moment lived by independent, modern, fashion-conscious women.â€
Hanspeter Hanschick, Director of watches, clarifies Swarovski's goal, "The aim of the brand is to be seen as credible watchmakers. Using either Swiss ETA or Ronda quarz movements, our watches are basically feminine collections (although he was actually wearing one of the larger, more discreet models himself) and they are all assembled in Switzerland.†He then went on to show four collections: Octea Sport, Baguette, Piazza and Elis.
The Octea Sport was inspired by diving watches and this collection combines the reliability of a Swiss quartz calibre movement with the delicacy, sparkle and transparency of crystal. The angles of the stainless steel case are facetted like Swarovski crystals, there is a double-level dial measuring 39 mm, an integrated uni-directional rotating crystal bezel and a date aperture at 3 o'clock.
The Baguette watch highlights Swarovski's expertise in crystal. The bracelet is made up of 16 identical facetted baguette-cut crystals that turn the watch into a piece of decorative jewellery that marries elegantly with the stainless steel case.
The Piazza collection was inspired by urban forms and contemporary architecture and will suit anyone 'looking for modern, clean, feminine styling'. The watch has a round stainless steel case with a black enamel dial and comes with a Jet Crystal Mesh strap with a practical magnetized stainless steel buckle.
The Elis collection draws its inspiration from the pyramid and has a square pyramid-shaped stainless steel case. The prune-coloured dial matches the rubber strap which is adorned with 8 clear crystals.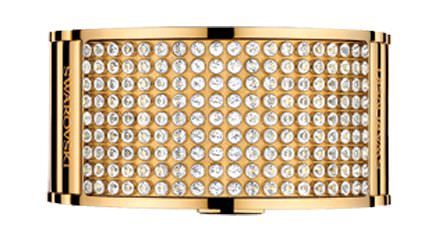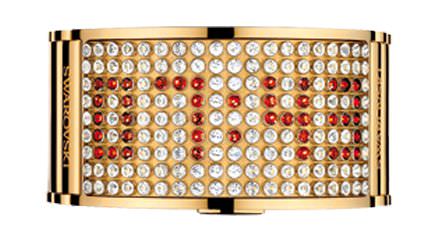 D:LIGHT switched off - on


Let there be light
In addition to the four collections already mentioned, there is another intriguing watch collection being introduced at BaselWorld, the Avant Time. The first timepiece in this collection is the D:Light, a futuristic looking bangle watch designed by Eric Giroud that combines new electronic technology with jewellery design. The case is in either PVD coated stainless steel or plain steel and the rectangular dial is made up from 171 Swarovski-exclusive Xilion crystals. The time is read after pressing the Swarovski Swan cabochon and the crystals change colour, light up, sparkle and show the hours and minutes in luminous orange dotted lines.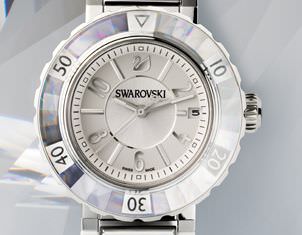 Octea


The movement has been developed by Swarovski over the past few years and the watch can be fully recharged using a white charging dock that gives a month's autonomy.
The Swarovski watches range from 660 to 1050 Swiss francs and the D:Light watch, is priced at 1,800 to 3,100 Swiss francs.
Swarovski watches will be available for delivery as of BaselWorld and although the brand is the new kid on the block and is being launched at a volatile economic period, Robert Buchbauer feels that everyone must stop talking negatively and start being positive. In any case, as he says, "We're confident because we're a trendy brand and our watches are affordable!†I wonder if Swarovski also manufacture a crystal ball?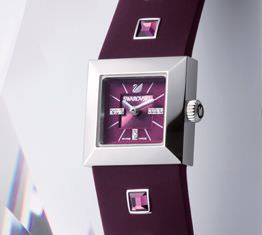 Elis


Source: Europa Star April-May 2009 Magazine Issue