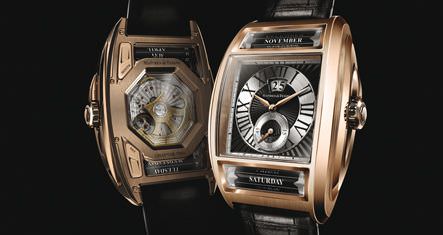 Steven Holtzman has been in the watch business for his entire life. His father was a distributor of watches and Steven handled the distribution for a number of brands, including, at various points in his career, Roger Dubuis, Jorg Hysek, Fortis, Ventura, Hugo Boss and others. Currently, Holtzman is the owner and president of Luxury Watch Distribution, which distributes ultra high-end brand Jean Dunand throughout the world.
At last year's watch shows in Switzerland, Holtzman unveiled his latest project, a new brand called Maîtres du Temps (Masters of Time).
"For the past eight or nine years, I have wanted to start my own brand," Holtzman explains. "The name Maîtres du Temps explains the concept - to be able to work with some of the best craftsman in different areas; watchmakers, enamellers, master developers, and so on. We have put together an initial group of about a dozen different masters and what we are doing is forming little groups of collaborators where they can contribute to a single timepiece. The masters will vary from watch to watch."
The first project, a simple-appearing but incredibly complicated tourbillon (manual-winding mechanical movement, one-minute tourbillon, mono-pusher chronograph, retrograde date indicator, retrograde GMT indicator, day of the week indication on roller, patented precise moon phase indication on roller), is the result of the collaboration of Peter Speake-Marin, Roger Dubuis and Christophe Claret, watch industry heavy hitters all.
"We go to these people with a concept of a collaboration, of some kind of collective effort," Holtzman explains. "We then let them come back to us and tell us what the project is going to look like. It's the reverse of the traditional way, where you tell them what you want to make and they do it for you. I sit down with them and we figure out what we want to make."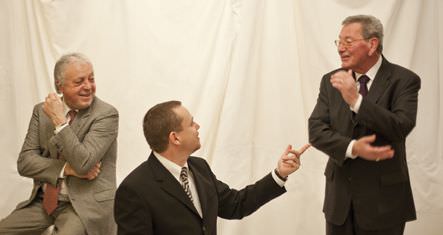 Daniel Roth, Peter Speake-Marin and Roger Dubuis


Chapter II
Maîtres du Temps is introducing Chapter II in BaselWorld this year, a project which returns Dubuis and Claret and adds the legendary watchmaker Daniel Roth.
"Daniel was really an amazing find for us," Holtzman says. "Now, he only makes two or three watches a year, out of his house, and everything he does is completely hand-made. Getting him to work with us was quite a coup. He contributed on the finishing – different types of guillochÉ, movement engraving, input on the mass of the movement as seen from the back and more. He's working with us moving forward on a number of different projects."
Chapter II, an annual calendar (the watch only has to be reset once a year, at the end of February), has a similar feel to the brand's first watch, using double rolling bars at the top and bottom of the dial to display the month and the day of the week, a challenging and complicated feature that Maîtres du Temps has perfected. This watch, however, will be available in greater quantities and at a lower price than the $400,000 Chapter I.
"Chapter I was too small a production run - when we started with the project, there was never going to be enough product to go into the markets that wanted it," Holtzman explains. "You can't supply 60 countries with 50 watches. The goal with the first watch was to set the bar high, to come up with something that could only be made in very small quantities, and we succeeded very well. With Chapter II, we wanted to build a watch that can be marketed to more countries and one that more people can buy. Chapter II will allow us to supply the markets and reach a different type of customer."
Holtzman expects to make about 200 Chapter II watches in the first year, retailing for around US$ 60,000. Though more accessible than Chapter I, Chapter II is still in the high end of watches. At the same time, however, this is a watch made by three of today's most famous watchmakers, working together for the first time.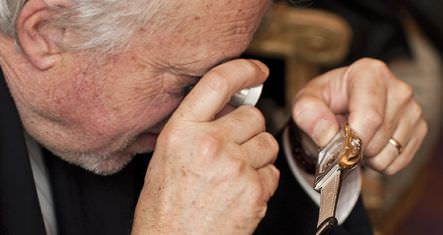 Daniel Roth


Source: Europa Star April-May 2009 Magazine Issue