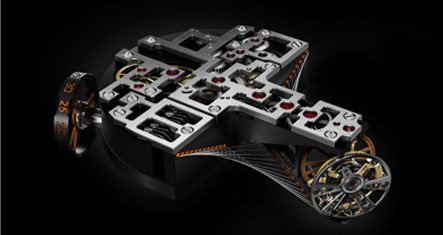 Quantum Gravity


The management of Concord has nicknamed the brand's latest creation—the C1 QuantumGravity—the `creature´. There certainly does seem to be something of Frankenstein in this `monster´ that features a 47.5 mm titanium case, protuberance included, with a thickness of 22 mm. This thickness, as well as an `officer´ type case back—that means it has a back cover—allows the viewer to see this watch object's incredible multi-dimensional construction. We use the term `watch object´ because this provocative piece has broken with all the habitual codes of timekeeping.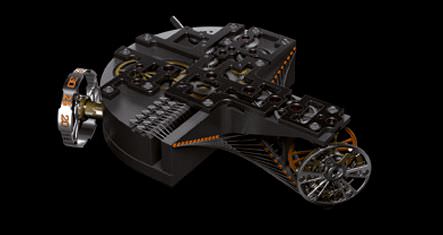 Quantum Gravity


Suspended double tourbillon
An arm, attached to the plate by a network of stretched cables evocative of San Francisco's Golden Gate Bridge, supports the double-axis tourbillon's carriage that seems to be suspended in thin air. The resulting appearance is quite mysterious since the gear train that links the tourbillon to the movement is hidden under the `Golden Gate´ protective plate, which gives the impression that the tourbillon is totally disconnected to the rest of the movement.
At the back of the watch, we can see the gear train, which is supported by a series of bridges that form a thick geometric mesh. We can also see the way that the cables are attached to the plate—not exactly in the manner of the Golden Gate Bridge but rather like piano wires. At the other end of the plate, two other protuberances, evocative of a spaceship, are linked, for one, to a vertical wheel indicating seconds through a window, and for the other, a push-button that can be pressed to release the winding and adjusting crown.

Vertical power reserve
Let's return to the `monster´. The dial with hands indicating the hours and minutes has been placed off-centre and reduced in size in order to make the maximum space available, thus giving an intriguing notion of the void and suspension. Another amazing innovation of this creation is the strange vertical tube above the dial between 11 and 12 o'clock. This is a most unusual power reserve indicator. It is not displayed horizontally but, for the first time, it is shown vertically. The tube in question is a piston filled with yellow fluorescent coloured nano-particles that make one think they are either a gel or a liquid. This substance shows the power reserve by moving down a sort of ruler graduated from 1 to 3.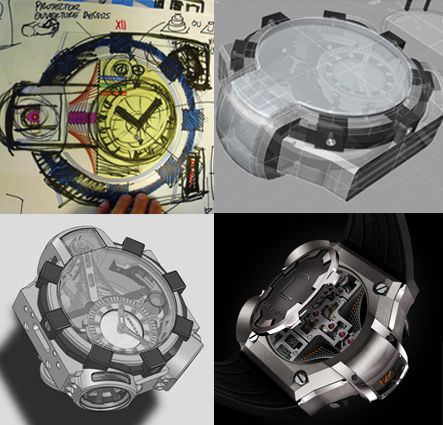 A baroque curiosity?
We might ask if the C1 QuantumGravity—developed in partnership with the `sorcerer´ Buttet of BNB Concept—is more than just an exercise in style, however crazy it is. In other words, to be on the leading edge of the sculptural and conceptual trend of contemporary timekeeping, does this watch prefigure the timepieces of tomorrow, as its initiators—led by the effervescent Vincent PÉriard—want to believe? Or is it destined to merely remain a baroque `curiosity´?
Vincent PÉriard set out on a mission, along with Concord, to explore new paths in watchmaking, far from the avenues of traditional timekeeping. As director of his laboratory, he wants to work in various arenas in the future: electricity, pneumatic force, fluids, etc. The QuantumGravity thus fits well into a consistent and coherent exploratory programme, one that undoubtedly will be developed. But will the current economic malaise give PÉriard the time to accomplish his goals? Or will it signal a return to more traditional approaches?
"It is true that, this year, we must put our back to the wind while waiting for the storm to pass. There is no visibility on the markets, no distance. Everyone is navigating by sight. But the resurgence of Concord, in spite of this situation, is well on its way. We have a team that is, of course, modest in numbers, but very prolific in talent and performance. We have cleaned out all our old stock from the marketplace and are moving full steam ahead with the first series of the C1. We were a little late in delivery, but the first 20 Gravity 08 are now on our clients' wrists. For now, we don't yet have the human and technical capacity to open all the markets that we would like.â€
With an object as perplexing as the C1 QuantumGravity, Concord will most assuredly have people talking about the amazing renaissance of the brand. That is already a given.


Source: Europa Star April-May 2009 Magazine Issue