To be honest, Fossil put Chinese movements on the map and on the right track. Fossil's initial order of 800,000 Sea-Gull mechanical movements (total purchase to date is estimated at over 1.2 million and counting) sent a message to the watch world that Chinese movement manufacturers were and would become a force with which to be reckoned.
Currently, the Chinese market is growing, even in the face of a worldwide recession. Estimates are that there is a 300 million person middle class and they are soon becoming, if they are not already, interested in the finer things in life, and for men that means watches.
The biggest Chinese watch and movement manufactures, Shanghai and Sea-Gull, are at a crossroads. Both founded in 1955, their primarily mission has been to manufacture affordable timepieces for the laobaixing, the masses. Now, however, both companies are improving quality and slowly leaving that market, heading to more expensive, more complicated timepieces. It's a huge shift for these companies, but it's also not something that can happen overnight.

Shanghai Watch Industry Corp
This year, Shanghai Watch Industry Corp., Ltd. is down 30 per cent in volume, "but we have made up for it in value because we have more expensive product," explains Ni Hai Ming, General Manager. "We have a great deal of ability, we have been doing this for quite some time. If we want to do something in watches, we can do it. We can do everything that Switzerland can do. We can't make the same quality as the Swiss, but we are working on this as well."
Shanghai is facing a quandary – whether to risk what they have to move up market, or stay doing what they have been doing, which has been phenomenally successful so far.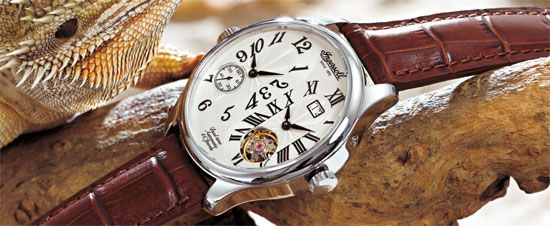 "We can't command the same price as the Swiss can, so we can't afford to invest in the processes and the equipment and the time to make the same quality," Ni admits. "It will take some time to get up to the quality of the Swiss. Our price is going up, though. We made a limited series of RMB 100,000 (about 10,000 Euros) watches and they all sold out.
We are slowly working to upgrade the quality. We have a famous name in China. The problem is that we built our name on affordable watches. Now, we have to upgrade our quality and our perception."
At one time, Shanghai was making seven million watches a year and had more than 6,000 employees. Today, the company has 1,000 employees and makes between one and 1.2 million watches a year.
"We are not making the least expensive watches anymore," Ni says. "We want to use our expertise to go up market. We do not lose to Switzerland in our know-how. We have over 200 calibers in our catalogue and we are always improving and changing these. In addition, we are developing a new movement every month, because that is what the market wants. For us, it's good because when you have something new, there is no competition, so we can get the price we want.
"I feel we are at the same level of the Japanese, but we are more advanced and daring than they are, " he continues.
"We have to focus on the quality of our movements. We started as a watch brand and we didn't sell our watches. In 2000, we started selling movements. Now, our business is 90 per cent movements, 10 per cent finished watches with the Shanghai brand. I see that percentage changing, though, perhaps going to 80/20."
At this point, the Shanghai brand is not sold outside of China. In China, according to Ni, watches are no longer a necessity, people don't need them to tell the time. "Now, watches are a way to show who you are, what your taste is, how cultured you are," he says. "The Shanghai brand is becoming very sought after. We make about 58,000 tourbillons a year. We are moving towards more hand work. People are surprised to find Shanghai brand making such great watches. We are working on making better watches, with better skills, better watchmaking. We have to do it slowly, to keep our business going."
Shanghai's core watch range is from 1,000 RMB to 2,000 RMB (about 100 – 200 Euros), with simple three hand automatics. The company's chronographs range from 3,000 to 5,000 RMB (about 300 – 500 Euros), while the complications we offer range in price from 30,000 – 300,000 RMB (about 3,000 30,000 Euros). We had to move away from the 100 RMB (about 10 Euros) watches, that is no longer our market. We have to make things that other people can't make."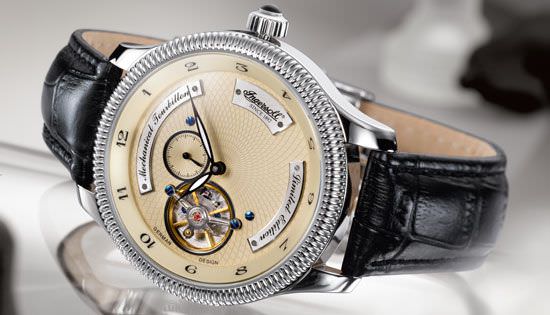 Since its inception, Shanghai Watch has made more than 1.3 billion watches, and one in every ten Chinese people is wearing a Shanghai watch. Like famous Swiss watch companies, vintage Shanghai watches are in great demand, doing very well on the second hand market. According to Ni, a 10 RMB (about one Euro) watch (original price) now sells for 600 RMB (about 60 Euros).


Sea-Gull
Located in Tianjin, China, Sea-Gull is a complete manufacture, in the Swiss sense of the word. Sea-Gull makes everything, from screws to springs. With 6,000 workers, it's a huge operation and it has evolved to the point where 80 per cent of Sea-Gull's movement production is sold inside the country, to other watch companies, and then exported. "Only 20 per cent of our movements are for watches to be sold inside the country," says Wang De Ming, Manager, Sea-Gull. "I think that within the next five to ten years, we will have some products that will be at the same level as the Swiss. There are some areas where we are not yet up to the Swiss.
"We have a different mindset," Wang admits. "We have a long history. The decoration and attention to detail is where we fall down against the Swiss. Changing people's attitudes is the hardest thing, we have to work on this, because people know Sea-Gull as a low-cost manufacturer."
This year at the Hong Kong Watch and Clock Fair, Sea-Gull introduced a new tourbillion with a sapphire bridge, as well as a new minute repeater with perpetual calendar. The watches looked good – the quality and attention to detail were not up to Swiss watch industry standards, but they were pretty good, at incredible, definitely non-Swiss prices.

Other watchmakers
Many smaller companies, both Chinese and international, use Chinese movements in their watches. Quality is a concern, but price conquers all in some markets.
For example, the Ingersoll brand is a classically styled brand using watches made in China, with automatic movements from Shanghai and Sea-Gull. The range in price is US$290 - US$500 (about 200 – 250 Euros), all mechanical.
"There was initial resistance regarding the Chinese movements," admits Robert Dorfman, Vice Chairman, Zeon Limited (Ingersoll's parent company). "We do quality control on everything, because we know we only get one chance. Over the last five years, there has been a noticeable improvement in the quality of Chinese movements.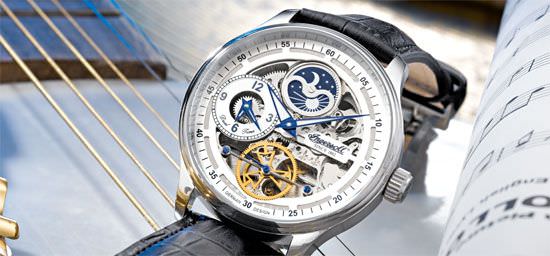 Germany is the best example of the acceptance of Chinese movements, we have been selling them there for five years already.
"The price is the main thing, it's very good value," he continues. "The finish is fantastic, largely designed in Germany. We are trying to put Ingersoll back on the map — Gandhi wore an Ingersoll watch and so did Mark Twain."

Stuhrling, based out of New York city, is another example of a company using their own designs around Chinese movements. They have been successful selling on television and in catalogues, offering mechanical watches for the price of quartz, from US$150 - US$500 (about 100 – 350 Euros).
"We wanted to bring a look of a high-end luxury brand to the customer at an affordable price," explains Yossi Gleiberman, CEO, Stuhrling. "We have been inspired by other brands and we are careful not to copy, we are a legitimate product. More than 50 per cent of our line is automatic, using movements from Seagull and Shanghai. In 2007, we started international distribution. We are in 17 different territories like Turkey, Greece, Middle East and Taiwan."
Eric Hui, Director of Innovate, uses Chinese movements, as well as ETA movements, all depending on what his clients want. "The Chinese movements are getting much better, more stable," he says. "We are one of the major exporters of Chinese movements from Hong Kong. We do 20,000 mechanical watches a month. The retail ranges from US$30 to US$2,000 (about 20 – 1,350 Euros). We select only quality movements and we check them carefully before we assemble the watches.
"At this level, though, it's all about price," he continues. "The Swiss have the best quality, but also the highest price, and they are the hardest to get. The quality of the Japanese movements is good, not up to the Swiss level, with simple functions. The Chinese offer more choice, better price, but we need to do lots of work to get it up to the quality our customers expect. We learn from experience, so we check everything. Lots of companies are using Chinese movements and they don't check as well as they should, so it has been harming the market. They are hurting the reputation of Chinese movements, giving them a bad name."
Innovate has a tourbillon in their collection for US$250 (200 Euros), as well as a co-axial tourbillion for US$400 (270 Euros). Hui says that he sells about 1,000 of these complicated watches a year and the return rate is about 3 – 5 per cent.

Not at all Chinese
Surprisingly, though, not everyone in China and Hong Kong uses Chinese movements. Though some do, others stick to tried and true movements from Japan (Miyota, primarily) and Swiss.
Geya is a Chinese brand doing very well in-country, with over 700 stores selling the brand. "We have our own production and we use Swiss and Japanese movements," says Lin Kai She, General Manager. "We can't afford to use Chinese movements. When they are up to international standards, we will certainly use them, that is for sure, 100 per cent. We are Chinese, so we would like to use Chinese movements.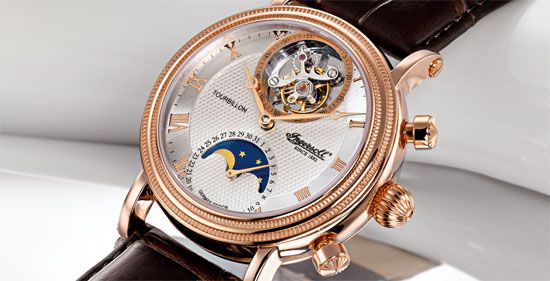 "We make about 100,000 branded watches and about 700,000 OEM watches each year," Lin continues. "We plan to sell our brand outside of China as well, in Iran, Malaysia, Middle East, and it's being accepted. Right now, our mix is about 80 per cent quartz, 20 per cent mechanical. Our price range starts at US$50 (35 Euros) and goes up to US$5,000 (3,400 Euros), for gold."
Some companies use a mixture of movements – Chinese, Japanese and Swiss – offering watches at all price points. "We use Shanghai and Seagull movements, as well as Miyota mechanical movements, in watches that range in price from 85 – 600 Euro," says Hulusi Borucu, Owner, GAB Trade GmbH, Breytenbach Watches. "The Chinese and Japanese movements are cheap, accurate and offer good quality. I give a five year warranty for the Miyota movements, two years for the Chinese movements. I buy the movements from Shanghai and Seagull, then a Hong Kong company does all the quality control and the assembly. We have less than 3 per cent returns. I come to Hong Kong every month to inspect the watches before they are shipped to me."
Arbutus New York uses Chinese movements for its regular line watches, though they say that they switch out key components, like the barrel, for better reliability, but uses ETA movements in their limited editions. Recently, Arbutus offered a limited edition Seagull tourbillion timepiece for US$6,000 (4,100 Euros), and sold out.

The future
Everyone agrees, even the big Chinese movement makers themselves, that Chinese movements are nowhere near the quality of Swiss movements. They are also not nearly the price of Swiss movements.
They are, however, getting better.
The big dilemma for the Chinese is a chicken or the egg kind of problem – people won't respect Chinese movements until the quality, precision and finishing is much better, but the big makers are reluctant to invest in better equipment, more training and state of the art facilities as they aren't sure of a return on investment. What if they spend a ton of money getting up to speed, then no one buys their more expensive movements?
For now, Chinese movements makers are content to take tiny steps, improving quality and precision step by step, raising prices incrementally, while not walking away from current business, but still keeping one eye on the future...and the Swiss.
The Swiss, and the Japanese for that matter, better look over their shoulders. Chinese movements are getting better and better and will eventually (Five years? Ten? Twenty?) be a competitor.
That sound the watch industry is hearing?
It's thunder out of China.


Source: Europa Star October-November 2009 Magazine Issue