Things have certainly been busy at Ernest Borel these last few months, what with the inauguration of the company's new facility in Le Noirmont, a new management team and two fresh collections for BaselWorld, the company is moving and shaking.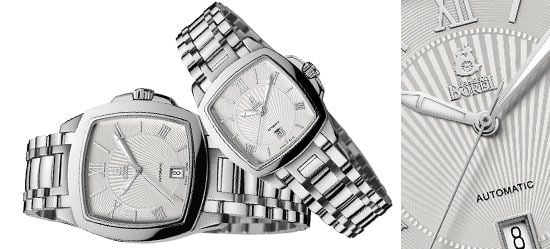 ROMANCE COLLECTION


Just a few months ago, Europa Star was present to witness the inauguration of the new Ernest Borel workshops in the beautiful village of Le Noirmont in the Jura mountains. The company has converted a local manor house with a state-or-the-art extension. The need for larger premises had quickly become a necessity as the company's annual production had jumped from a few thousand pieces to over 60,000 timepieces per year.
During the inauguration ceremony, we were also to learn that the company's CEO, Mr. Raphaël Boillat was retiring and handing the reins over to his daughter Nathalie who is now expertly running things and launching two attractive new collections this year.
The first novelty is the Romance Collection for both ladies and gentleman. These elegant and modern, square-shaped timepieces are equipped with Swiss Made automatic movements. Both models have dials with a circular design, indicate the hours, the minutes, the seconds and the date (at six o'clock), have sapphire crystals front and back and are water resistant to 50 metres.
The second introduction is the Braque Collection, which, like the Romance Collection, is available in two different sizes for ladies and gentlemen, and is fitted with Swiss Made automatic movements. The case and bracelet come in two-tone stainless steel and the dials are set with diamonds (13 diamonds for the men's watch and eight diamonds for the ladies' timepiece).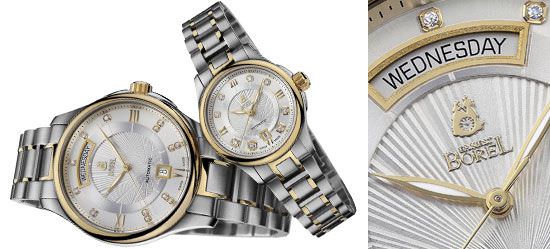 BRAQUE COLLECTION


For those who are not familiar with the brand. Ernest Borel was founded in 1856 by Jules Borel and Paul Courvoisier and stayed in the Borel family for over a century before being bought by the Synchron Group, Aubry Frères and then Mr. Steven Lam, the current owner. The company restarted its production in 1997 and now enjoys strong recognition in China, the Middle East and some European countries and is looking to expand to the United States
With its 150 years of history, solid new structure and attractive mechanical timepieces, Ernest Borel is certainly a brand to keep your eye on.


Source: Europa Star April - May 2010 Magazine Issue