Last autumn, Vincent Bérard inaugurated his new manufacture whose ateliers are located in a bucolic former farm of a watchmaker-farmer, not far from La Chaux-de-Fonds. These new workshops, dedicated essentially to the preparation, assembly and elaborate hand-decoration of the component parts, will permit Vincent Bérard and his twenty or so associates to produce around one hundred timekeepers per year. While this production still seems to be rather private, it testifies to a veritable and important commercial development of the brand under the leadership of Herbert Gautschi. His efforts are supported by the Timex group (TGBV), which seems to be quite determined to ensure the long-term development of the brand and to make it an exceptional showcase.
To produce some one hundred timekeepers of such high quality and originality is in itself already a major feat. The timekeeping of Vincent Bérard, as much an artist as a watchmaker, is remarkably demanding. He is much like a sculptor who desires to submit the function to the form that he sculpts. For Bérard, the decoration is not simply to adorn and complete the parts in such or such a way but, rather, it must be an intrinsic part of the aesthetic-technical design of the movement and the case. Objets d'art, his watches are also architectural objects of watchmaking, if we might say, in which no element or form is gratuitous.
In testimony to this particularly spectacular method is the totally original construction of the VB 441 movement, whose spindle-shaped bridges are arranged in steps and decorated with a vibrant, ringed guilloché pattern. An intense man, one 'haunted' by an interior quest, Vincent Bérard has thus succeeded in 'haunting' his watches and giving them a very particular presence that comes from the exceptional coherence with which they are designed and manufactured.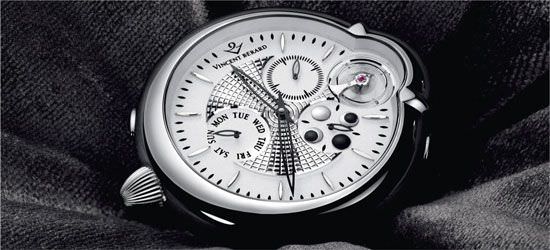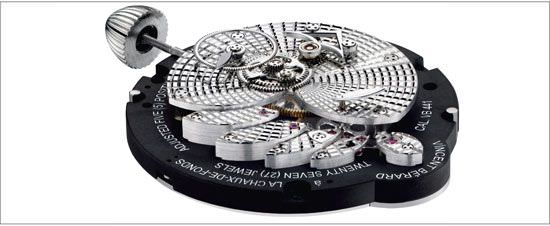 TALISMANE 2 PLATINUM OCTALE


Talismane, a watch to caress
Two new pieces can be cited as exemplary of this approach—the Luvorene 2 and the Talismane. Let us begin with the latter. The Talismane is a new species of timekeeper—it is neither a wristwatch nor a pocket watch. Therefore, it has neither lugs nor a bow. It is a watch to caress, to feel, we might say, to hold in your hand, to slide into a pocket. It is an intimate object, a masculine or feminine 'talisman', measuring 45 mm in diameter, that Vincent Bérard makes available either in a single collection—the Talismane 1 Quatre Saisons—or in a limited series, the Talismane 2 Platinum Octale.
For the Talismane 1 Quatre Saisons, the timekeepers are available in green, yellow, red or white gold along with the matching gemstones of emeralds, yellow sapphires, rubies or blue sapphires for the spring, summer, autumn and winter versions. The Talismane 2 Platinum Octale line comes in platinum with a spectacular reticulated guilloché design.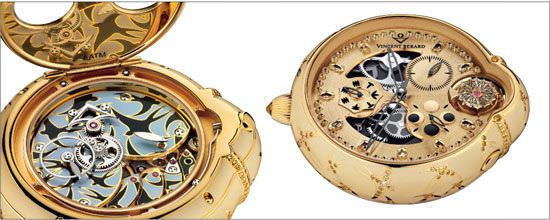 TALISMANE, SUMMER


In both of these collections, we find the famous mysterious balance that is off-centred at 3 o'clock—whose balance-cock is sculpted in a motif emblematic of each season, or denuded in the platinum version—and the dials for small seconds, lunar phases and days of the week. On the opening back are two glass eyepieces that let the wearer see the small dorsal seconds hand and the power reserve hand. A 'secret', however, allows the wearer to open the back cover and discover the decorative splendour with which each movement has been specifically worked.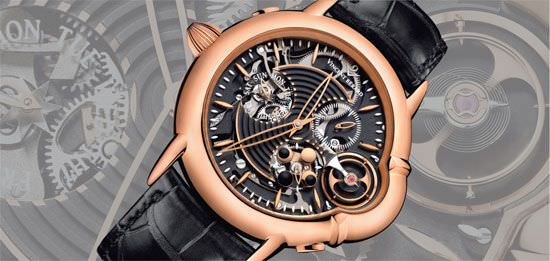 LUVORENE 2


Masterful decoration
The Luvorene 2 collection is an evolution of the Fuseau de l'Infini line whose case in white or red gold now measures 45 mm in diameter. If we find all those elements characteristic of Vincent Bérard's method of timekeeping (mysterious balance; crown at 9 o'clock; the mandorla comprising lugs, hands and indices; opening case back; spindle-shaped bridges), the openings in the dial allow one to admire the gears, levers and springs that drive the functions. This allows the wearer to directly see the result, for example, of winding the piece or correcting the time, as well as the exceptional decorative and architectural work that make these watches such remarkable objects.
They also confirm that Vincent Bérard occupies a place apart in the world of haute horlogerie. Indifferent to the fashions and trends of the day, he affirms the uniqueness of his own lines with a rare self-assurance. Another rarity in the world of timekeeping: this man seems to have all the time in front of him.


Source: Europa Star April - May 2010 Magazine Issue