The Vulcain brand, whose rebirth started in 2002, is due essentially to the vision of Bernard Fleury. At the end of 2009, the brand was acquired by the group, Suisse Excellence Holding, whose portfolio also includes the famous Swiss retailer, Les Ambassadeurs, as well as the small high-end watch brand, Jaermann & StÜbi.







Bernard Fleury, as initiator of this renaissance, was not a large shareholder in the brand but he still remains firmly at the commands. This is good news since Fleury has, with discretion, consistency and a large degree of coherence, made the 'new' Vulcain a brand with a strong identity whose commercial success is underway.
Fleury will now have renewed means for communication that will certainly allow him to confirm this success. This is especially true in the current climate since the proposed pieces offer very interesting price/quality ratios, with prices ranging from 4,000 CHF to 9,000 CHF. Vulcain is also present today in 170 points of sale around the world, which adds to its important advantages in this period of economic uncertainty.

First automatic Cricket
The majority of the brand's sales remain nonetheless centred on the watch icon, the Cricket. After the relaunch in 2002, changes have been made to this alarm watch every year. The Cricket first saw the light of day in 1947 but, up to now, it had always been a manual-winding timepiece. Yet, already in 2002, Bernard Fleury envisioned an automatic Cricket. Moving from a manual-winding to an automatic movement, however, was not as simple as all that, mainly because of how the alarm chime functions.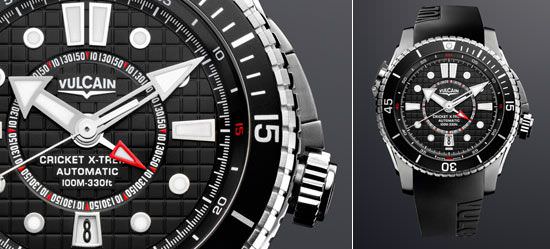 CRICKET X-TREME AUTOMATIC – Titanium and steel


In the traditional model, the chime was activated by a hammer that would strike the case back. For the automatic version, it was necessary for the constructors to make major changes in the basic movement, and the result is the calibre V-21, which has 257 components instead of the manual-winding movement's 157 parts. For the chime, an arm was added that strikes an anvil supported by a balance-spring stud passing through the centre of the rotor. The entire calibre has a total thickness of only 17.5 mm. Featuring an Exomatic system assuring regular amplitude and thus better precision, equipped with a uni-directional rotor mounted on ball bearings, this new and very finely finished movement also has a new date that can be corrected using a pushbutton located at 10 o'clock.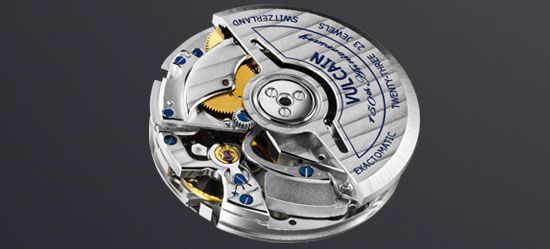 The new Cricket V-21 self-winding movement


With its 42-hour power reserve, the new V-21 movement is first being used in the very sporty Cricket X-Treme, with a 44-mm steel and titanium case, mounted on a vulcanized rubber strap. Water-resistant to 100 metres, it also features a black dial, SuperLuminova hands and markers, as well as a rotating bezel graduated into 60 minutes. The price is 8,000 CHF, which, for a rare diver's alarm watch, is quite well calibrated. To celebrate its anniversary, 300 watches have been created in a limited edition of a titanium and blacked stainless steel case with a black and blue dial, creating a very dramatic effect.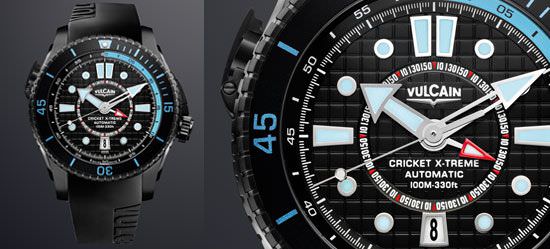 CRICKET X-TREME AUTOMATIC – black treated titanium and steel


Excellence in after-sales service
According to Bernard Fleury, "2009 was a fairly good year for Vulcain, as damage was very limited, notably on the brand's traditional Asian markets." This was also confirmed to us by Geneva retailer, Denis Asch, who has been loyal to the brand since its rebirth. Vulcain's good commercial standing," explains Asch, "is not only because of its authenticity and its good price positioning, but also because of the excellence of its after-sales service. This service is rapid—ten days on average—and the cost is quite correct, which is, by far, not the case for all watchmakers."


Source: Europa Star April - May 2010 Magazine Issue