Diamond expertise
Arman Swiss Diamond Watches is owned by Classic Diamonds from India, one of the largest diamond companies in the world, with an annual turnover of US$100 million and some 2.5 million stones sold monthly. Suppliers to some of the big names in the watch industry, the owners wanted to put their knowledge and expertise into a new brand of Swiss watches, creating unique watch collections that would only use the finest diamonds. In fact, all of the diamonds used in the company's collections are grade VVS and colour G/H (For information on diamond grading, see Keith Strandberg's article Diamonds are a retailer's best friend…if you know what you are selling on www.europa-star.com) and are guaranteed for life against any eventuality. "The quality of our diamonds is our strongest selling point," shares Ekangaki. "We knew that to stand out we needed the best of the best, certified diamonds."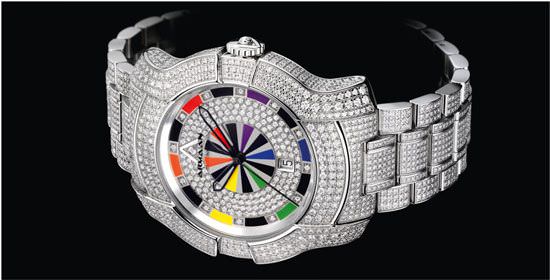 A celebrity following
"Different, exclusive and daring" is a good way to describe these eye-catching timepieces that mix diamonds and colours in an inventive way. It is not surprising to discover that American celebrities have been enraptured with them. Big names including NBA all-stars Dwight Howard and Shaquille O'Neal, singer and television presenter Paula Abdul, singer Jennifer Hudson, Twilight heart throb Kellan Lutz and actor Steven Seagal are to be seen with an Armaan watch on their wrist. A company couldn't ask for better publicity to get started.






Nas Ekangaki with Paula Abdul and Kellan Lutz and Christina Moore


A vibrant array of timepieces
The collections have been designed to optimise the beauty of the diamonds, with cases that maximise the different settings and dials that are complimented by the addition of gem stones. There are five different settings, ranging from 12 subtle diamond indexes to a full pavé piece with over 2,000 stones.
To date there are four collections: The Eterno, Spectrum, Chronograph and the Big Boy which are available in sizes 38mm, 44mm or 48mm, ranging in price from CHF 3,000 to 85,000 and they all are backed by a two year guarantee. The Electro is the most conservative of the quartet and has been the best seller for ladies. The Spectrum is the company's signature timepiece with its highly recognisable colourful dial (both the Electro and the Spectrum are available with a quartz movement or an automatic calibre from ETA). For the Chronograph collection there is also the possibility of choosing between a quartz movement or a Valjoux 7750 mechanical movement. And last but not least, the Big Boy is a skeleton timepiece (48mm) that is a contemporary interpretation of the popular exposed movement.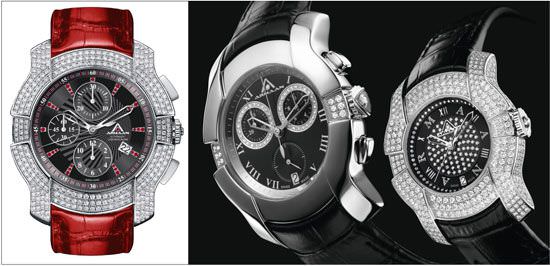 Distribution in progress
Armaan Swiss Diamond Watches first launched in the United States with stores in California, Florida and Texas. In 2008 the company started distribution in Japan, and in 2009 it opened stores in Qatar, Oman, Saudi Arabia, Kuwait and the Maldives. There are currently 25 points of sale, but the brand would like to open more doors in the United States and find partners in Europe. With no more than 1,500 pieces per year, distribution will remain exclusive with no more than one or two doors per city. The company works together with its retailers by providing important diamond training and by organising special events.
2010 has every chance of being a good year for Armaan. "The economic crisis may have limited the way we wanted to open our distribution, but we are working progressively," concludes Ekangaki. The collections are high quality, good value for money, fun, colourful, dynamic and fresh, which is just what customers want to see right now. So it may have been the right and wrong time for the brand to launch, but for the world's retailers, it's the perfect time to take a look.


Source: Europa Star April - May 2010 Magazine Issue