As a passionate connoisseur of watches, Alain Bajulaz wanted to create his own brand. Surrounding himself with a competent circle, including a watchmaker, designer, marketers and finance people, he took the plunge. His positioning: mechanical haute horlogerie, and the first model to demonstrate this goal is the Golf Master Time.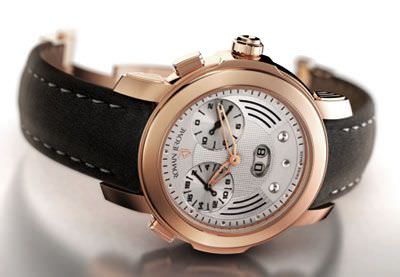 One could discover this watch during a festive launch organized in Geneva. From a practical point of view, the Golf Master Time from Romain Jérôme is the first timepiece of its type. It offers golf fans two counters with hands, the first indicating the number of holes played (from 1 to 18), and the second showing the number of strokes per hole. A third counter, in a window at 6 o'clock, totalizes the number of strokes over the entire course.
This small useful complication, developed by a master watchmaker in Geneva, takes the form of an additional plate mounted on an ETA 2892 A2 automatic movement. It is worth noting moreover that when the patent was applied for, the brand's managers discovered that a compar-able mechanism had been developed in 1922 - a good example of how watchmaking is constantly reinventing itself.
This original movement is placed in a very contemporary looking case, in white or red gold or in platinum, whose various component parts were designed in such a way that the various elements can be terminated in an individual manner: brilliant or satin finish, shot blasting or other surface treatments are possible. The types of finishes also apply to the bezel, the middle case and the lateral inserts.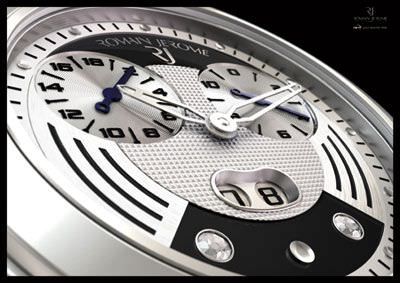 Particular care has been paid to the dial. It is formed of five plates with different levels and decorated with two diamonds referring to the handicap. In its 'golf' design, the marker at 6 o'clock evokes a 'tee' and the black engraving is symbolic of the head of a golf club (a motif that is also found on the side of the horns).
During the press conference, someone asked who the target audience is for this timepiece. Even though it has been tested at 5,000 G, it is not intended to be worn on the course, because as we know, high-level golfers rarely, if at all, wear a watch. Is the Golf Master Time therefore a watch simply for the Country Club setı "It is a watch that strongly evokes the world of golf and should seduce all golf fans," affirm its promoters. "It is a strongly identifiable product that has already attracted the interest of great golfers and important jewellers."
The course is already being played. The objective is 30 high level retailers around the world. The entry level price in this very select 'club' is between 28,000 and 32,000 euros according to the models and the amount of diamond setting.

www.romainjerome.ch


Source: June -July 2005 Issue

Click here to subscribe to Europa Star Magazine.