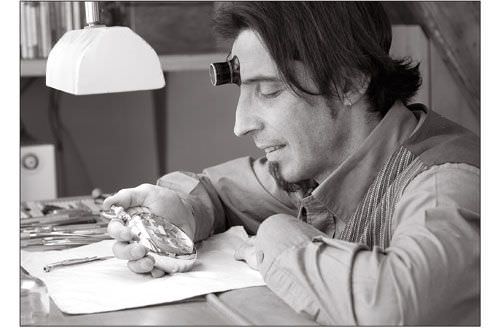 Decidedly, there is no better watch school than 'restoration'. As Vincent Bérard himself says, "Restoration is the best reference book on the history of timekeeping. It trains the brain to think and to imagine on a purely mechanical plane. It also offers a true culture on the architecture of the movement and its intimate structure."
Vincent Bérard, born in 1959 near Avignon, France, attended the restoration 'school' for a very long time, most notably at the International Watch and Clock Museum in La Chaux-de-Fonds, after having earned a diploma as a watchmaker-restorer from the Vallée de Joux watch school. An expert in complications, especially in the area of striking mechanisms and quarter-hour repeaters, Bérard worked for large manufacturers, before starting his own atelier in 1992.
This year, for the first time, he exhibited his creations at the Basel fair, as a part of the stand of the Horological Academy of Independent Creators, where he made a sensation with a unique piece, a veritable 'masterpiece' like the old Companion timepieces from yesteryear, which he calls the 'Quatre Saisons Carriage Spring Variation'.

A traditional and contemporary 'masterpiece'
The 'Quatre Saisons Carriage Spring Variation' is a contemporary interpretation of the enormous carriage timekeepers from the past (according to some historians, the need for a portable clock originated with the large merchants during the Renaissance who needed to know the time in their carriage, which they also used as a mobile office).
This is a unique and splendid piece measuring 91 mm in diameter with a thickness of 32 mm, entirely handcrafted in Vincent Bérard's workshops. It features a manual-winding, grand complication movement, the Calibre 440VB, which is completely original, decorated with a guilloché pattern, chamfered edges, and mounted on a magnificent and spectacular openwork bridge in the shape of a tree created in grand feu enamel.
This grand complication includes the hours, minutes, perpetual calendar and leap years (seconds, date, day, month), quarter-hour repeater striking mechanism, automatons in the form of stylized birds under a splendid three-dimensional sun, bimetallic thermom-eter, and ten-day power reserve, with a spring to regulate the tension in the gear train.
This exceptional movement comes in an 18 carat gold case with a sapphire crystal case-back and a hand-engraved gold cover. On the topside is the domed sapphire crystal, which protects the satin-finished, silvered yellow gold dial decorated in a brushed sun ray pattern, as well as the blued gold hands, time indicators, and stylised Roman numeral hour markers. Three off-centred small sub-dials display the functions of the perpetual calendar.
This timepiece comes in the 'springtime' version, in green gold, and is also available in three other models representing the seasons (the tree-shaped bridge alternately loses and grows its leaves). It comes in yellow gold for summer, red gold for autumn, and white gold for winter.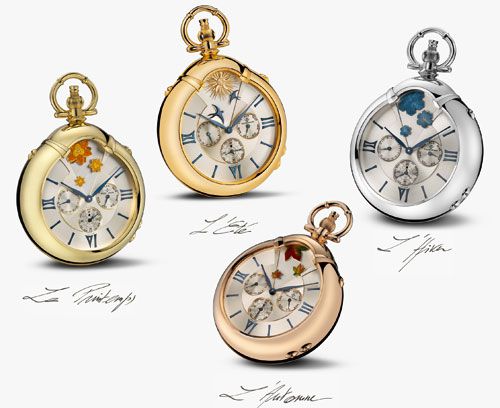 VARIATION AUTUMN, WINTER & SPRING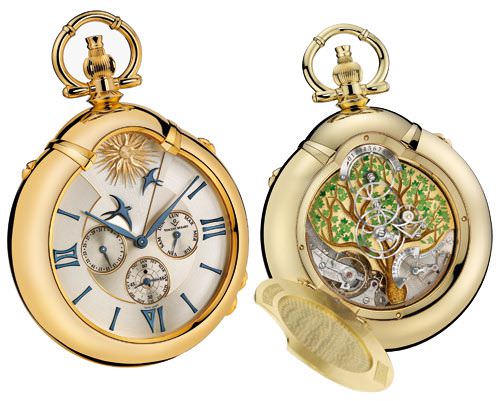 VARIATION SuMMER FRONT and VARIATION SPRING BACK


Les fuseaux de l'infini
Following the realization of his 'masterpiece', Vincent Bérard is now launching his collection of wristwatches, called 'fuseaux de l'infini'. The first model of this collection, 'Luvorene 1', takes the shape of the 'Quatre Saisons' with its special camel's hump. When asked about the origin of this form, Vincent Bérard explains that it comes from the particular shape of a pillar in the Cathedral in Strasbourg… You can better understand this sculptural inspiration when you realize that Bérard is not only a watchmaker, but he is also very accomplished in the plastic arts, and has even worked with contemporary furniture. "I like to move beyond the small scale," he says, " to find a form of complete liberty, before returning to the extreme rigour of watchmaking."
It is therefore not by chance that his watches have a very particular sculptural quality about them. The artist's sensitivity to volumes is also perfectly apparent in the Luvorene 1. With a diameter of 42 mm and a thickness of 13 mm, this superb watch marries the perfection of mechanical timekeeping tradition with very contemporary styling. It is equipped with the calibre 441VB, with 21,600 vibrations per hour, a veritable 'tractor' for manual-winding movements, as the watchmaker explains. Features: the winding crown is placed at 9 o'clock; the 'hump' is situated at 3 o'clock and conceals a 'mysterious' balance whose escapement and palette seem to have 'disappeared'. Also of note is the very lovely hand-indicator for the lunar phases. On the back, under the engraved cover, the sculptural movement can be admired. Five bridges in the form of a spindle make up a sort of staircase that spirals up on five levels. It is a truly superb and original piece.
Three versions of this watch exist: white gold with a black dial, red gold with a brown dial, and white gold with an ivory dial.
Having strongly demonstrated his watchmaking credibility and having succeeded in imposing a powerful identity in the world of watches, Vincent Bérard now intends to "grow slowly, without rushing through the next stages." With an order book already well filled, he says he is "…at the beginning of a new adventure." As he embarks on his new adventure, this "companion of time", as he likes to describe himself, will undoubtedly have Time on his side.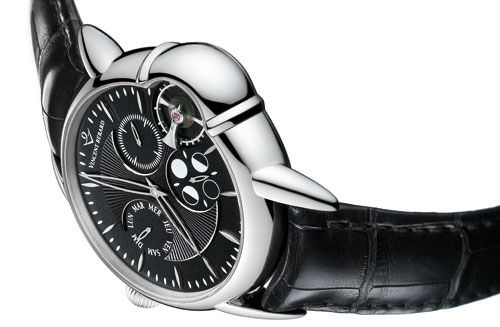 LUVORENE I



Source: August - September 2005 Issue

Click here to subscribe to Europa Star Magazine.