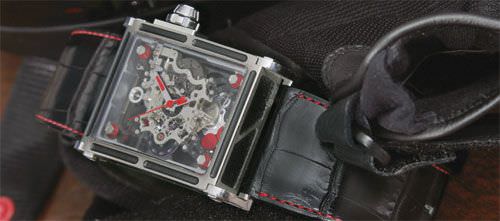 Who was the buyer? Someone well known in the world of mechanical sports, whose name will remain anonymous, commercial discretion oblige. The chronograph, on his wrist, whose forms evoke the world of automobile racing, was soon noticed in the paddocks. A week after the transaction, there was a small rush. Everyone who saw the watch, especially the racing car drivers, wanted one for himself. A phenomenon was born. Since then, it has grown… and it continues to grow.

Before making watches, Bernard Richards and his team produced precision mechanical objects for the luxury market (cigarette lighters, picture frames, etc.). "We re-oriented our production to the watch sector," explains Bernard Richards. BRM, which stands for Bernard Richards Manufacture, was present at the last BaselWorld fair where it was very successful. Its watch motor, a titanium rectangle in the shape of a V8, was a big hit: 162 orders were placed for the piece. "We had planned on making around 50," says the happy watchmaker. The interested clients were placed on a waiting list, with delivery taking up to several months. But, this is very normal. Eight hours, or one working day, are required to fashion one case of this model. And, the manufacture in Magny-en-Vexin only has one machine for this purpose.

An artisanal production
Bernard Richards loves the artisanal aspect of his production. His chronographs "smell" like motor oil. His clients appreciate this virile authenticity. "We are a small company, and that is an advantage. We can react quickly," he says with pride. With six models, the brand sold 47 watches in 2003, 700 in 2004, and 1,200 in 2005, and it should produce 2,200 this year. The retail prices range from 1,500 euros to 35,000 euros.
Everything in the shape of the BRM pieces is reminiscent of car racing: the straps (chequered flags, tyres); cases (wheel rims, nuts and bolts, engine); dials (wheel, dashboard, race car numbers); hands (open design like the spokes of steering wheels of yesteryear); and even the chronograph pushbuttons (pistons).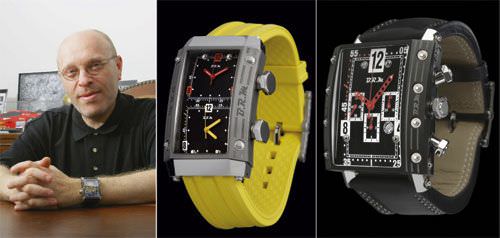 Bernard Richards

MTD MODEL
Titanium timepiece (53 mm x 35 mm) equipped with an ETA 2671 automatic movement. Double dial, ultra slim stainless steel lugs, push buttons and screws, double face sapphire crystal, water-resistant to 100 metres.

MT MODEL
Titanium chronograph (49 mm x 51 mm) equipped with an ETA Valjoux 7753 automatic movement. Ultra slim stainless steel lugs, push buttons and screws, double face sapphire crystal, water-resistant to 100 metres.


The 'Made in France' Bi-Rotor
A seventh model is in the prototype stage. Its name: Bi-Rotor with its avant-garde materials and alloys in titanium and tantalum, among others will be sold starting in January 2007, as a special edition of 150 pieces.
It is a Bi-Rotor because there are two moving masses in the very large rectangular case. The inner rotor, which is quite visible, makes one think of a roaring engine, in keeping with the world of motor racing. This watch is the most French of the products made up to now. In fact, its movement is indeed 'Made in France'. This is a real revolution, because the movements of the BRM watches are, for the time being, made in Switzerland (Valjoux). "We have two other in-house movements in the works," proudly announces Bernard Richards. The designer of the "motor" of the future is a certain "Jean-Paul," a watchmaker from his area. The mysterious Jean-Paul does not want his family name to be mentioned. Moreover, we did not meet him during our visit to the peaceful village of Magny-en-Vexin. His atelier is located in Beauvais, in the neighbouring department of the Oise.
At the head of a small team of watchmakers, Jean-Paul works hand in hand with, but at a distance from, Bernard Richards. "You know how to make the cases; I know how to make the movements," he said one day to Richards. And thus began a close and friendly collaboration. Jean-Paul acquired his watchmaking savoir-faire in Switzerland where he worked for 18 years. Like a great chef, a famous sommelier, or a recognized nose in perfume, his skills are worth more than gold.
"Do you know how much it normally costs to develop a movement?" asks Bernard Richards, who already knows the answer. "Millions of euros, millions of euros," he repeats. "For us, it hardly costs anything, except a great deal of personal investment. But, we did not have a choice."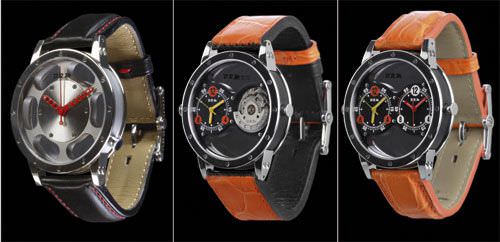 WL-44 MODEL, WL-44-03R MODEL, WL-44-02D MODEL
WL COLLECTION
Stainless steel (44 mm) timepiece equipped with an automatic ETA 2671 movement. Ultra slim stainless steel lugs, push buttons and screws, double face sapphire crystal, leather strap, water-resistant to 100 metres.


An atypical journey
The director of the BRM brand won't say it, but he has a few scores to settle with life. You can see it in his eyes and hear it in his voice. Born 48 years ago, Bernard Richards was the last in his class. For him, school stopped when he was 14. Not knowing what future to propose to their un-studious son, Richards' parents, watchmakers who had a company in Paris under the name of Richards Zeger, signed him up for a watch school in the nation's capital. "In France, at that time, if you were bad in school, it was because you were stupid. So, you were oriented towards a manual skill," remembers bitterly the successful boss of today.
However, learning the skills of watchmaking would prove profitable. However, what impassioned the young man was the world of mechanical sports – cars and motorcycles. He drove go-karts, an activity he no longer practises, but likes to watch and sponsor. "Go-karting is over for me after an accident that put me to bed for a year," he adds. Bernard Richards continuously reminds people that he is a "humble" man, and that he intends to remain so. "In car racing, I respect the driver who has no money, as much as I do those who race because of their money."
The owner of BRM considers himself as the seventh member of his team of six technicians. His office reflects his taste. Yamaha racing motorcycles and a Bultaco from the 1970s keep him company. He displays no or few exterior signs of success, except for his company and a Land Rover 4x4.
He has mortgaged his house for the second time. The first was to finance his business. Now, it is to purchase the latest computer-aided machine. "All the profits are reinvested. I want my workers to have the best equipment," he insists.
Bernard Richards rarely leaves his village except for appointments with his clients, the only social activities he allows himself. For the rest, he avoids invitations. "An individual who bought one of my watches invited me to the last Formula One Grand Prix in Monaco," he says. "He offered me a trip on his private jet, the hotel stay and a cruise on his yacht. I did not go. If I say 'yes' to Tom, then I must say 'yes' to Harry. So, I say 'no' to everyone. And, I have never given one of my watches away to anyone for the sake of publicity."
And, in this manner, French watchmaking is finding its nobility of yesteryear.



Source: Europa Star August-September 2006 Magazine Issue