The success of diamond watches prompted the Franck Muller Group, headed by Vartan Sirmakes, CEO, to start a new watch brand with a legitimate history in diamonds and the result, debuted at WPHH in 2007, is the Backes & Strauss, London watch brand. "Backes & Strauss, London generated a lot of excitement at WPHH 2007,"says Sirmakes."It has taken diamond watches to a whole new level. Its fusion of mastery in diamonds and watchmaking creates a unique position in the market for the brand, which attracted a lot of interest from visitors and partners."
Backes & Strauss, London was so successful in its debut, in fact, that the company sold its entire first year of production to its distributors, something that rarely happens with a new watch brand. Backes & Strauss started selling its watches in stores in July of 2007, and so far, so good.






Vartkess Knadjian & Vartan Sirmakes


"We've made a very encouraging start," acknowledges Vartkess Knadjian, Managing Director of Backes & Strauss, London. "Without a doubt, our designs are what make us stand out. The designs showcase our diamonds so beautifully. For someone comparing like for like, we are offering something completely different."
As Knadjian explains it, Backes & Strauss started with the idea of designing a diamond watch, rather than designing a watch and then figuring out where to set the diamonds. "The design, from the start, was all about showcasing the diamonds," he adds. "The team from Watchland worked with us. We briefed them about the brand, we brought them to London, we took them around the city showing them the key elements of historic London, and we derived the inspiration from the Britishness of London."
Backes & Strauss was established in 1789 and, from the start, the company was a jewellery manufacturer, then became a serious diamond broker in the 1900s, and then moved into diamond polishing and cutting. The company still does diamond polishing and cutting, through a different division of the company called B&S Diamonds.
"Diamond watches are very popular right now," Knadjian says. "Diamond watches have become a market on their own. Men are beginning to wear diamond watches. We had tremendous success with the baguette watch line, and I think men are buying them, as well. Diamond watches, after all, are glamorous. Diamonds watches sparkle and glitter - they put it all together."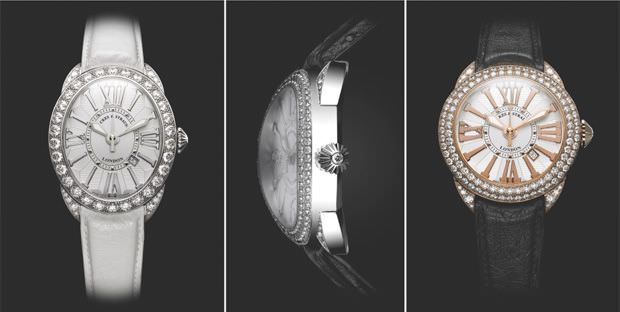 THE REGENT, THE PICCADILLY


The collection
Reflecting Backes & Strauss' history in London, the brand's first three collections – the Berkeley, the Piccadilly and the Regent – were inspired by London's Regency architecture, notably the work of John Nash. "Perfection and attention to detail are the hallmarks of Backes & Strauss watches," Knadjian insists. "We are going to focus on these collections for the time being. Every year, we will come up with an innovation that will be introduced to the press at the end of the year. We will do complicated diamond settings, we will introduce horological complications, but always emphasizing that we are going to be focusing on diamond watches."
Unlike many other watch companies, Backes & Strauss only uses the best diamonds possible, and the company has the best suppliers in the industry.
"All the round diamonds we use are of ideal cut and proportion," Knadjian details. "This is a diamond polished to perfection - all the angles and all the facets match each other. They are perfectly symmetrical. That's why, when you view it from the top, you see arrows and from the bottom, you see hearts. If one facet is out of symmetry, you won't get that effect. It's a master cutter who polishes these diamonds to perfection - you lose carat weight, but the sparkle and brilliance is second to none. That's why when you have a watch set with these diamonds, they look stunning."
Not many companies use this 'hearts and diamonds' cut because it is more expensive than a regularly finely cut diamond, resulting in more loss and less carat weight. Backes & Strauss, however, insists on using it because of its perfection.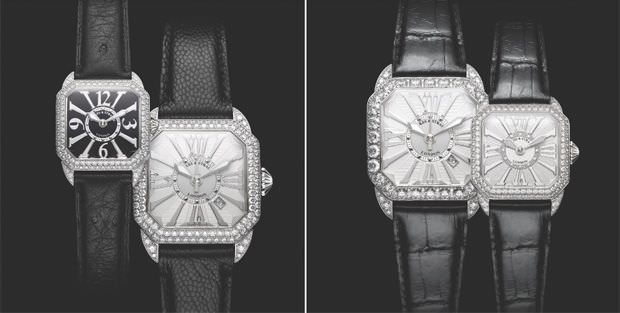 THE BERKLEY


The goal for Backes & Strauss
"Our goal is to establish this watch brand and in 2009 to introduce a collection of jewellery," Knadjian says. "We want to occupy the very high-end of the diamond watch and high fine jewellery market, catering to über luxury.
"Backes & Strauss will be more exclusive than other diamond watches,"he continues."We won't produce mass quantities of these watches. It will be an easy sell for retailers because when the customers find out that the world's oldest diamond company has joined forces with Watchland, they get the best of both worlds from this meeting of the masters.
Backes & Strauss will make 650 watches this year and plans to raise that to 3,000 in the next few years. All the watches are made and set at Watchland. The diamond company polishes and delivers the diamonds and they are set by the top diamond setters in the Group.

The price of Backes & Strauss watches ranges from the Berkeley 29 at the lower-end, retailing for 9,300 Swiss Francs, to the Royal Berkeley, which comes in at 1,250,000 Swiss Francs (totally set with diamonds, with almost 90 carats of diamonds specially cut to the shape of the watch).


Source: Europa Star October-November 2007 Magazine Issue